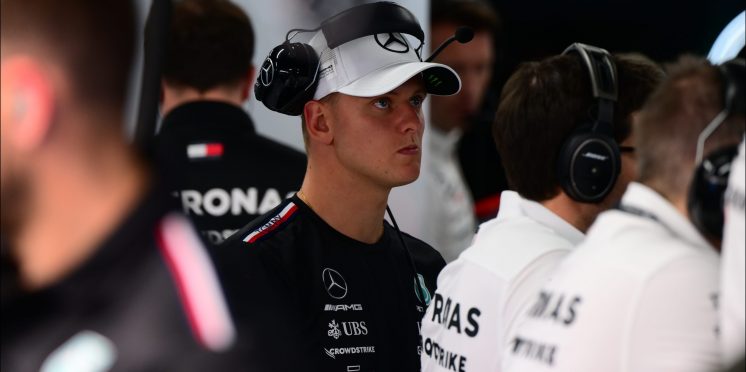 Schumacher praised for role in Mercedes' Spanish GP revival
Mick Schumacher has been credited for playing a key role in helping Mercedes turn around its Spanish Grand Prix form after it scored a double podium finish.
Mercedes found itself with work to do after a difficult opening day during practice on Friday, in what proved to be its first proper run with the new upgrade package.
The German manufacturer was on the fringes of the top 10 in both sessions that left Lewis Hamilton fearing he would struggle to even make Q3 in qualifying.
But with Schumacher pulling an all-nighter in the Mercedes simulator back at its Brackley factory on Friday night, the team was able to find the right set-up to extract more performance out of the W14, enabling Lewis Hamilton and team-mate George Russell to finish second and third respectively.
Speaking after his second place finish, Hamilton praised Schumacher efforts in helping putting Mercedes on the "right track" in Barcelona.
"Friday was a real struggle with the balance, it was way out of the window," explained Hamilton, as quoted by Motorsport.com. "It was very hard to drive, very unpredictable. And then we did some great work overnight.
"We've got a great team, with Mick back in the simulator on Friday night, and he did some great work, which helped us get on the right track on Saturday."
Russell was the big mover in the grand prix as he charged from a lowly 12th on the grid to the final podium spot, and he felt the Mercedes had performed the best it had all season despite his qualifying struggles.
"It probably felt the best it's ever felt around Barcelona because of the cooler conditions," Russell said. "Definitely this season, it is probably the best it's felt, the most together it's felt.
"The team's done a really, really great job. The work that Mick and the simulator team are doing overnight, they were there well past midnight to help us with the set-up and get it in a good window for the race today.
"So, we are making strides in the right direction. We just need to make sure, especially into next year, that we hit the ground running because I think we as a team probably develop faster than anybody else."
Now that Mercedes has moved to a more traditional sidepod concept, Hamilton believes the car is as good as it has ever been since the new regulations came into force last year.
"It is definitely the best the car's been the past year and a half," he said. "So that's kudos to the amazing group of people we have back at the factory who continue to work hard and push the car forward.
"It felt the best this weekend; it felt the best yesterday [in qualifying] and today [in the race] better than it's felt for the past 14/15 months, whatever it is.
"That's super encouraging, I think not only for me but for everybody in the team. This will be a big boost for everybody's morale. And we're going to take that energy on to developing the car."
---