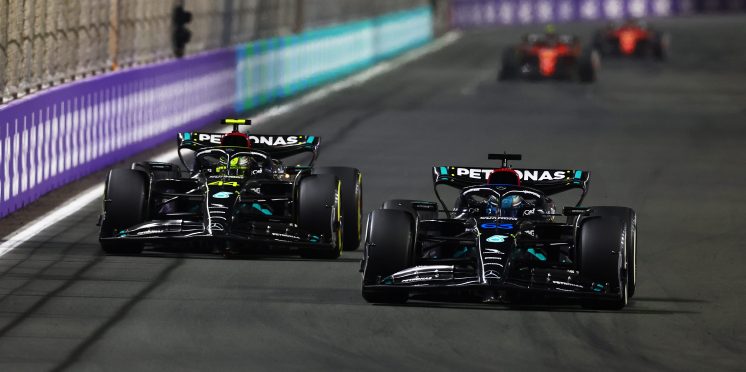 Mercedes working 'flat-out' on new F1 concept after reaching 'dead-end'
Mercedes is working "flat-out" to develop a change of concept for its 2023 Formula 1 car in a bid to turn around its form, according to team boss Toto Wolff.
When Mercedes unveiled the W14 as its car launch in February, it revealed it had chosen to stick with the 'zero sidepod' design after a strong end to 2022.
But the team quickly regretted the decision to retain the concept after a challenging start to the season, with the car running well off the pace set by runaway leaders Red Bull.
While Mercedes narrowed the gap to Red Bull in race trim in Saudi Arabia, the German manufacturer still finished half a minute adrift at the chequered flag.
Speaking to Sky Sports F1 in Jeddah, Wolff opened up on the team's development plans for the rest of the year after realising it had hit a "dead-end" with its current concept.
"If you look at the Red Bulls, they are just so quick. [But] I think we understand the car more [and] I'm looking optimistically [to] the future. We just need to put it in a different window," Wolff said.
"We're changing the bodywork of the car, how the floor works, all of these things – mechanically we're looking at certain areas. The team in Brackley is just flat-out.
"We headed into one direction last year and we wanted to have it work. It worked and it got better and better. But now, coming out this year, we really realised it's a dead-end street.
"These are the facts and everybody knows that now, so we turned around and we are running fast out of that dead-end street. We can see them [at the front], they're just far away at the moment."
Pressed on what direction Mercedes would take with the updated W14, Wolff hinted it could go down a similar route to Red Bull and Aston Martin.
"I don't know, you can call it [a] Red Bull or Aston Martin concept. But at the end, if it would look like a double-decker bus, we would do it if it was fast," he said.
"[They can] put a little sticker [on the car], Red Bull, if they want to have it. It's just about raw performance. We have no dogma on who invented it."
Asked if there was a timeframe for when the updates would be completed, Wolff added: "I think we're making big elephant steps at the moment, going forward. It's going to be a long time until they are adequate to challenge Red Bull, but it's a super-fun journey to climb back."
---