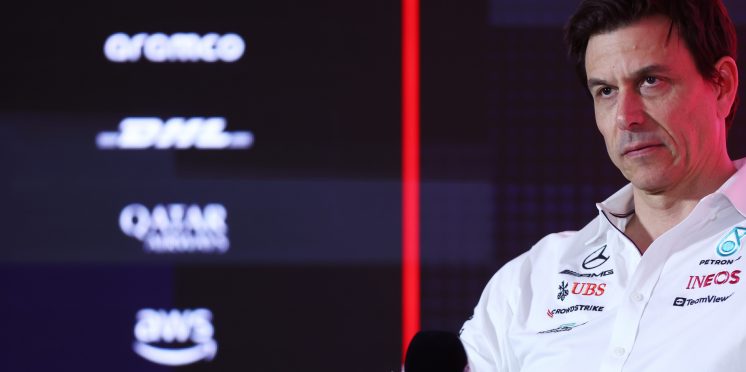 Mercedes 'sticking together' amid F1 troubles, says Wolff
Toto Wolff says Mercedes is "sticking together" in the aftermath of its struggles in Formula 1's Bahrain Grand Prix, despite Lewis Hamilton making his frustrations clear at the situation.
Mercedes ended a difficult 2022 season in strong form that fuelled hopes it could mount a title bid this year, but has instead fallen further adrift of the leading pack.
Despite managing to eradicate the porpoising issues out of the W14, Mercedes came away from the season opener as the fourth fastest team after Aston Martin's huge gains over the winter has propelled them to the front of the grid.
Having seen his cars finish fifth and seventh respectively in Bahrain, more than 50 seconds behind race winners Red Bull, Wolff is now pushing to change the design philosophy of the 2023 car, believing the current package won't be competitive.
Lewis Hamilton conceded Mercedes had gone backwards from last year and when speaking to BBC 5 Live after the race, claimed Mercedes had ignored his input on the W14.
"Last year, there were things I told them, I said the issues that are with the car," said Hamilton.
"I've driven so many cars in my life, so I know what a car needs, I know what a car doesn't need. And I think it's really about accountability.
"It's about owning up and saying: 'Yeah, you know what? We didn't listen to you. It's not where it used to be and we've got to work.'"
While Hamilton's remarks hint at tensions behind the scenes, Wolff insists Mercedes is united in its current plight and maintains a strong relationship with the seven-time world champion.
"The Lewis situation is you heard him on the radio. He is an integral part of the team, picking the team up and we are all sticking together and I don't think that is going to change just because we had a start that was really bad," Wolff said, as quoted by Motorsport.com.
"We have won eight constructors' championships and six drivers' championships with him and that relationship holds."
Hamilton's current Mercedes deal expires at the end of the season, but Wolff dismissed concerns he could choose to walk away from the German manufacturer.
When asked if there was a plan B in the event Hamilton choses to leave Mercedes, Wolff said: "As much as being transparent as to how we need to turn the car around, it is not the point to talk about the driver situation in 2024.
"It is far too early, we need to all push in then same direction, the drivers, the engineers, all the management rather than throwing in the towel. We have never done that and we will not do it."
"We just need to really dig deep and deeper than we have every done and provide both drivers with a car they are able to fight with."
---