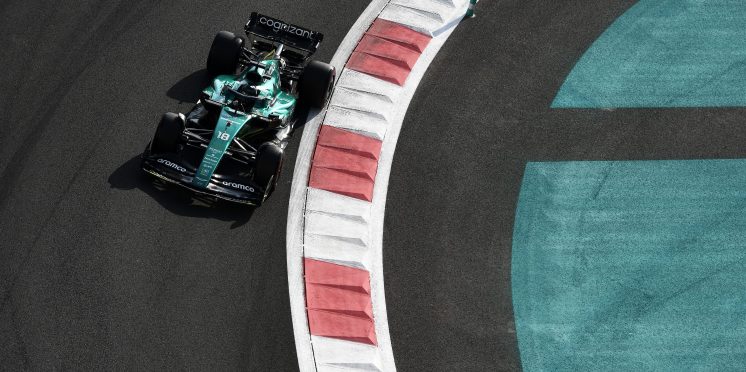 Fallows: Aston Martin won't 'replicate' F1's big teams to beat them
Aston Martin cannot just "replicate" Formula 1's big three teams if it aspires to be fighting at the front of the grid, says technical director Dan Fallows.
This year will mark Aston Martin's third season as a fully-fledged manufacturer since returning to F1 in 2021 under Lawrence Stroll's ownership.
The Silverstone-based outfit aims to be challenging F1's leading teams in the long term, highlighted by its recent flurry of staff recruitments and construction of a new factory and state-of-the-art wind tunnel.
Fallows is just one of those high profile signings Aston Martin has made in the past year or so, joining from Red Bull, while Eric Blandin arrives as deputy technical director from Mercedes.
The strive to hire key staff from its rivals is part of Aston Martin's plan to strengthen its technical team, but Fallows is clear it must not try to copy the likes of Red Bull, Mercedes and Ferrari to establish itself as a front-running team.
"The important thing for us is to make sure that we don't just replicate what our competitors are doing," said Fallows, as quoted by The Race. "We don't believe that's going to help us overtake the likes of Mercedes, Red Bull, and Ferrari.
"We have to develop our own way of doing things. That does take time, but we've got a hugely ambitious group of people.
"One of the things about seeing the new factory come together is it demonstrates this momentum, this vision, this wish to accelerate the process of moving up the grid and get into a winning situation.
"That's what's really going to help us get there is this passion, this motivation, and this belief that we will get there eventually."
Fallows spent over a decade at Red Bull as an aerodynamicist and was a member of the team during its period of domination in the early 2010s.
But upon his arrival in 2006, Red Bull was only in its second year since its takeover of Jaguar and had only one podium finish to its name.
Red Bull has now won six drivers' championships and five constructors' titles, which Fallows credits with its ability to "iron out issues in every aspect of the team", which he believes Aston Martin has to adopt to be successful in the future.
"There's a number of reasons why Red Bull are good," he said. "They've managed to, over a period of years, iron out issues in every aspect of the team, whether that be the race team, the manufacturing facilities, the design office.
"And a lot of building that kind of success is making sure that there are no areas where you have substantial weaknesses.
"They are an incredibly strong team. I do have an experience of what it means to win races and win championships and the key message is that you just have to make sure that in every aspect of what you're doing there are no holes, there are no things which you're doing that can be compromised or can compromise your performance."
---