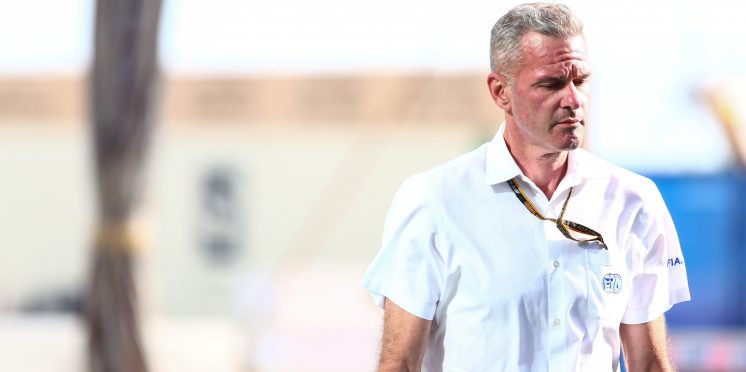 F1 set to continue with two race directors in 2023
FIA president Mohammed Ben Sulayem has indicated that Formula 1 will continue to have more than one race director in 2023 after a new approach last year.
F1's governing body made a raft of changes to its race operations in the wake of the controversial 2021 Abu Dhabi Grand Prix, including splitting the role of race director.
Following the departure of Michael Masi, F1 drafted in Niels Wittich and Eduardo Freitas to alternate during the season, with both highly experienced in the race director position in other motorsport categories.
But after an investigation over a recovery vehicle being released on to the track during the rain-soaked Japanese Grand Prix, Wittich saw out the final four races alone.
The move to more than one race director did not prove a popular move among drivers and teams, with many arguing it exposed the issue of a lack of consistency from race control when making decisions.
Despite calls to revert to using a single race director, Ben Sulayem felt it was critical to have a team of people rather than rely on one person.
"There is a process now and I have a team who is going through a proper process and training for stewarding, and for race directors," said Ben Sulayem, as quoted by Motorsport.com.
"You cannot just have one race director and rely on them. I see that we should prepare the second role. We cannot rely in the biggest discipline that we have, or any other discipline.
"What if something happened? If we are going to sustain motorsport, we have to be ready with training."
Ben Sulayem believes F1 will obtain a strong team of officials in the future with many up and coming stewards operating at a lower level in the racing ladder.
"I am a big believer that there is, somewhere in the world, better race directors than anyone, better stewards," he said. "Now we are reaching to the ASNs and we are asking them to send us people for the training, and we have a proper team now for the training. You will get good [officials]. I promise this."
Ben Sulayem was elected as FIA president in December 2021 just days after the controversial ending to the Abu Dhabi Grand Prix, where thereafter it began a review of the event.
This ultimately led to the FIA parting ways with former race director Masi, who was heavily criticised for his handling of the final laps in Abu Dhabi.
Asked why Masi did not stay on at the FIA, Ben Sulayem stressed it was his decision to leave.
"It was also his choice," Ben Sulayem said. "I'd been talking to him at the beginning. There were human errors there, and I felt that he also wanted to just not go further, because of what he got from the social media, the toxic social media. I spoke to him, and it was unfair also for him. The FIA was always supportive.
"This is the same thing that's happening to Silvia [Bellot, FIA steward], again to some of our members: threats. I got some threats also, to reverse the results, but I didn't take them seriously.
"But now we stand against the toxic social media that will affect our sport. I am a big believer that if we don't take a stand, we might find the damage will be beyond repair for our sport in the future."
---