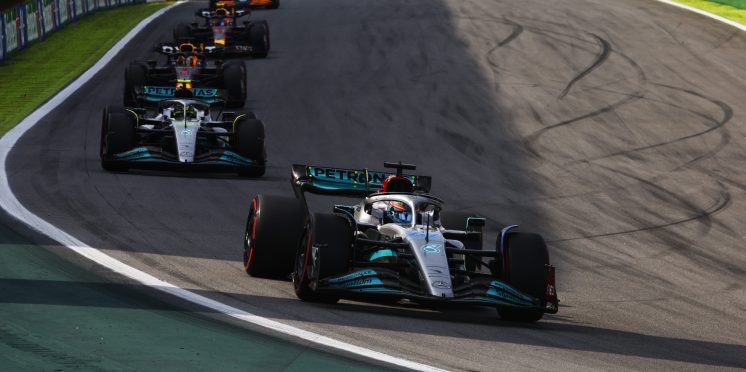 Wolff: Mercedes not expecting 2023 resurgence to be a guarantee
Mercedes will take lessons from Ferrari and Red Bull's past slumps as a warning it cannot take for granted it will return to form next year, says team boss Toto Wolff.
After winning eight constructors' championships on the bounce, Mercedes fell to third place in 2022 – its worst season of the V6 hybrid era.
The German manufacturer's struggle to get on top of the new technical regulations left it playing catch up in the early part of the year, and it did not win a race until the penultimate round in Brazil.
Mercedes' drop in competitiveness has reminded Wolff of how Ferrari and Red Bull's period of domination ended abruptly, and says the team is taking note of why this happened and how it can avoid falling into this trap.
"With Ferrari, to point the example, they lost the whole top leadership and a key driver," said Wolff, as quoted by RaceFans. "I think that is something where you can trace it back.
"With Red Bull it was a fundamental situation that the power unit regulation changed upside down and [they had] no works [engine] deal, basically. So it was fundamental parameters that changed.
"We are "looking at that and thinking 'we better be careful'. "We are analysing what were the reasons in the past that teams that dominated in over an era suddenly lost performance.
"You can trace it back pretty well: Change of regulation, people leaving, a tyre that changed fundamentally."
While Wolff admits Mercedes were caught out by the complexity of the 2022 regulations, he felt the team's turn around from its difficult phase in the first half of the season will prove a key quality going froward.
"The regulation changed, we got it wrong," Wolff conceded. "But all the other pillars are still in place and we have to tune the systems and understand. And I am 100% sure that this was a difficult year that was necessary for us to re-motivate and re-energise the organisation.
"We won eight [championships] in a row, more than 100 races. And this has again made us come back down to the ground, made us appreciate how it feels when you win in Brazil, and also understand how difficult it is to recover – not from [losing] a race like we've had it before, but from many races that were just not good enough.
"So I think we will be looking back in a few years and saying 'that was absolutely necessary'. My perspective is not one season and it's not two years, my perspective is looking back in 10 years and saying 'we've been there constantly'.
"We've been [respectable] at times this year. We won a race. We had ten or more podiums, a one-two in the race. We've been third on the road and that's respectable."
Wolff is clear of the objective Mercedes has set itself for next year, but is refusing to believe it is a guarantee it can return to its pre-2022 form.
"I'm never confident," he said. "I'm a glass-half empty guy and I never believe that the job that we are doing is good enough.
"I'm not sure at all whether we can bounce back to a position where we compete for championships because you need to acknowledge that the competition is strong. But we will do everything in our power, everything to set our objectives high and try to reach them."
---