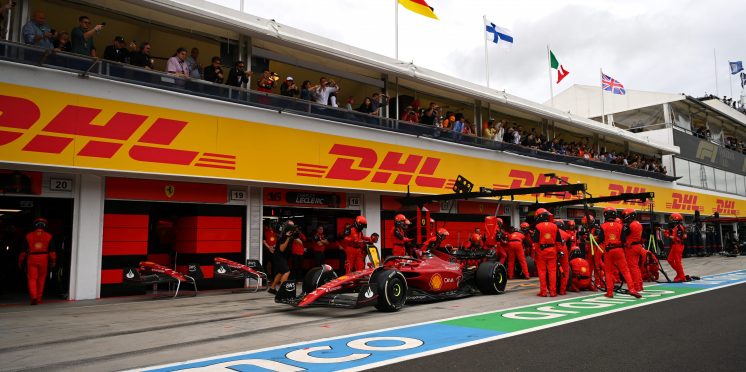 Ferrari: Lack of car performance forced defensive strategy in Hungarian GP
Ferrari Formula 1 boss Mattia Binotto says the team's lack of performance during the Hungarian Grand Prix didn't give it the "freedom" on strategy it wanted.
The Italian outfit came under fire for a poor strategy in Budapest that saw race leader Charles Leclerc slip down to sixth place by the chequered flag.
Leclerc had run two stints on the medium compound tyres as he built a five-second lead over Mercedes driver George Russell, only to be called in for hard tyres to react to Max Verstappen's pitstop.
Although he rejoined ahead of Verstappen, Leclerc struggled to generate temperature into his tyres and was unable to hold the Red Bull behind.
Having lost a further place to Russell and coming under attack by team-mate Carlos Sainz and Lewis Hamilton, Ferrari pitted Leclerc for a third time and fitted the soft tyres to run to the end.
It marked the latest in a long line of Ferrari errors this season that leaves Leclerc facing a 80-point deficit to Verstappen in the drivers' standings heading into the summer break.
"I think we were all expecting a different result today," Binotto told Sky Italia.
"Today the car was not performing the way we were expecting it to, and that was the issue more than the strategy. Carlos' strategy was the same as Hamilton's and it didn't work either."
Despite having both of its drivers start inside the top three in Hungary, Ferrari failed to get either car on the podium at a race it expected to be competitive.
Binotto insisted Ferrari had no choice to take a defensive approach on strategy as the pace of the F1-75 was lacking compared to its long runs on Friday.
"The performance of the car did not give us the freedom to do what we wanted and we were forced on the defensive," Binotto said.
"The pace was different from what we saw on Friday, we were not fast enough in the race today in these conditions. Something did not work on the car.
"We did notice that Charles was faster than Carlos – like Hamilton was faster than Russell – but as we saw, Hamilton's strategy did not work for Carlos either. Then of course we need to analyse if it would have worked for Charles. The biggest problem today was the car."
---