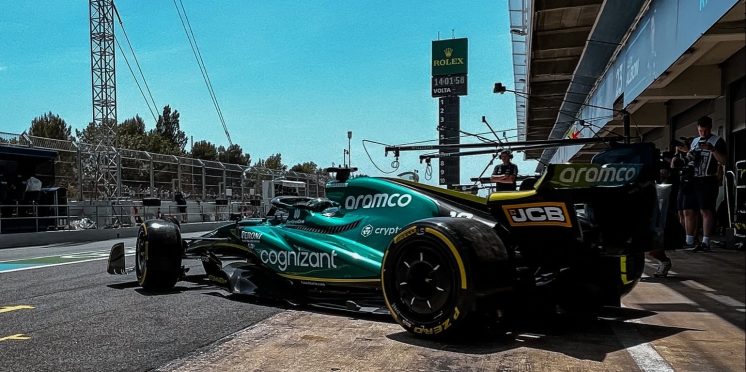 FIA find 'no wrongdoing' in Aston Martin's upgraded F1 car
Aston Martin's updated Formula 1 car has been cleared of showing a resemblance to Red Bull's RB18 after an investigation by the FIA.
Pictures emerged on Thursday at the Spanish Grand Prix of Aston Martin's upgrades it is debuting on the car this weekend, including a vastly different concept on the sidepods.
Similarities between the team's own design and Red Bull's were quickly drawn, with the ARM22 being coined the 'green Red Bull'.
The FIA has strict regulations that forbid teams from copying rivals' designs, which became enforced after the Silverstone-based outfit's 2020 car was found to be a direct copy of Mercedes' 2019 championship-winning car.
F1's governing body confirmed it undertook a "routine pre-event legality check" on the updated Aston Martin, before an investigation to make sure it complied with Article 17.3 of the technical regulations.
Once the checks were complete, it found Aston Martin had adhered to the regulations that relate to revise engineering and potential IP transfer.
A statement from the FIA read: "The investigation, which involved CAD checks and a detailed analysis of the development process adopted by Aston Martin, confirmed that no wrongdoing had been committed, and therefore the FIA considers that the Aston Martin aerodynamic upgrades are compliant.
"Article 17.3 specifically defines and prohibits "Reverse Engineering", i.e. the digital process of converting photographs (or other data) to CAD models, and prohibits IP transfer between teams, but equally, this Article permits car designs getting influenced by those of competitors, as has always been the case in Formula 1.
"In the analysis we carried out we confirmed that the processes followed by Aston Martin were consistent with this Article's requirements."
Despite the investigation finding Aston Martin's car was legal, Red Bull is understood to be unhappy with the team's design and could consider lodging a protest.
The team responded to the FIA's verdict with its own statement: "Red Bull Racing have noted the FIA's statement with interest.
"While imitation is the greatest form of flattery, any replication of design would obviously need to comply with the FIA's rules around 'Reverse Engineering'.
"However, should any transfer of IP have taken place that would clearly be a breach of regulations and would be a serious concern."
---