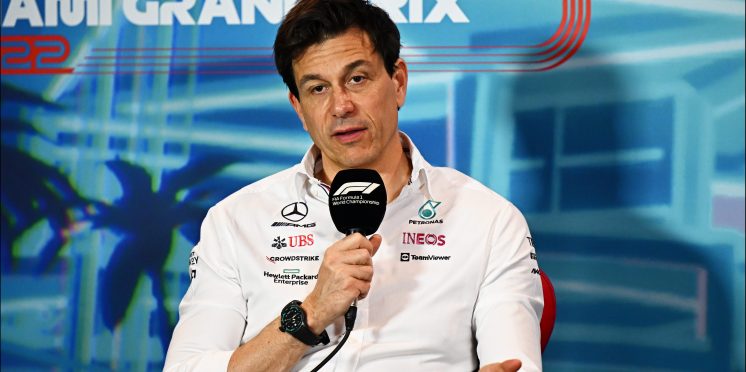 Mercedes hints at reverting back to old-spec W13 after Barcelona
Mercedes has given its first hint it could decide to revert back to its old-spec Formula 1 car if it remains unable to cure its porpoising issues.
The Brackley-based team has endured a difficult start to the season with its 2022 cars performance compromised by the ongoing porpoising problem.
It has left Mercedes far off the pace of current pace-setters Ferrari and Red Bull and on a six-race winless streak – its longest in the V6 hybrid era.
Despite bringing its first major upgrades to last weekend's Miami Grand Prix, Mercedes is still searching for answers as to how to improve its form.
Mercedes' original design on the W13 featured regular sidepods before it introduced a radical 'zero-pod' solution at the second pre-season test in Bahrain.
The upcoming Spanish Grand Prix has been viewed as a key race by the team as it ponders over whether to continue with its current challenger or revive its launch car.
Asked if Mercedes would rule out a return to the original philosophy, team boss Toto Wolff said, as quoted by Motorsport.com: "Well I wouldn't discount anything, but we need to give all our people benefit of the doubt.
"They have produced great race cars in the past and we believe that this is the route to go. Barcelona is definitely going to be a point in time where we are able to correlate with what we saw in February and gather more data.
"I'm also annoyed about saying the same thing about gathering data and making experiments, but it's physics and not mystics, and therefore you have to unpick the data."
Wolff concedes its previous car concept is "much slower on paper" than the 'zero-pod' design, but is determined to fix the current W13's sensitivity to porpoising.
"If you walk through the grid, you can see that our floor edges stick out much wider than anybody else's." he said. "That gives it a different way, or much more scope, of possible instability.
"I think that's where our concept varies. Clearly the Barcelona launch car is much slower on paper, but we need to find out how we can make the current car work predictably for the drivers."
While Wolff stressed Mercedes is committed to making the 'zero-pod' concept work, he said a decision on which route it takes for the rest of the year must be made.
"I think we are still committed to the current concept – and you need to be," Wolff said. "If you don't believe, and you give the other one a 50 per cent chance, then you've got to switch now.
"We are faithful to the current concept. We are not looking at the lady next door to see if we like it more or not. It's still good.
"As a matter of fact, we need to understand, before you make a decision to switch to another concept, where did one go wrong. And what is the goodness of the concept and what is the badness of the concept? That is a question you can only respond to yourself,
"I would be asking ourselves to get an answer after Barcelona, because that's the real correlation we have. And by then, we will look at ourselves in the mirror and say, did we get it wrong or not?"
---