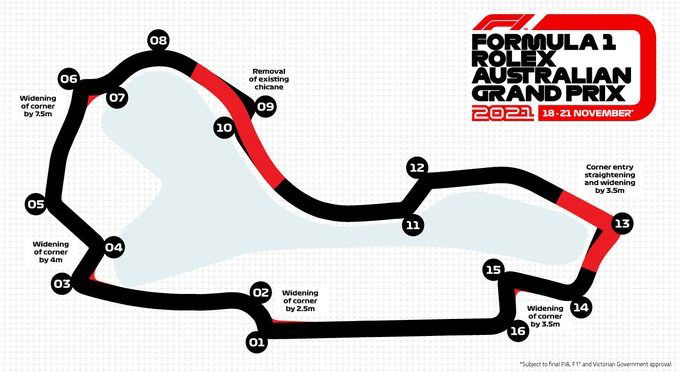 Revised Albert Park layout set to be five seconds faster in 2021
The Australian Grand Prix Corporation has revealed the changes to Albert Park's layout that could see lap times reduced by as much as five seconds.
Back in February it was announced the parkland circuit would undergo a major overhaul in a bid to bolster overtaking opportunities, with alterations to existing corners and an increase to the width of the track.
A number of corners will be re-profiled and made wider on entry to offer more wheel-to-wheel racing, with the tweaks likely to see the circuit's top speed go up by 15km/h.
The most visible change will see the Turn 9/10 chicane removed in favour of a faster run onto Lakeside drive, which could result the addition of fourth DRS zone
Turns 1, 3 and 6 will be widened to improve overtaking opportunities, while Turn 13 will be camber adjusted to make the corner slower and tighter on entry.
Turn 15 will also be made wider by 3.5 metres and have its camber readjusted.
The wholesale changes have seen simulations predict lap times to plummet by around five seconds, down from 1m21s to 1m15s.
The pitlane has already been extended by two metres, while the circuit is due to undergo a complete resurfacing between the 2021 and 2021 races.
It is expected that the alterations will be complete by July, four months before the Australian Grand Prix on November 21.
"These circuit modifications mean faster racing, with plenty of new opportunities for drivers to battle it out – come November, the Australian Grand Prix will be back and better than ever," Australian GP Corporation CEO, Andrew Westacott said.
"Since the 1950s Albert Park has been synonymous with Grand Prix racing with these upgrades aligning perfectly with the changes in specifications of the Formula 1 cars in 2022. While the project will make for more exciting racing, it also enhances the
---