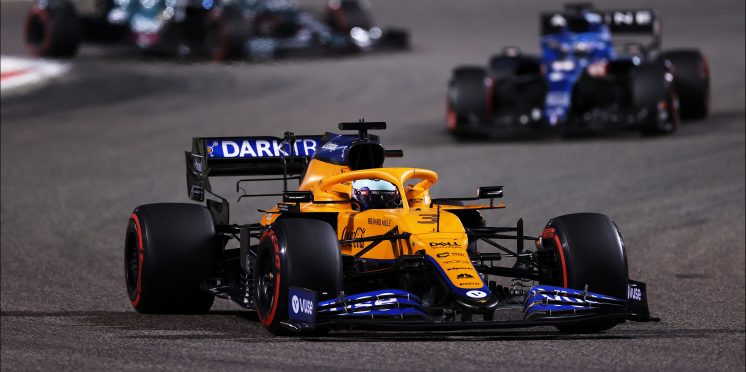 Ricciardo lost 'considerable' downforce due to floor damage in Bahrain GP
Daniel Ricciardo sustained damage to the floor of his McLaren Formula 1 car during the Bahrain Grand Prix losing him "considerable" downforce, the team has revealed.
Ricciardo qualified sixth for his McLaren debut but came home in seventh place, three positions lower than team-mate Lando Norris.
The Australian was disappointed to come away with only six points to his name and was baffled by how his pace dropped off during the race.
Speaking after the opening race of the 2021 season, Ricciardo said he "kind of hoped" there was damage on his car to explain why he lacked performance.
Following a post-race inspection, McLaren found Ricciardo's floor had suffered damage as a result of contact with AlphaTauri's Pierre Gasly at the safety car restart.
In a statement issued on Monday, McLaren team principal Andreas Seidl said, as quoted by Motorsport.com: "Post-race we found damage to Daniel's floor from the impact of Pierre running into the back of his car at the beginning of the race.
"The level of damage cost a considerable amount of downforce. Despite the performance loss Daniel used his experience to cope with the issues and score important points for the team. We now look forward to the next race."
Ricciardo admitted he was unbeknown that Gasly had hit him until the Frenchman spoke to him after the race.
"To be honest, I didn't, no. I heard he had damage so I only saw him at the end of the race and said 'Oh what happened?' and he goes 'I ran into the back of you'.
"So I had no idea but yeah, if my floor looks destroyed then I'll probably sleep better tonight."
---