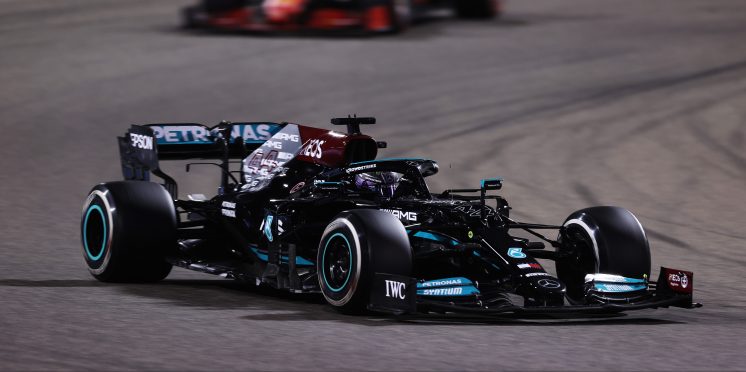 Hamilton: Track limit rules at Turn 4 'very confusing'
Lewis Hamilton admits the stewards ruling on track limits at Turn 4 was "very confusing" after clinching victory at the season-opening Bahrain Grand Prix.
Hamilton held off a late charge from pole-sitter Max Verstappen in a tense finish  to take his 96th career win, but his triumph was overshadowed by the controversy surrounding Verstappen's attempt to pass him at Turn 4 four laps from the end.
After reeling in Hamilton on fresher tyres, Verstappen sailed around the outside of the seven-time world champion, but ran off the circuit when completing the move.
The Dutchman was subsequently ordered by Red Bull to hand the position back to Hamilton to avoid a potential time penalty for gaining an advantage.
The stewards had initially not policed track limits at Turn 4, but from second practice until qualifying reinforced the ruling before not monitoring them during the race.
This led to drivers, including Hamilton, to run over the white lines throughout the grand prix until they were issued with a warning to not do so.
When asked to comment on the track limit ruling at Turn 4, Hamilton believed it wasn't clear enough and the stewards "changed their minds" midway through the race.
"I think that's a difficult one," Hamilton said, as quoted by The Race. "I think it is very confusing.
"Most tracks, we're not allowed to put four wheels outside of the white line but this weekend and that particular corner we weren't allowed to on Friday – you can go outside the line but you can't go past the kerb.
"But in the race you can. And that was what had been written. It's quite a different corner when you have to do one or the other in terms of approach and it is faster when you can go out.
"But when you're overtaking, you're not allowed to overtake off track. Halfway through the race they basically changed their minds. And all of a sudden you're not allowed to go outside that white line.
"It's fine for me I think it was faster in the end, it helped me look after my tyres actually.
"So, I'm grateful for the call. And ultimately it meant that Max wasn't able to overtake off track."
Red Bull boss Christian Horner echoed Hamilton's thoughts, saying while the decision was frustrating the rule on track limits should be "black or white".
"Well it's frustrating when you can see as soon as Mercedes started to push they just use that part of the track," Horner said.
"And we questioned with race control 'if that's the case, can we do it?' Because when you're in a nip and tuck battle, there's a two-tenth advantage using that part of the circuit. So they did it lap after lap.
"The race director then asked them to respect the limits, otherwise they'd get a black and white flag.
"And obviously Max then ran wide on the pass there. It had been made clear before the race that if somebody got an advantage by going out there they'd have to give it back.
"And he did that immediately and the team instructed him to do it following race control instructing us.
"With these track limits they're always going to be contentious but we do just need to have a consistent situation.
"You can't say it's OK to use it in a race but you can't overtake out there.
"They should either be black or white, they shouldn't be shades of grey."
---