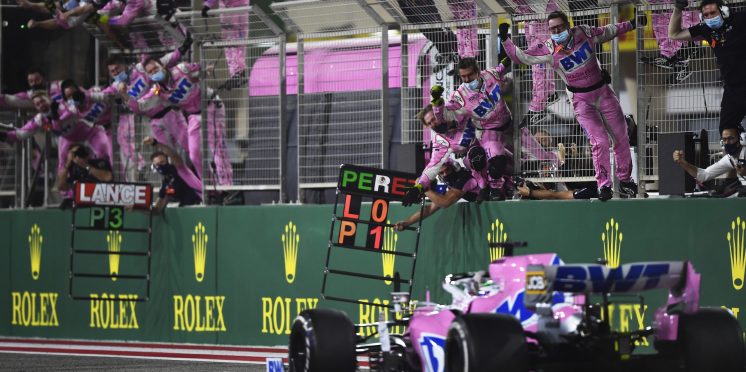 Aston Martin has 'all the ingredients in place' to win races in 2021
Aston Martin team principal Otmar Szafnauer believes the team has "all the ingredients in place" to contend for race victories in 2021.
The Silverstone-based outfit, formally known as Racing Point, has been renamed over the winter, bringing the Aston Martin name back to Formula 1 after over 60 years.
It finished the 2020 season a strong fourth in the constructors' standings, missing out on third place to McLaren by just seven points.
In a controversial year, when the team was docked 15 points for copying the rear brake ducts from the 2019 Mercedes, it claimed a shock victory at the Sakhir Grand Prix.
And with the regulations largely unchanged for 2021, Szafnauer is optimistic Aston Martin can challenge for more wins.
"With a new name, committed shareholders, fresh investment, and an experienced team, we believe we have all the ingredients in place to compete for even more podiums and hopefully victories too," Szafnauer said.
"It's the start of a new journey and I can sense an extra energy in the team, with a determination to push performance further than ever before.
"Combined with some of the most creative minds in the business, a true racers' mentality and the can-do spirit that has served us so well through the years, we have every reason to be excited about the future."
The arrival of four-time world champion Sebastian Vettel has reinvigorated the team, with the German's race-wining experience likely to be a valuable asset.
"It's hugely exciting for everyone in the team," Szafnauer said.
"In Sebastian, we have a proven four-time world champion with experience of helping teams become race-winning and championship-contending outfits.
"That's why he is such an important signing for us. He brings a winning mentality and we will all undoubtedly learn a lot from him on this journey."
Lance Stroll remains on the other side of the garage for a third straight season, aiming to improve on his two podiums and maiden pole position from 2020.
Szafnaeur feels a driver of Vettel's calibre can help "bring out the best" in Stroll.
"In Lance, we have a young and talented, hard-working driver who enjoyed his best campaign to date last year and really made strides in all areas of his racing.
"We know if we give him the tools, he's more than capable of helping the team reach its goals.
"We also think Sebastian will bring out the best in Lance, with Lance pushing Sebastian hard in return, so we're delighted with our 2021 line-up. It's the ideal blend of experience, race-winning knowhow, and raw talent."
---