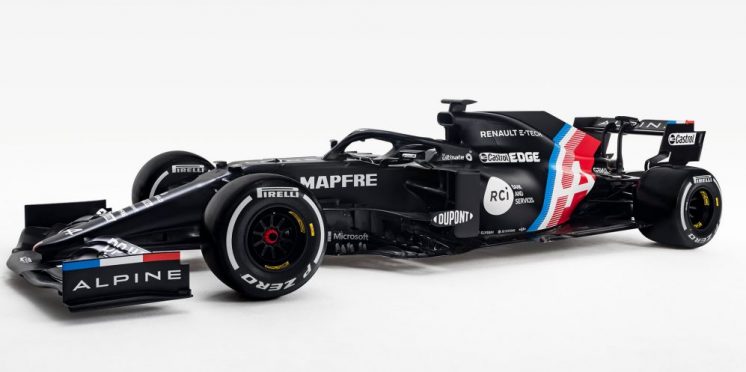 Alpine reveals 'temporary livery' ahead of February launch
Alpine has unveiled the first images of its 2021 Formula 1 car ahead of its debut season racing under the sportscar brand.
Renault announced last year its F1 team would be rebranded as Alpine in 2021, as the strategic approach dubbed the 'Renaulution' was outlined in a press conference on Thursday.
A first glimpse of a what has been labelled a "temporary winter livery" was revealed at the launch, with a black colour scheme featuring the French flag on the rear of the car.
The black livery pays homage to the A500 F1 prototype from 1975, but will be tweaked when the car is officially launched in February ahead of the new season.
The newly-named A521 will be driven by the returning two-time world champion Fernando Alonso and one-time podium finisher Esteban Ocon.
"The livery presented today is the first evocation of the Alpine F1 team's new identity," said Alpine design director Antony Villain.
"Some of the structural graphic elements will remain on the racing livery while others will change. The 'oversized' Alpine emblem in a tricolour graphics system is the first clear-cut symbol of the brand's identity in motorsport.
"The blue, white and red refer to the colours of the French and British flags, which is very important to us. Numerous variations on all the motorsport assets are still to come."
Renault recently confirmed its former team principal Cyril Abiteboul has left as part of an ongoing reshuffle of its senior management.
Abiteboul's position has yet to be filled, but the Enstone-based outfit's current executive director Marcin Budkowski is expected to take up the role.
Alpine is also expected to announce the arrival of ex-Suzuki Moto GP boss Davide Brivio as CEO, with the Japanese manufacturer having already confirmed his departure.
---