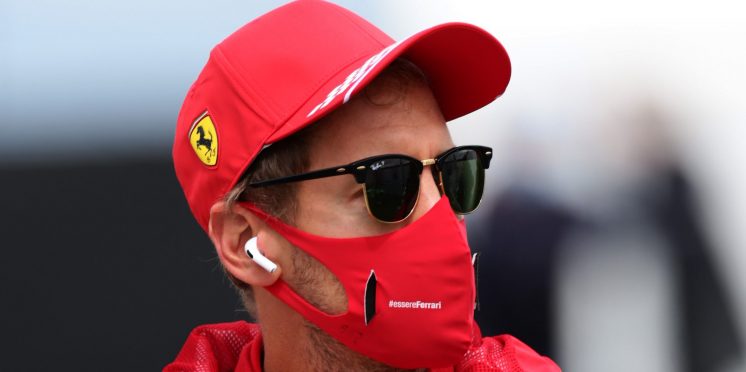 Silly Season and Sebastian Vettel
Silly season is underway, and – in the midst of everything – Ferrari has given Sebastian Vettel his marching orders and opted to throw all its energy behind Charles Leclerc, ending the five year relationship between both parties.
The game of musical chairs has begun in Formula 1 already, and it was McLaren driver Carlos Sainz who ended up signing a pre-contract for 2021 to partner Leclerc.
The Spaniard enjoyed a strong 2019, with his first podium in his career at Interlagos in Brazil, securing third place.
With Sainz going to Ferrari, McLaren were fluent in its movement to quickly get a driver penned in for 2021, and this ended up being  Daniel Ricciardo, who flew from the Red Bull nest to the Renault base in 2019 saw him try and replicate a similar career move Hamilton made earlier in the decade, moving from McLaren to Mercedes in 2013 and judged the progress and new hybrid regulations perfectly.
This wasn't meant to be for the Australian, who will look to continue McLaren's rise, and with Mercedes engines, the Woking outfit can continue its stride to return to the front of the grid where they have been so distant from in recent times.
Renault's vacant seat was left vacant for a short period, but it was an opportune moment for two-time world champion Fernando Alonso to announce his return to the sport, and to the team he shared success with in 2005 and 2006, returning for the third time, for 2021 on a two year deal, partnering new recruit Esteban Ocon.
So where now for Vettel? Currently, he will honour the final year of his contract before leaving the team at the end of the season and will be out of a drive at the time of writing.
Vettel joined Ferrari in 2015, chasing the dream of winning in the famous scarlet red, repeating the feat of his idol, Michael Schumacher. Whilst his time in red made him a fan favourite after his dominating years made him arguably the sport's most hated man, Vettel was seen as the opportunist, the man who could split the two Mercedes, who would sweep both championships time and again, setting records in the process.
2017 and 2018 were his best chances, but with botched attempts and a series of uncharacteristic errors, he fell out of favour and the dream began burning him out. Ferrari is the poisoned chalice of the sport, winning is all that matters, and if you don't deliver, then the dream of driving for them is already done.
There are strong rumours linking him to the new Aston Martin team for 2021, however, both drivers are contracted for next year. Sergio Perez and Lance Stroll have contracts at the team and look to be secure, however, as rumours rumble, uncertainties come to the forefront.
Perez has been a loyal servant to the team, driving since 2014 and is one of the most experienced and credible drivers on the current grid, brings his own income through sponsors Telmex and Telcel.
A valued ally for the team and a rich resource makes him a solid option for their progression, and on the other hand, there is Lance Stroll. Stroll began in 2017, and has had standout performances, with his podium in Baku 2017 with Williams and a P2 start at Monza later in the year, Stroll joined Racing Point last year and has his seat in doubt.
However, his father, Lawrence Stroll, has heavy investment into the team, pushing millions into the organisation, saving the team from bankruptcy and administration in 2018 and saved hundreds of jobs, and now has made them a force in 2020. Furthermore, Stroll has had his hand at Aston Martin as well and has convinced them to pursue a full time role in F1, a proper business architect who is credited with saving a much beloved team.
Knowing that a driver of Vettel's calibre is on the market, there is a prime opportunity for Racing Point to get his signature for 2021 as the team is showing real progress moving forward, shows true leadership in team personnel as well as having healthy investment into its day-to-day operations, however, it puts the team in a predicament.
Do they let Perez go, who has suggested driving elsewhere, or do they get rid of Stroll, the boss' son? There is inclination that it would be Perez losing out, but arguably, having a line up such as Perez and Vettel, a driver who knows the team like the back of his hand, and a driver with race wins and 4 championships under his belt, really would be the force to be reckoned with, considering the team's trajectory collectively.
But does Vettel need this? Of course, racers need that adrenaline rush and hunger to win, Vettel is no slouch, despite a rough patch. A new scene could bring him back to the Sebastian Vettel we knew him to be, and regardless of his time at Ferrari, his legacy as one of the sport's greats has been forever etched into our minds as fans, but also in the sport where he made his mark.
He may have the hunger for a new project and other disciplines, but his records and legacy shows that he has done it and won it, so why go on?
All we know is, whether we want to face the music or not, we will miss him when he's not racing at the motorsport pinnacle.
---