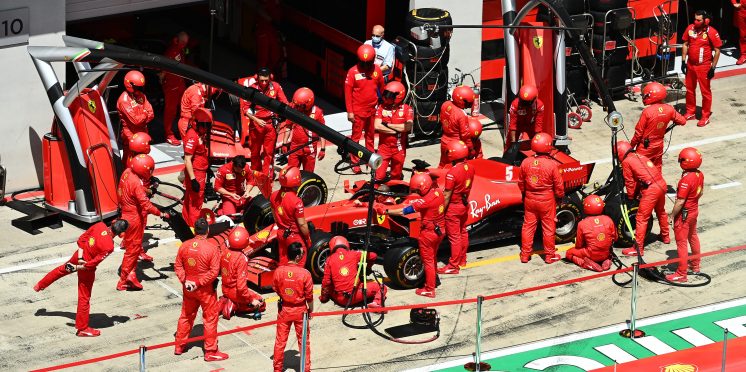 Leclerc's apology is a start – now is the time for Ferrari to push on
There is no doubt whatsoever the Styrian Grand Prix was a disaster of epic proportions for Ferrari.
After being completely dominated by Mercedes in last year's world championship, it was vital Charles Leclerc and Sebastian Vettel managed to get off on the right foot.
The first grand prix of 2020 wasn't the best race for Ferrari but both of them managed to get points on the board, and that was the bare minimum they needed as they look to stop Mercedes taking first and second spot again this year.
Qualifying during the second race at the Red Bull Ring did not exactly help matters with Vettel in 10th and Leclerc in 11th – but they had a real opportunity to make their way up the field and put pressure on the likes of Hamilton, Bottas and Verstappen up ahead.
However, any chance of that happening was destroyed in the very first lap  – and it was so unnecessary. Leclerc quite clearly went for a desperate lunge up in the inside of Vettel to try and get ahead when the space just was not there. It just goes to show a rush of blood to the head can destroy a race weekend – and one thing is quite clear: Leclerc needs to learn from this.
After last year's collision in Brazil, we all had a feeling this would not be the last incident between the two Ferrari drivers, both who are desperate to do well and close the gap on Hamilton and Bottas.
In Brazil, at least there was a mildly justifiable reason why the two collided, when there was just five or so laps to go with Alex Albon just ahead in third. Ultimately, that crash should not have happened either – and it makes Leclerc's decision to lunge up in the inside in Austria even more puzzling.
One thing that you do have to commend Leclerc for was his quick apology afterwards. Denial of fault would have made Ferrari's problems even worse – but Leclerc seems to have nipped it in the bed earlier on and they will be looking to put this to bed ahead of Hungary at the weekend.
Quite frankly, they have no time to dwell on this with a lot of ground to make up. Two retirements and zero points in Styria reinforces that – and Vettel also seems to have moved on from this saga.
On paper, the team of Leclerc and Vettel looks like a good mix – with both youth and experience in their team. Vettel will be keen to leave on a high in his last season at Ferrari and make up for a disappointing 2019 season, whilst Leclerc's potential is there for everyone to see.
The 22-year-old will be hoping his back-to-back wins in Belgium and Italy last year are a sign of things to come.
Another driver who will be hoping for success at Ferrari in the long-term is Carlos Sainz, who will replace Vettel in 2021.
The two current drivers need to focus on the short-term first though if they are to build momentum for the arrival of Sainz. A good season could lead to a smooth transition when Vettel makes way – but consistent podium finishes for the rest of the season seem like a long way away right now considering last weekend's incident.
Hopefully, the duo will learn from Saturday and Leclerc's apology will have helped, but could this really be the catalyst for Ferrari to push on this season? Sometimes you need to take one step back to go two steps forward and that could be the case here.
Playing catch up will be frustrating – but now is the time for Leclerc and Vettel to work together to stop Mercedes in their tracks.
---