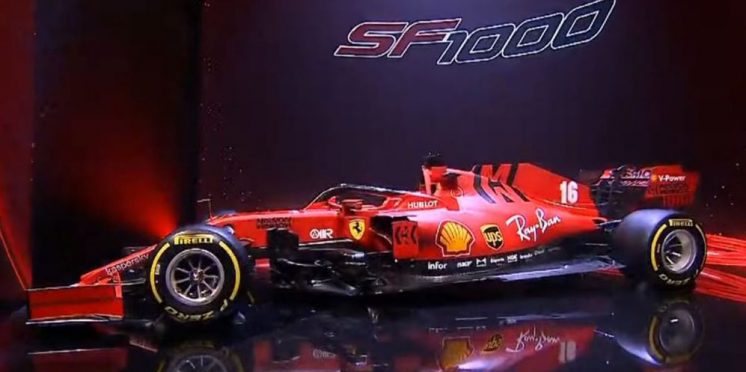 F1 launch season commences as Ferrari reveal SF1000
Ferrari has become the first team to officially launch its 2020 Formula 1 car as the SF1000 broke cover at a special event in Reggio Emilia, Italy.
The new car has been coined in recognition of Ferrari's 1000th world championship grand prix entry, a milestone the Italian team will reach this year.
It has been designed with the target of overhauling rivals Mercedes' dominant run of six consecutive titles, a feat Ferrari achieved itself from 1999-2004.
The iconic red livery has retained the controversial title sponsor Mission Winnow, which Ferrari was forced to remove for several races due to breaches with sponsorship regulations.
Having finished runner-up to the Silver Arrows the past three years, the Maranello-based outfit is hopeful of ending a 13-year wait for a drivers' title this season.
Ferrari's 2019 campaign had promised success after showing impressive form in winter testing but it would have to wait until after summer break before it won a race.
Speaking at the launch event, team principal Mattia Binotto said, as quoted by the official F1 website: "The starting point was the car of last year, the SF90.
"But certainly we have been extreme on the concept as much as we could… It may look similar to last year but it's completely different to the one of last year, and a lot of the concepts are very extreme on [the SF1000].
"The [technical] group is still young. We still have to grow, we have to learn from our mistakes, we have to capitalise on this and concentrate on reliability, which was one of the weak points last season.
"At the same time we have the 2021 project that… is the greatest change that has ever occurred in F1 since the beginning. We have to be ready for this."
This year's driver line-up remains unchanged in the form of four-time world champion Sebastian Vettel and two-time grand prix winner Charles Leclerc.
The pair's inter-team rivalry proved a major talking point last season as they came together at the penultimate round in Brazil.
Leclerc outscored Vettel in his debut season at Ferrari, finishing one place ahead of the German in the drivers' standings.
Ferrari is the first to reveal its 2020 challenger in the flesh after Mercedes and Haas unveiled their colour schemes for this year.
Pre-season testing commences next week in Barcelona, in a shorten six-day schedule.
---