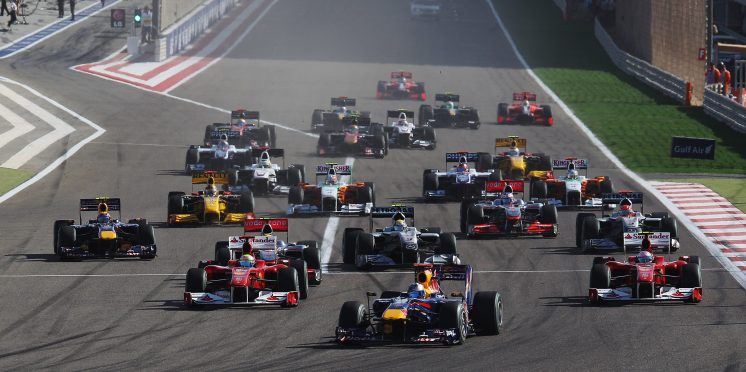 F1 2010-2019: A decade in numbers
197 down, one to go. As the sun sets of the 2019 Formula 1 season at the Yas Marina circuit in Abu Dhabi, it doesn't just mark the end of another year, but also another decade.
From Bahrain in 2010 to Abu Dhabi in 2019, there has been a many memorable moments during a period in which the sport entered a new age.
What began with the crowning of the youngest-ever world champion in Sebastian Vettel and Red Bull's coming of age, ends with a dominant power house of Mercedes clinching a six consecutive doubles and a sixth F1 title for Lewis Hamilton.
10 seasons, two new world champions, six first-time winners, on 26 different circuits, here's the crunching of the numbers from the past decade in F1.
1 – Race starts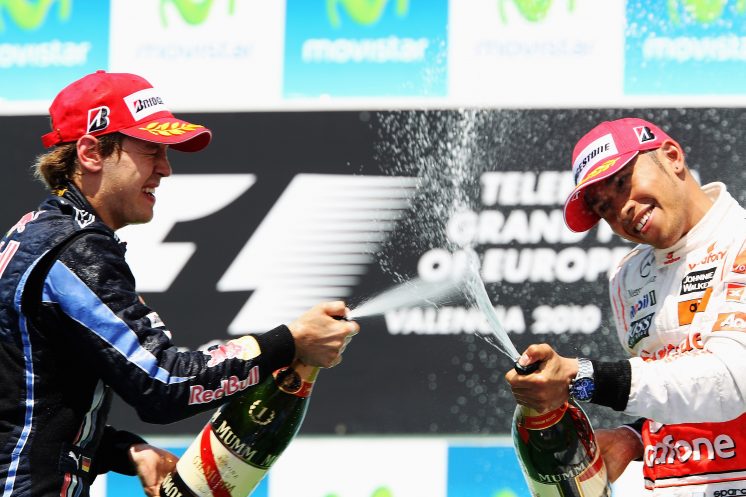 66 drivers have started at least one grand prix since 2010, with eight of the current top 10 from the list on this year's grid. The F1 calendar is somewhat more crammed than previous decades, with no season dipping below 19 races, the most peaking at 21.
Lewis Hamilton has never failed to start any of his career races and heads the charts on 197 race starts, closely followed by Sebastian Vettel. Third may be surprise to many but Nico Hulkenberg has been around longer than you remember, making 176 starts for four different teams.
Sergio Perez, Daniel Ricciardo, Romain Grosjean and Valtteri Bottas all began their respective years this decade, and all find themselves amongst the top 10 most experienced drivers over the past 10 years.
As for teams, six have started every race since the 2010 season-opener in Bahrain, whilst Renault, Lotus and Force India have all raced under different guises.
Lewis Hamilton: 197
Sebastian Vettel: 196
Nico Hulkenberg: 176
Sergio Perez: 175
Fernando Alonso: 173
Daniel Ricciardo: 170
Kimi Raikkonen: 156
Romain Grosjean: 156
Felipe Massa: 155
Valtteri Bottas: 138
Mercedes: 197
Red Bull: 197
Ferrari: 197
McLaren: 197
Williams: 197
Toro Rosso: 197
Force India: 177
Sauber: 158
Renault: 120
Lotus: 115
2 – Wins
The dawn of the V6 turbo-charged hybrid era began the dominant Mercedes streak that has gone from strength to strength. So it's no surprise to see a Mercedes driver, in this case Lewis Hamilton, heading the list for most race victories.

From the 197 races, Hamilton has won 72, 24 more than second-placed Sebastian Vettel and 49 clear of former Mercedes team-mate Nico Rosberg. Six different drivers have claimed their maiden F1 triumphs, including Pastor Maldonado, Daniel Ricciardo and recent Brazilian Grand Prix victor Max Verstappen.
We also saw Kimi Raikkonen return to the top step of the podium. Abu Dhabi in 2012 the first of three wins for Lotus and Ferrari that saw the 2007 world champion become the most successful Finnish driver in F1 history.
Six teams were victorious from this past decade. Mercedes registered a whopping 92 wins, followed by Red Bull's 56, with Williams' sensational victory at Spain in 2012 the only success for the Grove-based outfit in the 2010s.
Lewis Hamilton: 72
Sebastian Vettel: 48
Nico Rosberg: 23
Fernando Alonso: 11
Jenson Button: 8
Max Verstappen: 8
Mark Webber: 7
Daniel Ricciardo: 7
Valtteri Bottas: 7
Kimi Raikkonen: 3
Charles Leclerc: 2
Pastor Maldonado: 1
Mercedes: 92
Red Bull: 56
Ferrari: 28
McLaren: 18
Lotus: 2
Williams: 1
3 – Pole positions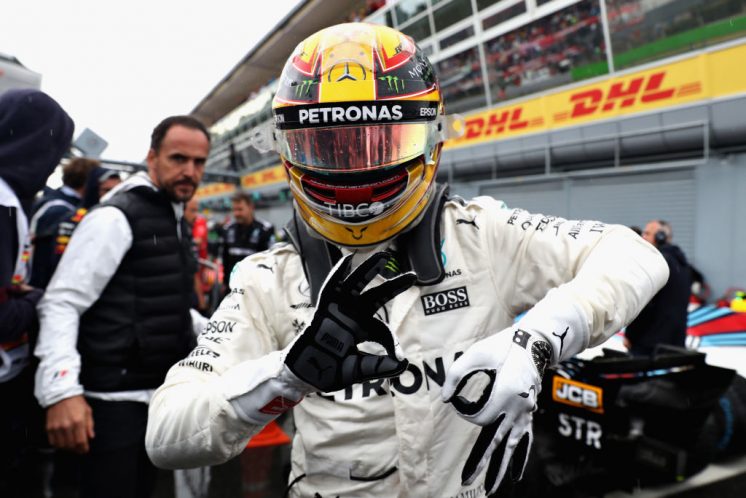 At the 2017 Italian Grand Prix, Lewis Hamilton surpassed Michael Schumacher for the record of most career pole positions. The Briton has clocked 70 this decade, the first coming at Montreal 2010 for McLaren.
Sebastian Vettel sits second in the charts, his total of 52 aided by his record-breaking 15 poles in his championship-winning 2011 season. Nico Rosberg is among seven drivers who took maiden pole positions, going on to claim a further 29 with Mercedes.
Charles Leclerc's seven poles in his debut year at Ferrari has seen him climb to an impressive sixth on the list, with Nico Hulkenberg taking his only and only career pole on a damp Interlagos circuit for Williams in 2010.
Mercedes overhauled the 100 mark for pole positions, taking all but three poles between 2014-2016. Red Bull, Ferrari, McLaren and Williams were the only other teams to have scored a pole.
Lewis Hamilton: 70
Sebastian Vettel: 52
Nico Rosberg: 30
Mark Webber: 12
Valtteri Bottas: 11
Charles Leclerc: 7
Fernando Alonso 4
Daniel Ricciardo: 3
Kimi Raikkonen: 2
Max Verstappen: 2
Nico Hulkenberg: 1
Pastor Maldonado: 1
Jenson Button: 1
Felipe Massa: 1
Mercedes: 102
Red Bull 57
Ferrari: 35
McLaren: 10
Williams: 3
4 – Fastest laps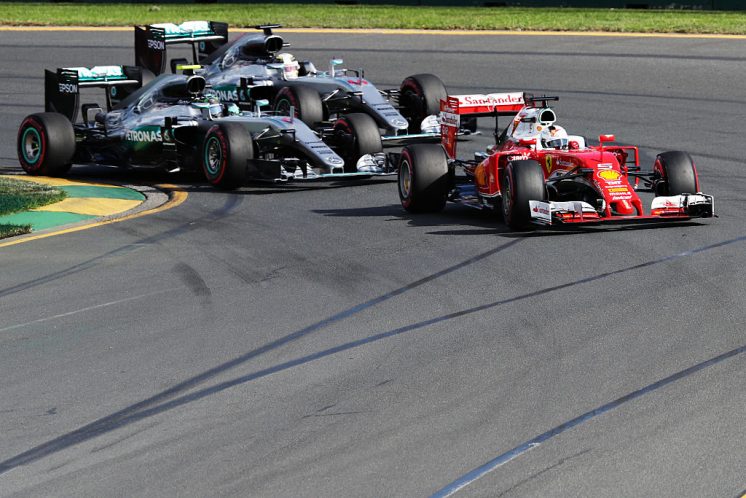 Reigning world champion Lewis Hamilton also finds himself topping the charts for most fastest laps, taking 43 of his career total of 46 during the 2010s. 26 drivers in all recorded a fastest lap, ranging from 11 different teams.
Max Verstappen broke Nico Rosberg's 10-year record as the youngest driver to set a fastest lap in Brazil 2016, claiming the feat at 19 years, 1 month and 14 days. Toro Rosso has only one fastest lap to its name courtesy of Sebastian Buemi, who took the accolade at the 2010 Canadian Grand Prix.
Mercedes sits just six ahead of Red Bull, that results in the two having more fastest laps in total than the remaining nine teams put together.
Lewis Hamilton: 43
Sebastian Vettel: 35
Nico Rosberg: 18
Mark Webber: 16
Daniel Ricciardo: 13
Valtteri Bottas: 13
Kimi Raikkonen: 11
Fernando Alonso: 10
Max Verstappen: 7
Jenson Button: 6
Sergio Perez: 4
Charles Leclerc: 4
Felipe Massa: 3
Nico Hulkenberg: 2
Pierre Gasly: 2
Kevin Magnussen: 2
Vitaly Petrov: 1
Robert Kubica: 1
Kamui Kobayashi: 1
Romain Grosjean: 1
Michael Schumacher: 1
Bruno Senna: 1
Esteban Gutierrez: 1
Daniil Kvyat: 1
Mercedes: 65
Red Bull: 59
Ferrari: 35
McLaren: 18
Lotus: 5
Force India: 4
Sauber: 3
Williams: 3
Renault: 2
Haas: 2
Toro Rosso: 1
5 – Points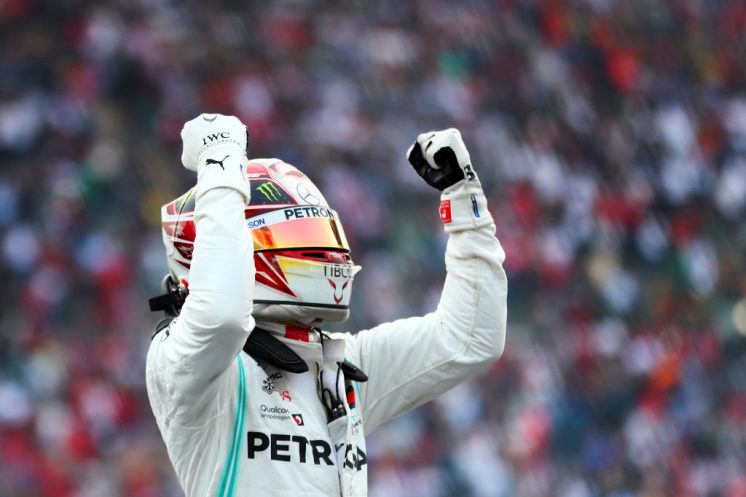 Ahead of the 2010 season, F1 overhauled the existing points system from first down to tenth with a revised awarding of points. Drivers now receive 25 points for a win, down to one point for tenth place.
Hamilton sits comfortably top of the list of 48 drivers to have scored a point this decade. His success since his move to Mercedes in 2013 has seen him break the record for most career points. The Briton has over 3000 points, with Sebastian Vettel fast approaching the 3000-point barrier himself.
Mercedes is the only team to have recorded more than 5000 points, scoring an astonishing 4193 since the 2014 Australian Grand Prix.
Lewis Hamilton: 3149
Sebastian Vettel: 2850
Nico Rosberg: 1519
Fernando Alonso: 1322
Kimi Raikkonen: 1280
Valtteri Bottas: 1277
Daniel Ricciardo: 1040
Max Verstappen: 930
Jenson Button: 908
Mark Webber: 878
Mercedes: 5074
Red Bull: 4442
Ferrari: 4139
McLaren: 1967
Force India: 1026
Williams: 961
Lotus: 705
Renault: 514
Toro Rosso: 412
Sauber: 318
6 – Podiums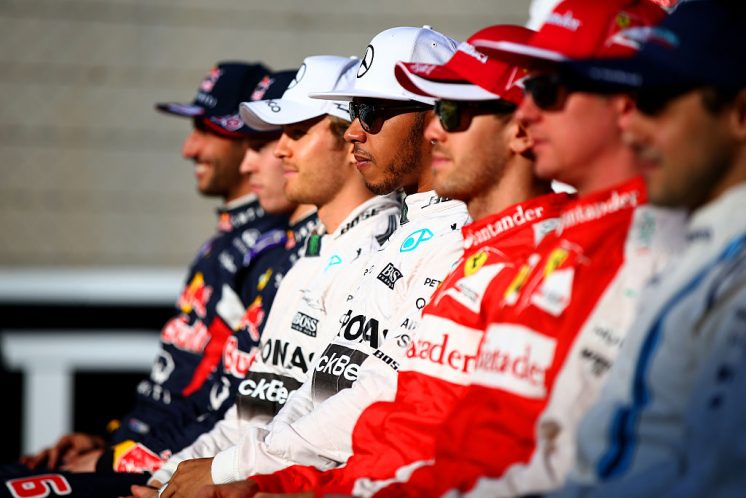 Hamilton, Vettel and Rosberg once again make up the top three when it comes to their tally of podium finishes. Hamilton has collected more than 100 podiums for the Silver Arrows, with 80% of them from the beginning of the V6 hybrid era.
He is now within five of the all-time record. The driver who holds that secured his 155th and final career podium during the decade: Michael Schumacher. Sebastian Vettel's continued his impressive podium rate after leaving Red Bull for Ferrari, amassing 111 in total since 2010.
14 drivers took their maiden podium, and while there were no new teams to reach the rostrum, Toro Rosso, Sauber and Williams all returned to the top three.
Mercedes will just fall short of the 200 mark, achieving a record 33 podiums   in 2016, a stat once more proving the dominance of the German manufacturer.
Lewis Hamilton: 123
Sebastian Vettel: 111
Nico Rosberg: 55
Valtteri Bottas: 45
Fernando Alonso 44
Kimi Raikkonen: 41
Mark Webber: 32
Max Verstappen: 30
Daniel Ricciardo: 29
Jenson Button: 26
Felipe Massa: 13
Romain Grosjean: 10
Charles Leclerc: 9
Sergio Perez: 8
Robert Kubica: 3
Daniil Kvyat: 3
Vitaly Petrov: 1
Nick Heidfeld: 1
Pastor Maldonado: 1
Michael Schumacher: 1
Kamui Kobayashi: 1
Kevin Magnussen: 1
Lance Stroll: 1
Pierre Gasly: 1
Carlos Sainz: 1
Mercedes: 193
Red Bull: 150
Ferrari: 141
McLaren: 50
Lotus: 25
Williams: 16
Renault: 5
Force India: 5
Sauber: 4
Toro Rosso: 2
7 – Laps led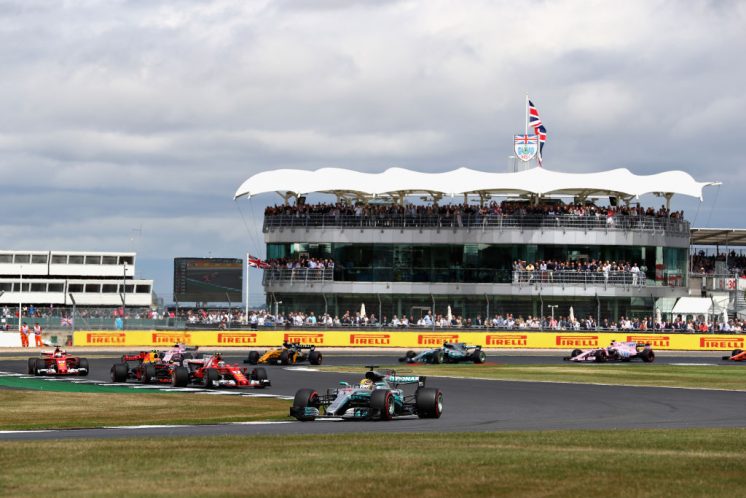 22 drivers led at least one lap in the 2010s, a list that is once again dominated by Mercedes, Ferrari and Red Bull drivers.
Despite leading the most laps in an entire season, Sebastian Vettel plays second fiddle to Hamilton in this list. The Briton has led almost 1700 laps more than anyone since 2014, and is 400 clear of Vettel's tally.
Max Verstappen's win in Brazil saw him reach the 500 laps led mark, something only five other drivers managed. Nico Hulkenberg is the highest driver among the list to have never reached the podium, which looks likely to stay as the German bows out of F1 at the end of the race in Abu Dhabi.
Mercedes, Red Bull and Ferrari together clocked 10,642 laps led, eight times more than the rest of the teams in the list put together.
Lewis Hamilton: 3634
Sebastian Vettel: 3231
Nico Rosberg: 1506
Fernando Alonso: 531
Mark Webber: 511
Max Verstappen: 500
Valtteri Bottas: 461
Jenson Button: 378
Daniel Ricciardo: 292
Charles Leclerc: 246
Kimi Raikkonen: 234
Felipe Massa: 111
Nico Hulkenberg: 43
Romain Grosjean: 40
Pastor Maldonado: 37
Sergio Perez: 23
Adrian Sutil: 11
Paul di Resta: 4
Antonio Giovinazzi: 4
Michael Schumacher: 3
Esteban Gutierrez: 2
Sebastian Buemi: 1
Mercedes: 5120
Red Bull: 3477
Ferrari: 2045
McLaren: 857
Lotus: 125
Williams: 91
Force India: 61
Sauber: 22
Alfa Romeo: 4
Toro Rosso: 1
8 – Championships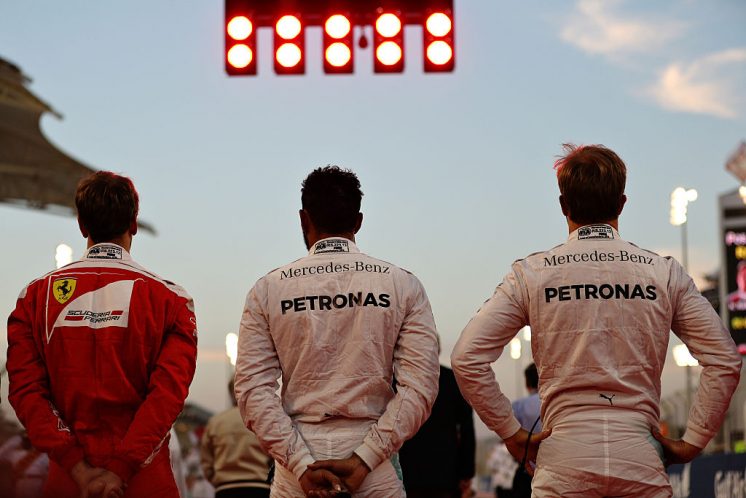 The 2010s has amassed the lowest number of world champion drivers and teams across any decade in Formula 1.
Only three drivers and two teams were crowned champion. Lewis Hamilton's five championships equal Michael Schumacher's five titles at Ferrari during the noughties, as he now lies one behind the German's record of seven.
Sebastian Vettel, meantime, joined an prestigious group of drivers to win four back-to-back world drivers' championships. He remains the sport's youngest world champion at 23 years old following his first success in 2010.
Nico Rosberg was the third and only other driver to claim a world title, his triumph in 2016 making him the second world champion son to follow in his world champion father's footsteps.
Mercedes and Red Bull's respective dominant streaks prevented their rivals from notching up a constructors' title.
Lewis Hamilton 5 (2014, 2015, 2017, 2018, 2019)
Sebastian Vettel: 4: 2010, 2011, 2012, 2013)
Nico Rosberg: 1 (2016)
Mercedes: 6 (2014, 2015, 2016, 2017, 2018, 2019)
Red Bull: 4 (2010, 2011, 2012, 2013)
As the numbers prove, the 2010s have delivered some spectacular F1 seasons in a decade that will be remembered amongst the very best.
F1 heads into a next decade with big changes on the horizon. Should the 2021 regulation changes do as they promise, the next chapter could prove the most open and unpredictable period in F1 history.
---