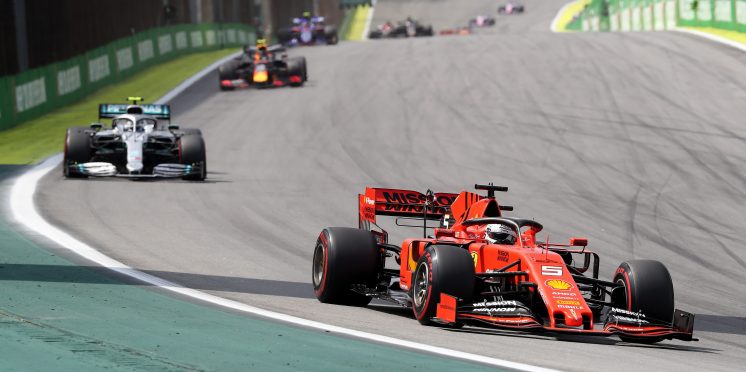 F1 set to tighten engine rules with extra fuel sensor in 2020
Formula 1's governing body the FIA is continuing its clamp down on teams exploiting engine gains by permitting them to run a second fuel-flow sensor from next season.
Following the Brazilian Grand Prix, three separate fuel systems were investigated, one from Ferrari, one from a customer Ferrari team and the third of a non-Ferrari powered car.
In response to this, the FIA issued its latest technical directive that will require teams to run a further sensor that monitors the fuel.
This tightening of the rules will allow them to police the engine regulations more closely, amidst the fallout over the legality of Ferrari's power unit.
The current rules state that: "any device, system or procedure the purpose and/or effect of which is to increase the flow rate or to store and recycle fuel after the measurement point is prohibited".
Ferrari's engine has come under major scrutiny in recent weeks, as its rivals want clarification on if it abides to the limits on fuel-flow.
Before three technical directive surrounding the saga were issued, Ferrari held a significant advantage in straightline speed, rumoured to be around 0.7-0.8s.
However, once the first of three technical directives was issued ahead of the US Grand Prix, the Italian team was mysteriously not as competitive as in previous races.
In Brazil, while it seemed to regain its speed on the straights, Red Bull proved just as quick in a straightline having trailed them all year.
Ferrari team boss Mattia Binotto assured its engine is the same spec used at the start of the season. He insisted the Scuderia's lost edge on the straights was a compromise on set-up to make it more competitive in the corners.
The FIA made it clear that efforts to exceed the fuel-flow limit between its measuring points would result in a breach of the rules.
---