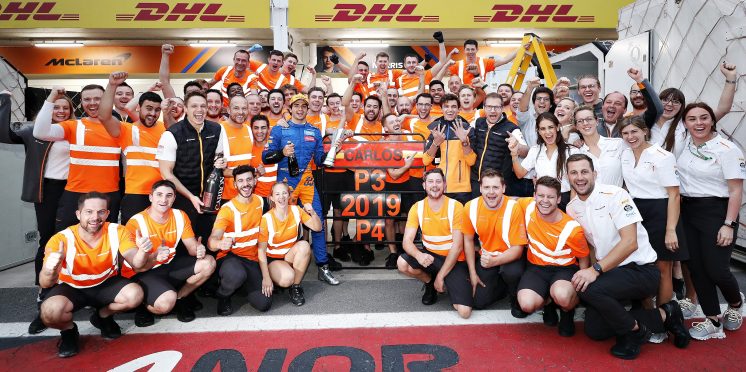 Seidl: Fourth in constructors a 'great reward' for McLaren
McLaren Formula 1 team principal Andreas Seidl says securing fourth place in the constructors' championship is a "great reward" for the team after its past struggles.
A double points finish in Sunday's Brazilian Grand Prix saw McLaren move 49 points clear of Renault with only 44 points available in Abu Dhabi, all but sealing fourth with a race to spare.
It marks the Woking-based outfit's best finish since 2012, having gone into 2019 fielding an all-new driver line-up for the first time in 12 years.
"For us it's great that we could secure [fourth] in the constructors championship today," said Seidl after the race, as quoted by RaceFans.net.
"It is simply a great reward for all the hard work everyone has put into this year here at the track and especially back home in the factory."
On top of its fourth place finish in the standings, McLaren ended its five-year wait for a podium finish as Carlos Sainz drove from the back of the grid to P3, pitting just once all race.
"It was not an easy race to read really today," Seidl said. "We had full risk with Carlos with a one-stop strategy, putting him on the mediums and an unbelievable long stint.
"I don't know how many laps he did, 40-something. A great drive from him, how he how he defended at the end compared to the other cars on new tyres."
Seidl credited McLaren's turn around in performance after a difficult qualifying session, praising the efficiency of the pitstops following its recent issues.
"I'm very happy with having both cars in the points today. I think also the race pace today was better than anticipated so we actually could fight and could also overtake which is encouraging.
"Great to see also today the pitstops which were phenomenal, especially after the hard time we had in previous races. This also helped us to gain these positions also on track today."
Reflecting on the team's achievement, Seidl insists it is the "right motivation" to come back stronger after the winter break.
"We will celebrate this [fourth place] then we try to refocus again on Abu Dhabi to have a good finish of the season. And then obviously it's the right motivation to go into winter and making sure we make the next step as a team for next year."
---