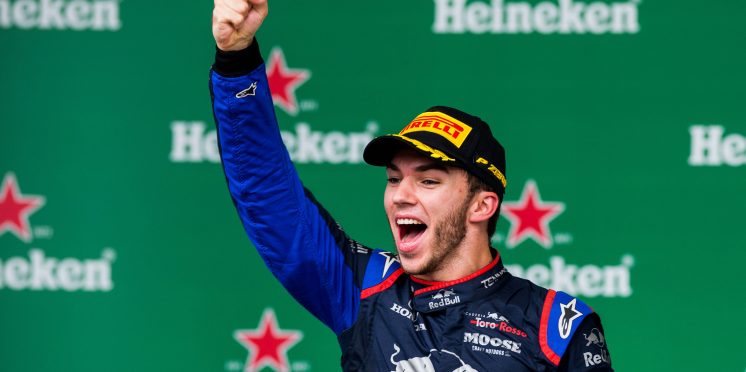 Horner hopes Gasly's confidence will 'continue to grow' after maiden F1 podium
Red Bull team principal Christian Horner is hopeful Pierre Gasly's first Formula 1 career podium will allow him to "continue to grow" in confidence after his mid-season demotion.
Gasly has bounced back from losing his seat at Red Bull to rediscover his form back at Toro Rosso, where he has scored points in five of the last eight races.
Benefiting from a collision between both Ferraris and Lewis Hamilton wiping out second-placed Alexander Albon on the penultimate lap, Gasly negotiated his way through the chaos to finish P2, recording Toro Rosso's second podium of 2019.
"I think he's doing a very good job," said Horner of Gasly's performance.
"I think that removing him from the pressured environment here [at Red Bull], putting him back into the slightly less pressured environment at Toro Rosso – perhaps in a car that is slightly easier to drive – his confidence has been recovering.
"He's put in some great performances and that's why we took the option on him for 2020. It was great to see him get his first podium, and hopefully that confidence will only continue to grow."
During his short 12-race tenure at Red Bull, Gasly struggled to consistently match the pace of Max Verstappen as the Dutch driver claimed victories in Austria and Hockenheim, as well as a pole position in Hungary.
While the decision was made to replace him from Spa onwards, Horner believes Gasly has not let the situation deter him, but insists it was the right call to remove him from the pressured climate at Red Bull.
"I think the way he embraced the change he had two choices, he could get depressed about it, or be grateful for the fact he was still involved in Formula 1 and that Red Bull still believed in him," said Horner.
"I think he embraced it rather than got dejected by it, and I think there was almost a slight relief about it as well because the pressure only mounts.
"He came into the season after two crashes [in pre-season] and there were some really tough races for him, so the pressure only builds. I think it was the right thing to remove him from that pressure, and it's been really good to see him find his confidence at Toro Rosso."
---