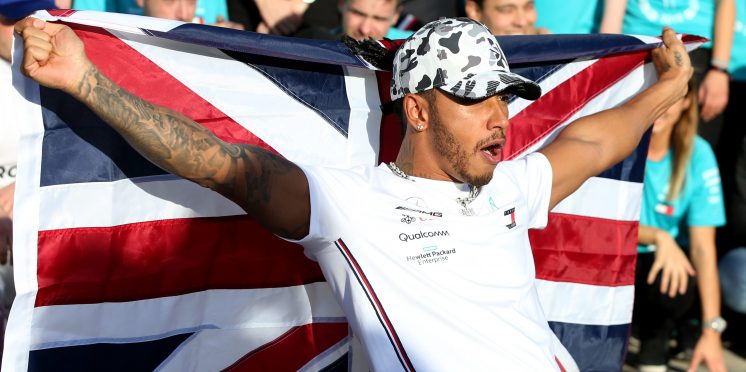 Lewis Hamilton's sixth Championship winning season in pictures
Lewis Hamilton's second-place finish at the US Grand Prix was enough to earn him his sixth Drivers' Championship title, meaning only the great Michael Schumacher (seven) has more titles than the British star. Nobody would rule out Hamilton going on to win another two titles to break Schumacher's record, but even if he doesn't, the 34-year-old will go down as one of the sport's greatest ever competitors. We've taken a look back at Hamilton's season to see exactly how he went on to claim his sixth world title.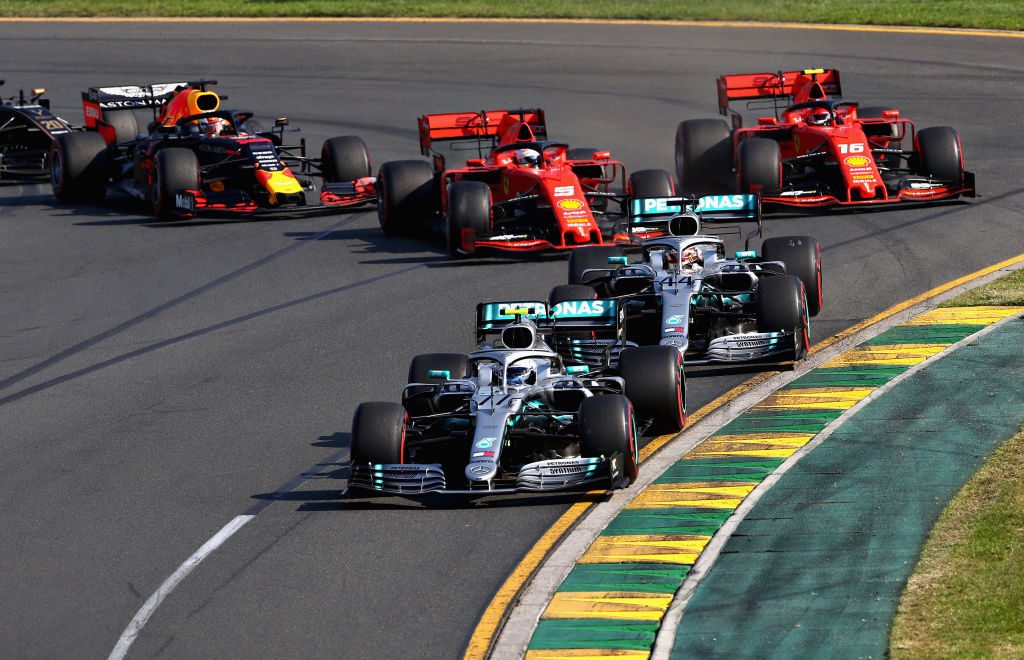 2019 Australian Grand Prix
Lewis Hamilton qualified in pole position for the first Grand Prix of the season in Australia. However, his teammate Valtteri Bottas beat him at the first corner and won the race. Hamilton finished in second place.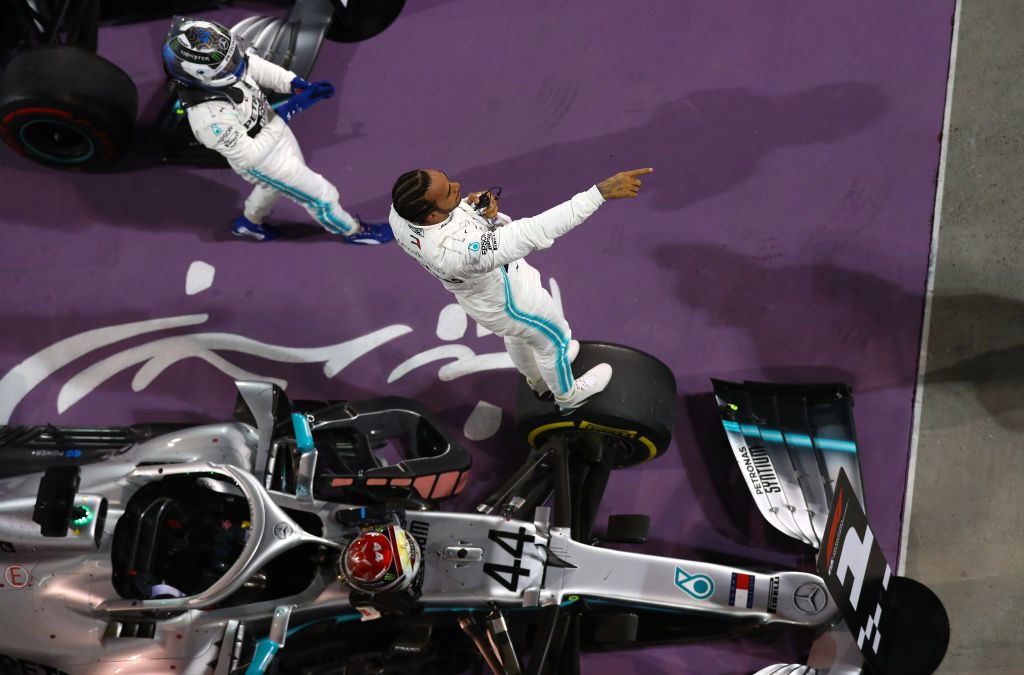 2019 Bahrain Grand Prix
Hamilton started the Bahrain Grand Prix in third-place but found himself in fourth early on after he was overtaken by Bottas. Charles Leclerc took the lead from lap six, with Sebastian Vettel and Bottas in second and third. Hamilton eventually overtook Vettel and Bottas and when Leclerc had engine trouble, Hamilton passed him and went on to win the race.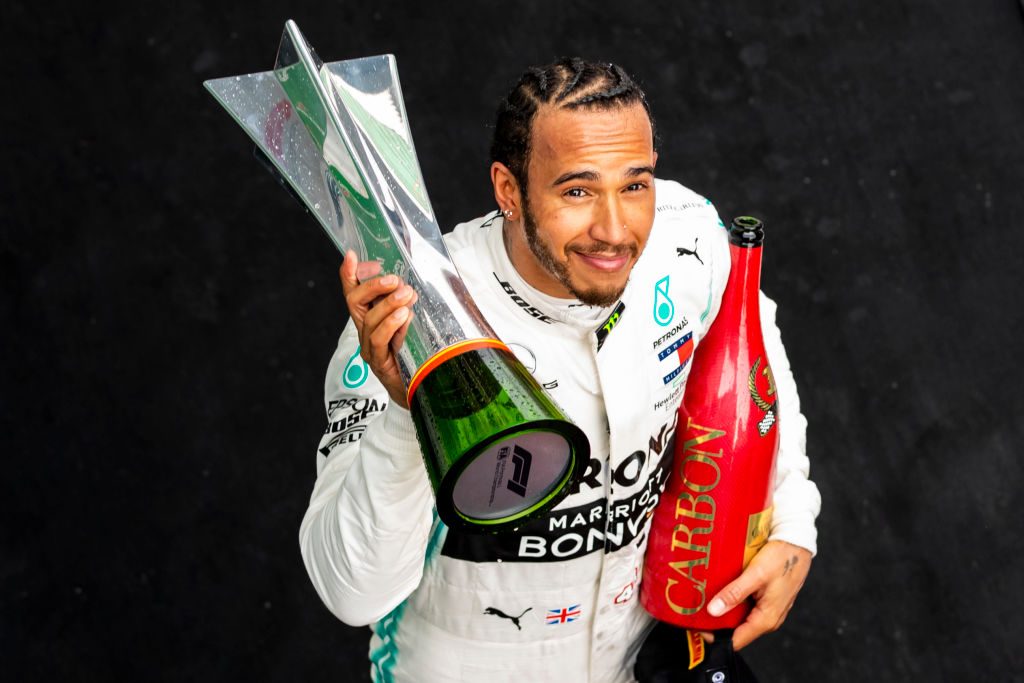 2019 Chinese Grand Prix
Hamilton made it two wins in a row in China. Bottas, from pole, had a poor start and Hamilton moved ahead of him to control the race from start to finish.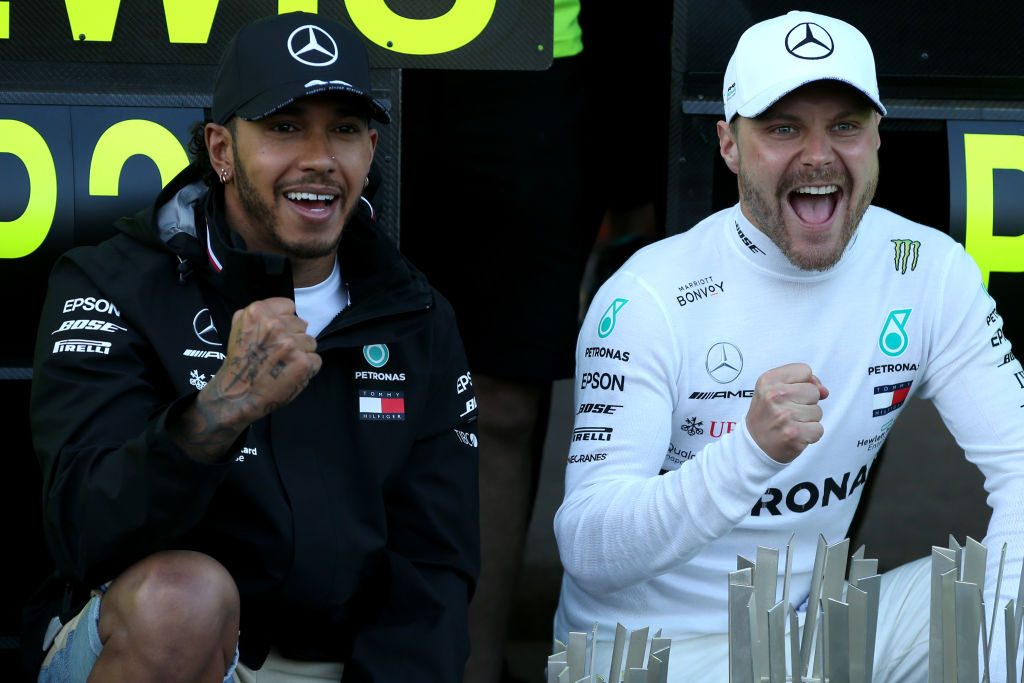 2019 Azerbaijan Grand Prix
Hamilton had to settle for a second-place finish in Azerbaijan, with Bottas winning to secure another Mercedes 1-2 finish. Hamilton tried to take the lead from Bottas at turns one and two but Bottas kept him at bay and won the race.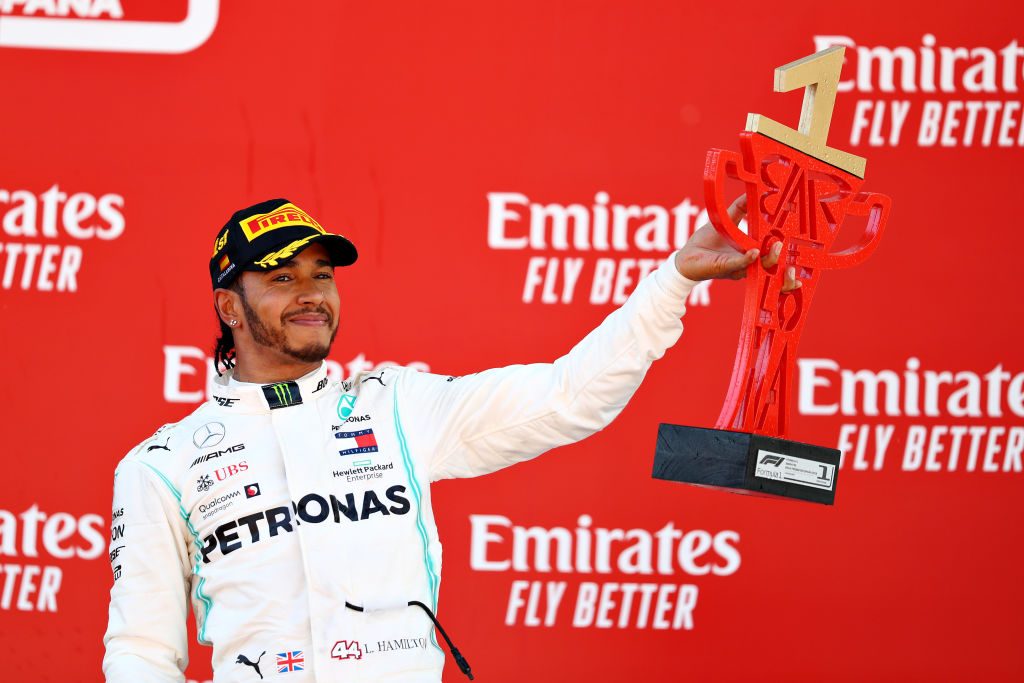 2019 Spanish Grand Prix
Hamilton started the 2019 Spanish Grand Prix in second place but took advantage of Bottas' poor start to take the lead into the first corner and never looked back as he made it three wins from five races.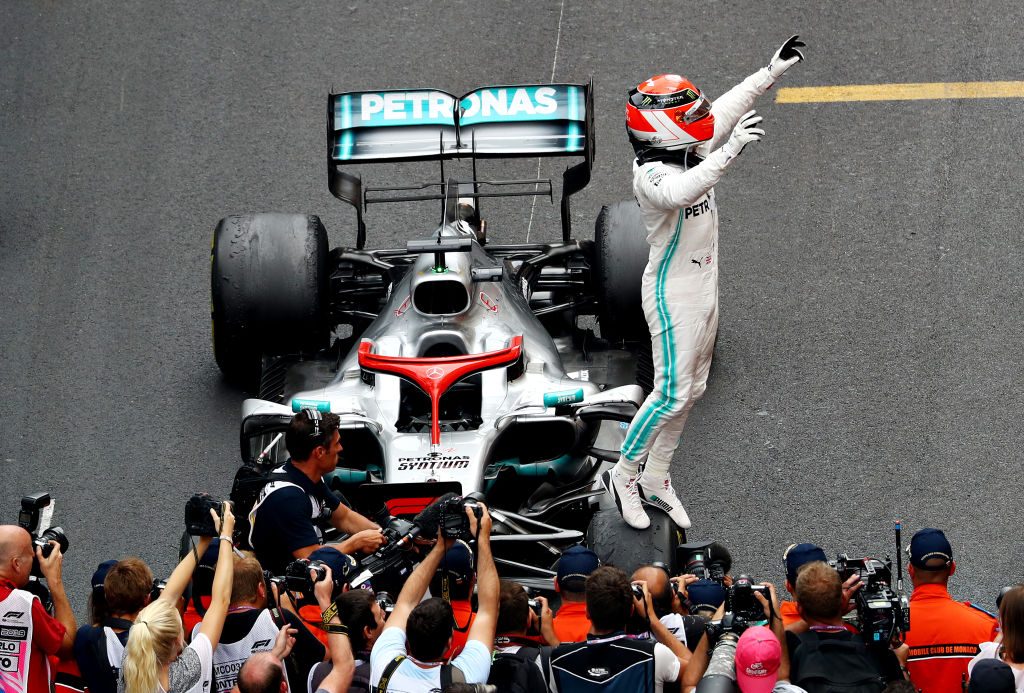 2019 Monaco Grand Prix
Hamilton won his third Monaco Grand Prix, and his fourth race of the 2019 season, in style. He qualified in pole position and led the race from start to finish.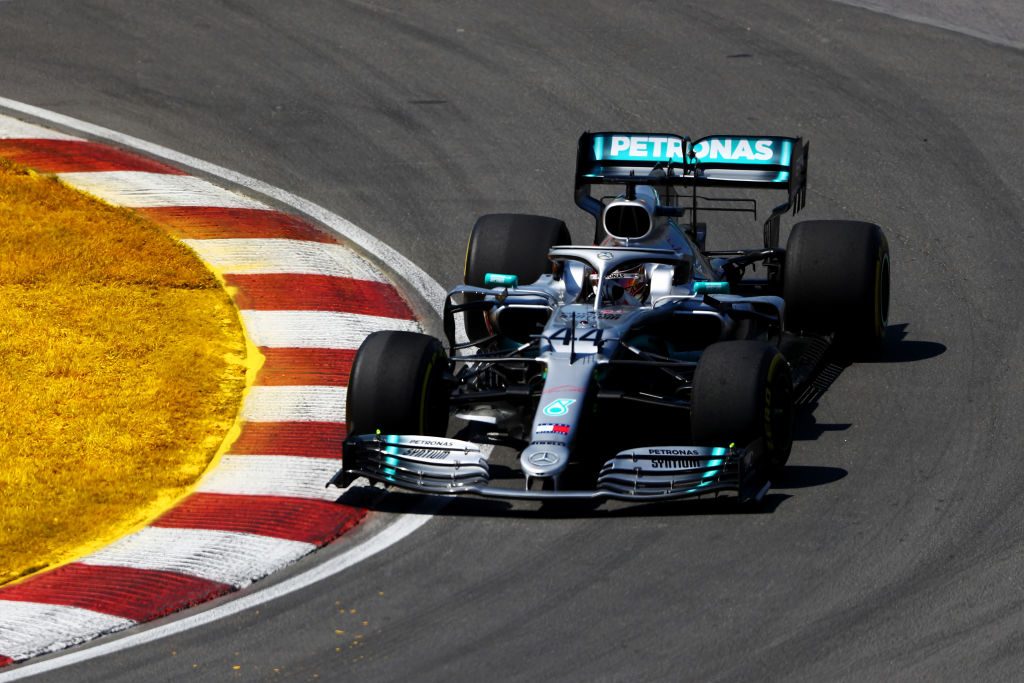 2019 Canadian Grand Prix
Hamilton won his third race on the spin in Canada, although he only did so after a controversial penalty was given to race leader Sebastian Vettel. Hamilton was closely following Vettel up to turn three of lap 48, when the German went straight over the grass, missing out turn four. On lap 57, Vettel was handed a five-second time penalty for the lap 48 incident. Rather than take the penalty, Vettel looked to win the race by more than five seconds from the Brit, but he was unable to do so, winning by just 1.3 seconds. When the penalty was enforced, Hamilton was declared the winner. Ferrari appealed the penalty but were unsuccessful.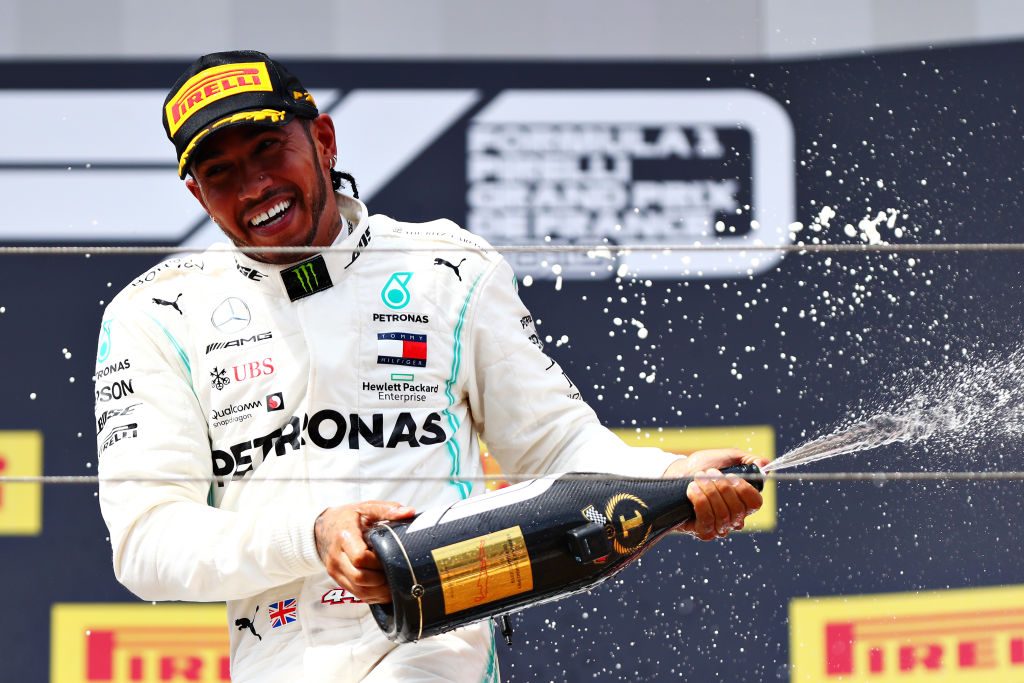 2019 French Grand Prix
Hamilton made it four in a row in France and once again, did so by qualifying in pole and winning the race from start to finish.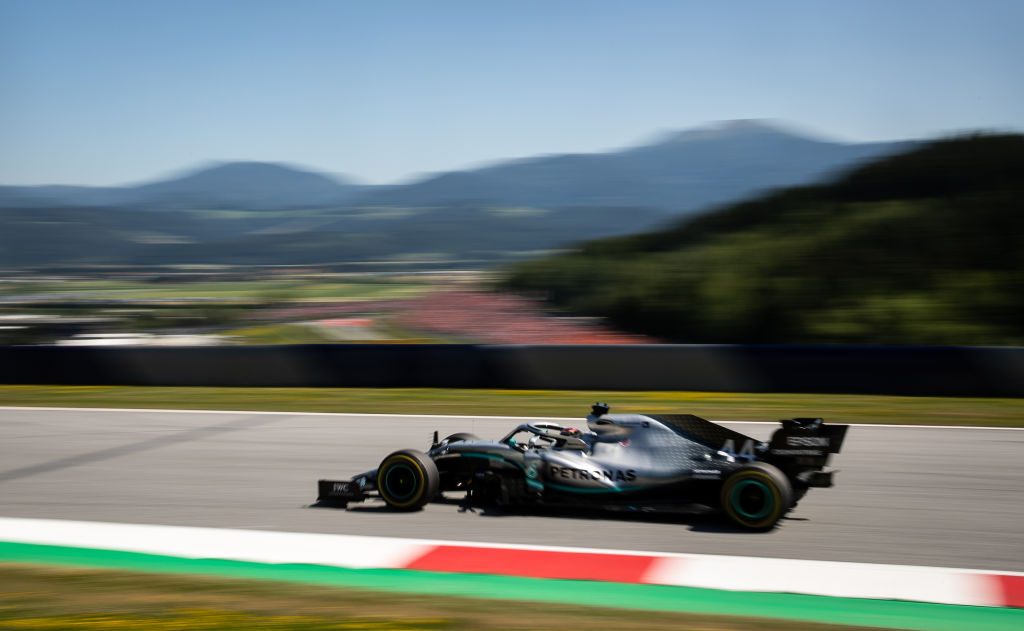 2019 Austrian Grand Prix
Hamilton qualified in second place for the 2019 Austrian Grand Prix but a penalty, for impeding Kimi Raikkonen, saw him start in fourth. A damaged wing midway through the race meant the Brit had to take an extra pit-stop and as such, he finished the race in fifth place.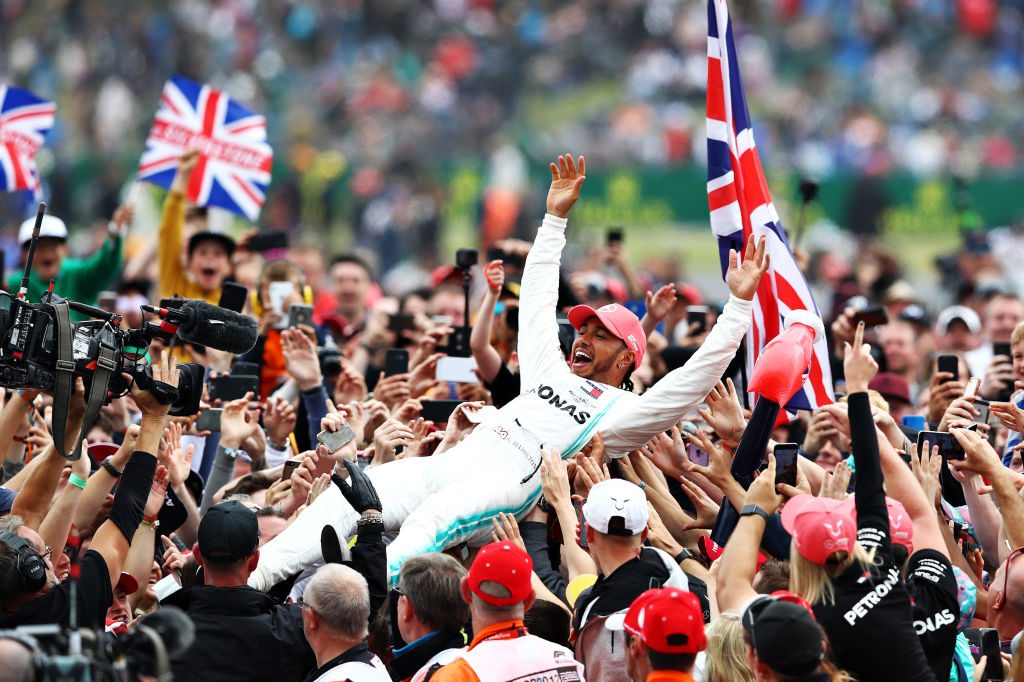 2019 British Grand Prix
Hamilton won the British Grand Prix for a record sixth time, once again, starting on second place on the grid but beating teammate Bottas to the finish line, winning the race by a huge 24.98 seconds.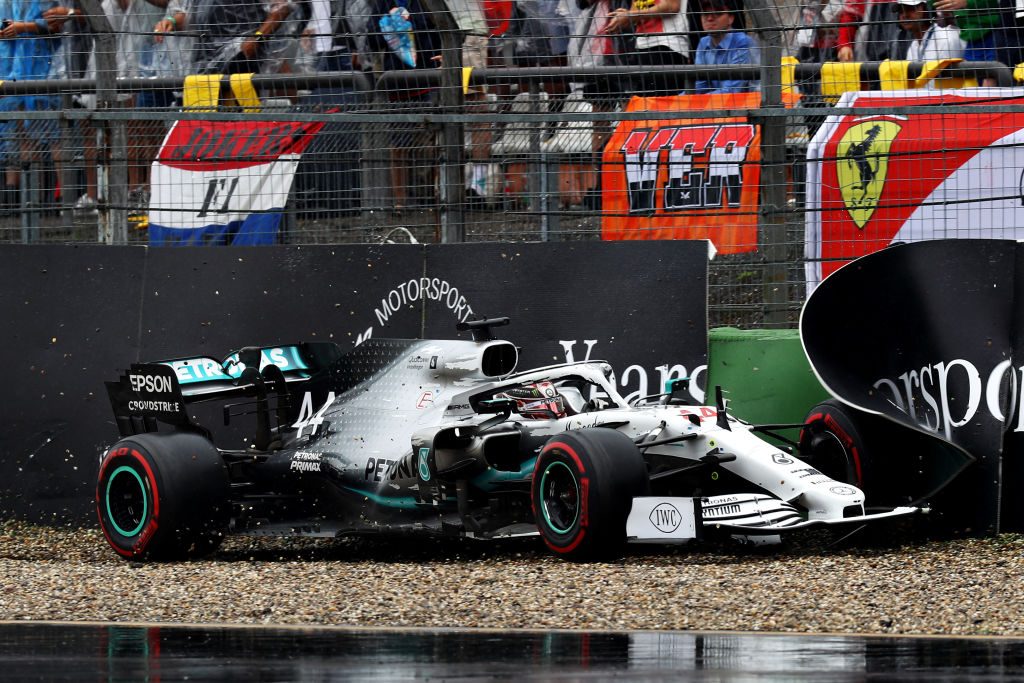 2019 German Grand Prix
The 2019 German Grand Prix was one to forget for Hamilton, who, in wet conditions, crashed behind the safety car. The accident saw him lose the front wing off his car and he then received a penalty for entering the pit lane on the wrong side of a safety bollard. He finished in ninth place, with Max Verstappen winning the race.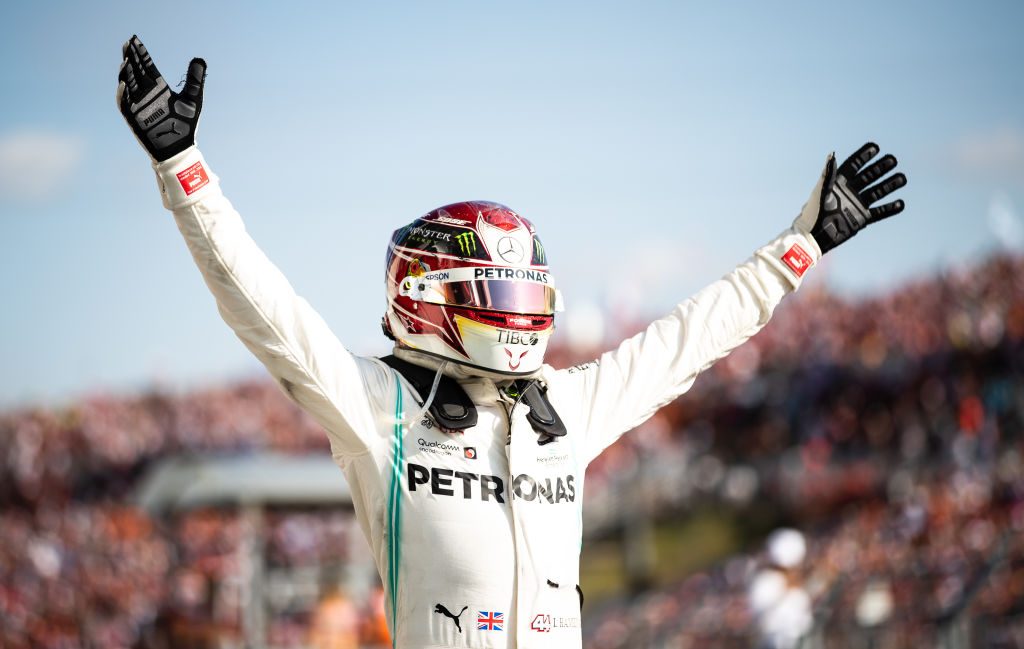 2019 Hungarian Grand Prix
Hamilton got back to winning ways in Hungary. He qualified in third place, behind Verstappen and Bottas. A small clip of wings between Bottas and Charles Leclerc saw the Finnish star's chances of winning dashed, leaving Hamilton and Verstappen in a race to victory. Verstappen established a huge lead but his pit-stop strategy let him down and as his tyres degraded, he gave up the huge lead and Hamilton earned victory.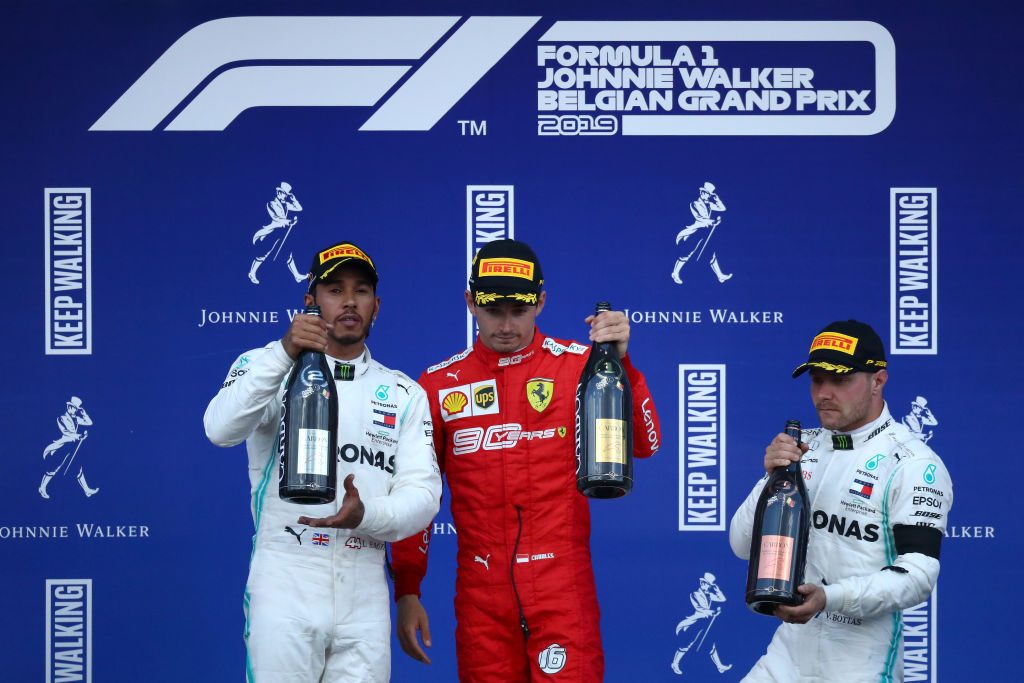 2019 Belgian Grand Prix
Hamilton finished in second place at the Belgian Grand Prix, less than a second behind winner Charles Leclerc. He might have had a chance to win the race, but Antonio Giovinazzi's crash at turn 12 brought out the yellow flags and Hamilton was left feeling a bit frustrated.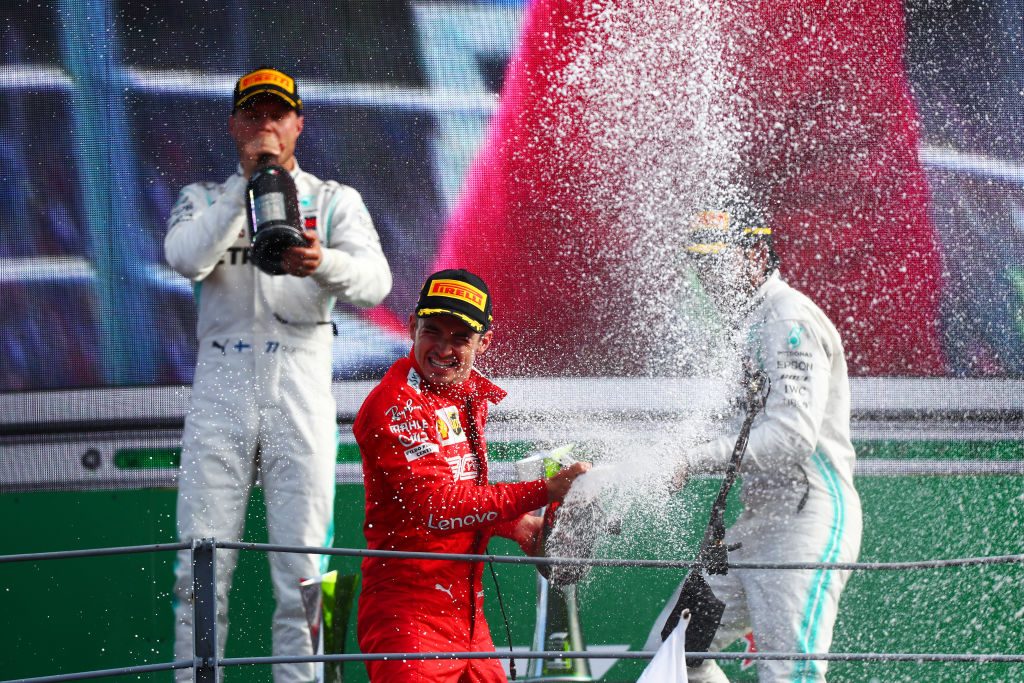 2019 Italian Grand Prix
Hamilton qualified in second at the Italian Grand Prix but ended up in third place, over 35 seconds behind winner Leclerc having decided to make a late-race pit stop for soft tyres to set the fastest lap of the race.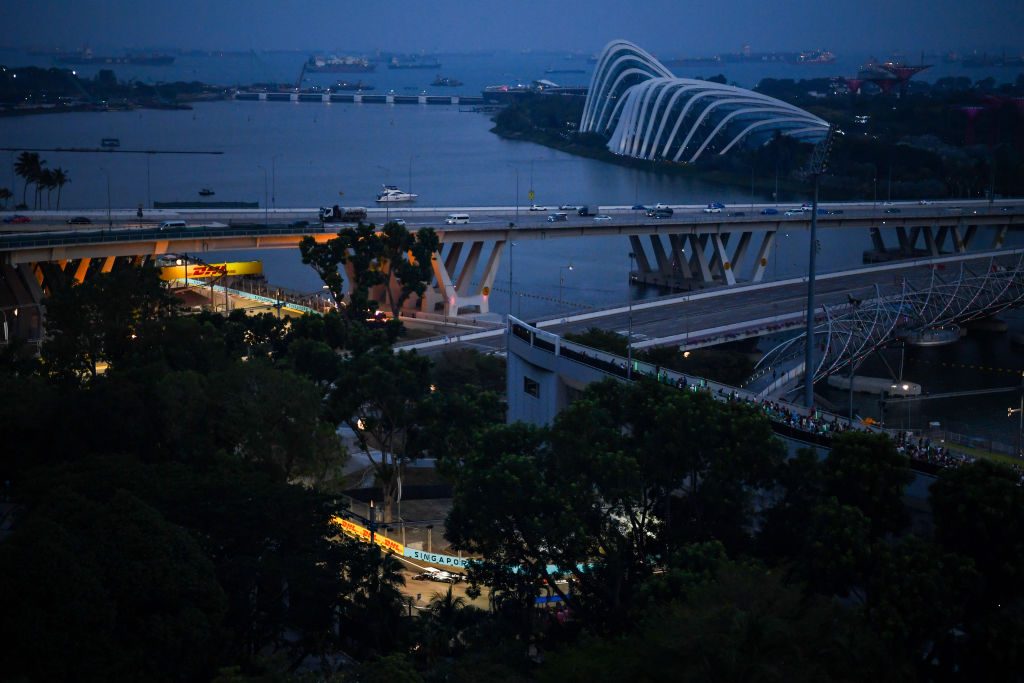 2019 Singapore Grand Prix
Having not gone more than one race without winning all season up until Italy, Hamilton's winless streak extended to three races in Singapore. His plan of running long on ageing soft-compound tyres backfired and he ended the race in fourth place.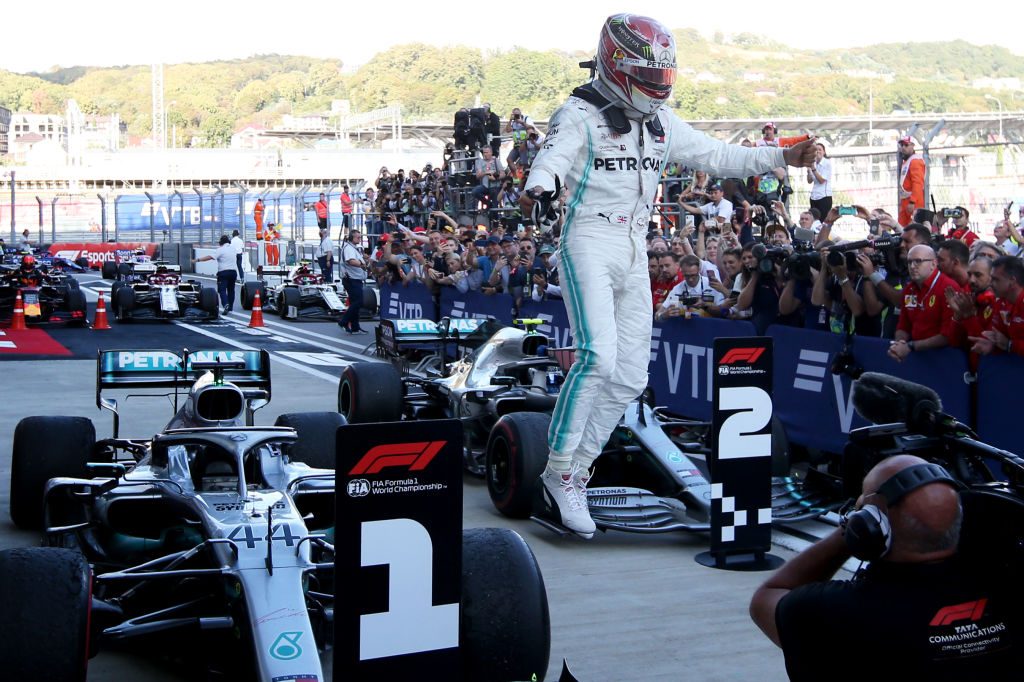 2019 Russian Grand Prix
Hamilton got back to winning ways in Russia. In a tactical race, defined by safety cars and pit stop, Hamilton was able to win for the first time since the summer break, with Bottas completing the Mercedes 1-2 by finishing in second.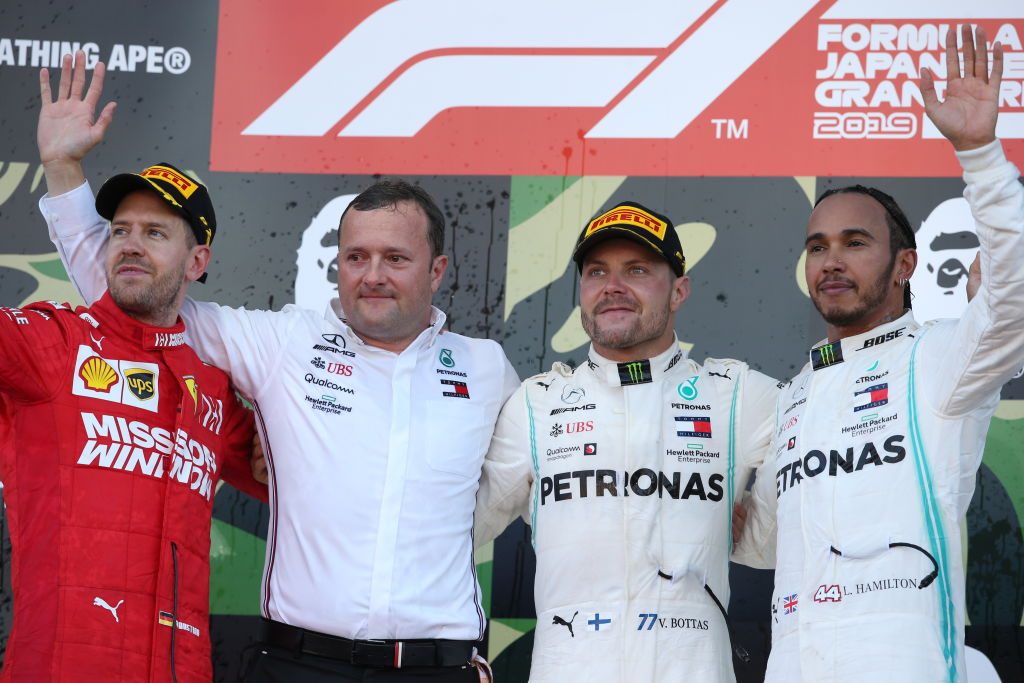 2019 Japanese Grand Prix
Hamilton placed third at the Japanese Grand Prix after an incident on lap two. A piece of Leclerc's front wing broke off and hit Hamilton's car, breaking off one of his wing mirrors. Hamilton did secure a point for the fastest lap, with Bottas winning the race to secure Mercedes a sixth consecutive Constructors' championship.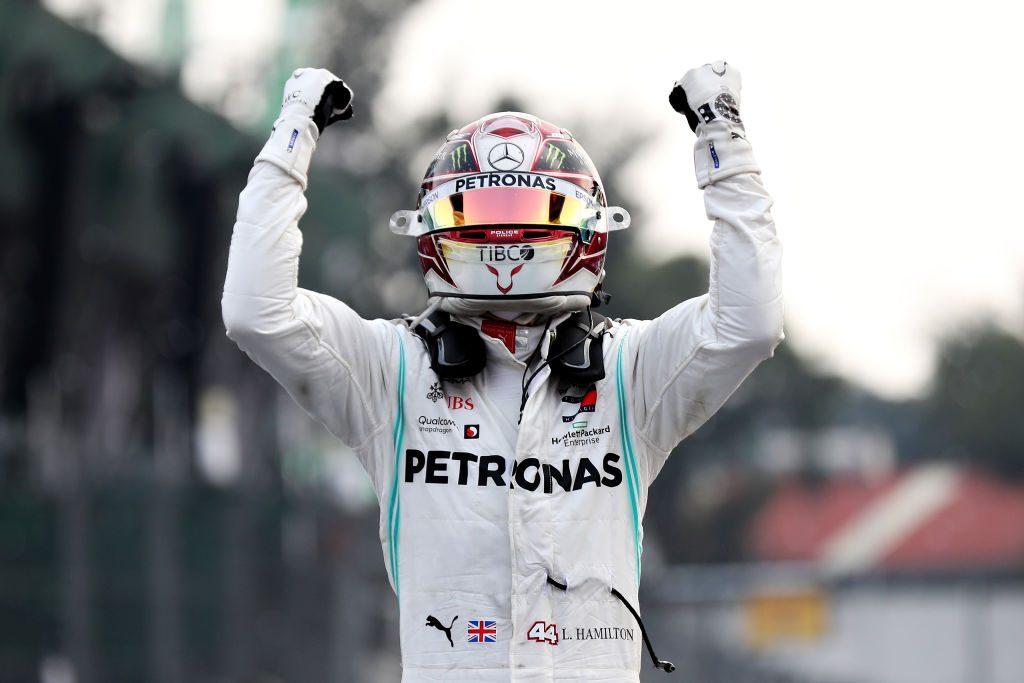 2019 Mexican Grand Prix
Despite qualifying in fourth place and then running off the track at turn 2 after a slight collision with Verstappen, Hamilton was still able to win the Mexican Grand Prix to claim his tenth race victory of the season. Bottas' third-place finish meant that Hamilton was not crowned champion in Mexico, but he didn't need to wait much longer…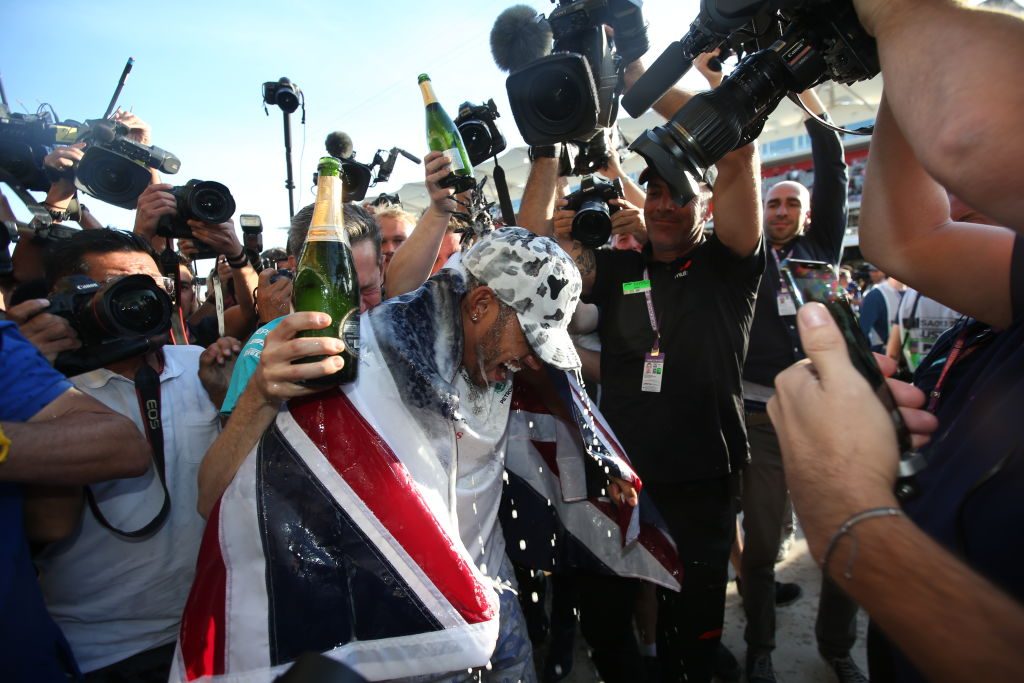 2019 United States Grand Prix
Hamilton could only manage a fifth-place qualification in Texas but he only needed to finish in the top eight of the race to win the title. He ended up in second place, behind Bottas, thus securing his sixth world championship win with two races left to compete in.
---