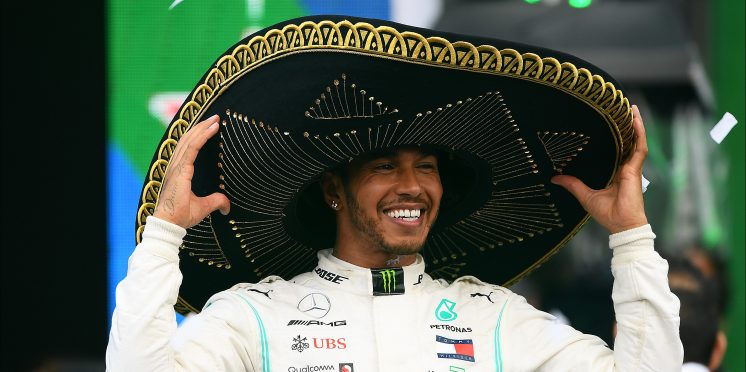 Formula One Preview: United States Grand Prix
Lewis Hamilton could win his sixth world title on Sunday, with the British driver winning four of the last races in the United States.
The Mercedes driver's win in Mexico was his tenth in 2019, putting him within touching distance of the championship win. To put this in to context, Valtteri Bottas has won the second most this season with three, with Charles Leclerc and Max Verstappen winning two each and Sebastian Vettel winning just one.
With just three Grands Prix left in this year's season, there's little time for Bottas to catch his team mate. This might be the weekend where the title is won.
IMPORTANT INFORMATION:
What? United States Grand Prix
Where? Circuit of the Americas
When? Sunday 3rd November (19:10)
PREVIOUS UNITED STATES GP WINNERS?
2018 – Kimi Raikkonen
2017 – Lewis Hamilton
2016 – Lewis Hamilton
2015 – Lewis Hamilton
2014 – Lewis Hamilton
LAST GP REVIEW: MEXICAN GRAND PRIX
Ferrari's Charles Leclerc and Sebastian Vettel took pole and second position in qualifying after Max Verstappen received a grid penalty for failing to slow down under yellow flags. The Red Bull driver started in fourth place whilst Hamilton was promoted to third as the Brit aimed to secure his sixth world title in Mexico City.
Hamilton and Verstappen did have a minor collision in the first lap which resulted in both drivers being pushed on to the grass. The Dutchman's day got even worse when he came in to contact with another Mercedes driver. This time, Valtteri Bottas was the man who's right-rear contact caused a tyre puncture for Verstappen. It turned out to be a costly for Red Bull, who were desperately craving the maximum amount of points they could get from this race.
Lewis Hamilton only made one stop during the Grand Prix, switching on to hard tyres in lap 24. Whilst this strategy was questionable, Mercedes had full faith in their plan as they aimed to help Lewis Hamilton to another Grand Prix win. Team mate Bottas also switched on to hard tyres over ten laps later.
Leclerc's lengthy pit stop towards the end of the race cost the Ferrari driver a hefty amount of time as he looked to gain another podium finish. Ferrari were just aiming to reduce the deficit in the Constructors' Championship, with Mercedes already having won the title in the Japanese Grand Prix.
Hamilton went on to win this Grand Prix, with Vettel in second, Bottas third, Leclerc fourth and Red Bull's Albon and Verstappen taking 5th and 6th. Nico Hulkenberg and Daniil Kyvat's collision right at the end of the Grand Prix caused the Toro Rosso driver to pick up a ten second penalty, relegating him from 9th to 11th.
Sergio Perez finished 7th for McLaren in his home Grand Prix, whilst his team mate had to retire. Alfa Romeo also decided that Kimi Raikkonen would have to retire, with only two drivers not finishing the GP. Renault's Ricciardo and Hulkenberg finished in 8th and 10th either side of 9th placed Pierre Gasly.
Final Classification:
1st – Lewis Hamilton (Mercedes)
2nd – Sebastian Vettel (Ferrari)
3rd – Valtteri Bottas (Mercedes)
4th – Charles Leclerc (Ferrari)
5th – Alexander Albon (Red Bull),
6th – Max Verstappen (Red Bull)
7th – Sergio Perez (Racing Point)
8th – Daniel Ricciardo (Renault)
9th – Pierre Gasly (Scuderia Toro Rosso)
10th – Nico Hulkenberg (Renault)
11th – Daniil Kvyat (Scuderia Toro Rosso)
12th – Lance Stroll (Racing Point)
13th – Carlos Sainz (McLaren)
14th – Antonio Giovinazzi (Alfa Romeo)
15th – Kevin Magnussen (Haas)
16th – George Russell (Williams)
17th – Romain Grosjean (Haas)
18th – Robert Kubica (Williams)
DNF – Kimi Raikkonen (Alfa Romeo)
DNF – Lando Norris (McLaren)
REMAINING GRAND PRIX 2019 EVENTS:
17th November – Brazilian GP, Sao Paulo
1st December – Abu Dhabi GP
---