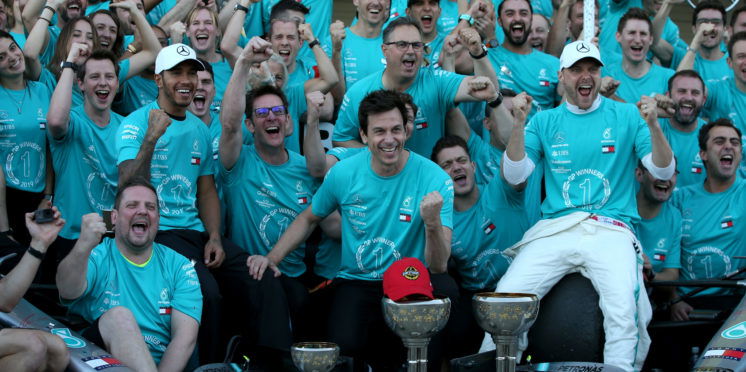 Mercedes confirms equal treatment for both drivers during title run-in
Mercedes has pledged to give both Valtteri Bottas and Lewis Hamilton an "equal opportunity" to win this year's drivers' championship from now until the end of the season.
After the pair finished first and third respectively at the Japanese Grand Prix, the result mathematically ruled out anyone other than either Mercedes driver from being crowned world champion in 2019.
Bottas' victory saw him cut Hamilton's championship lead to 64 points with 104 points still available, and, while the deficit seems irreversible, team boss Toto Wolff has refused to back one driver over the other in the remaining races.
Asked how Mercedes will approach the last four races with both drivers in contention for the drivers' crown, Wolff said, as quoted by Crash.net: "I think we have to stay true to the values that we have defined in the past, and always play the most fair game.
"You can see how difficult it is sometimes, but I'm keen to see them race.
"Valtteri is very much an outsider with the points, 64 points? That's two and a half wins. We will give them equal opportunity and it's for them to race it out on track."
Bottas admits he would need to be "very lucky" to overturn the current points scenario but won't back down in the inter-team battle.
"I don't think there's any reason to give up as long as there is a theoretical chance," Bottas said.
"What happened here is a good example, because I was starting third with two Ferrari ahead, so it was going to be difficult to win, from this point of view.
"So, it's possible, but I'm realistic as well and I would need to be very lucky – that's a fact – to win all the rest of the races.
"But, if we've reached this point it's mostly my bad, that I'm this much behind compared to Lewis, it's my fault and I'll have to work on it for the future.
"For now, I'll just take it race by race and see what happens."
Formula 1 heads to Mexico for the next round of the championship, where Hamilton has wrapped up his last two titles, but the Briton expects Mercedes to struggle on the Autodromo Hermanos Rodriguez circuit.
"I think it never has been a case of always wanting to rush things," Hamilton said.
"I think Valtteri has driven brilliantly all year long and has done a great job here [Suzuka] and is very likely to be strong at these next races so we will still have a battle and that will continue.
"I think Mexico is challenging and has been our toughest track of the year because of the way our car is setup, so it will be a tough one for us as the last few have been pretty shocking even though we've won the title.
"I am hoping for a better weekend but I think it is going to be very hard to beat the Ferraris on those long straights."
"Even the others like Red Bull and McLaren have been creating some serious speeds on those straights. I think it will be very tricky and I don't anticipate it in Mexico and we will be battling for a few races."
---