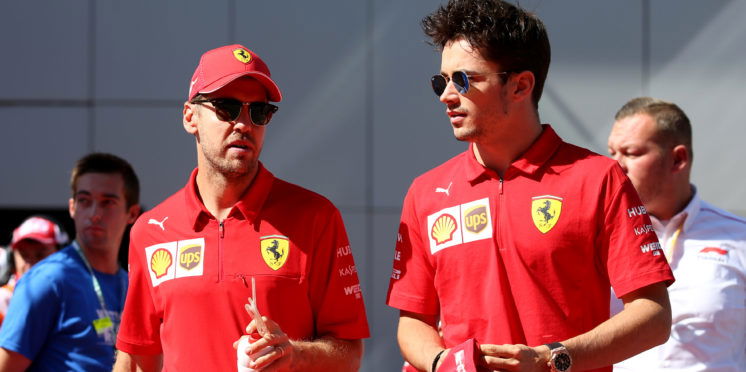 Leclerc still trusts Vettel despite Russian GP controversy
Charles Leclerc insists the "trust is still here" with Ferrari team-mate Sebastian Vettel despite the German's apparent refusal to follow team orders during the Russian Grand Prix.
After starting first and third on the grid, Vettel grabbed the lead into Turn 2 after slipstreaming pole-sitter Leclerc off the line.
As the pair ran one-two early on it became clear with conservations over team radio that this was an orchestrated pre-race agreement, and that soon Ferrari planned to swap both drivers around.
Although Vettel was ordered to concede first place, the four-time world champion failed to obey the instructions, which in turn forced the Italian team to revert to separate plan to allow Leclerc to resume his position.
This was done when Leclerc was pitted earlier than Vettel but, after rejoining behind his team-mate, Vettel suffered a mechanical failure that caused a virtual safety car and allowed both Mercedes to leapfrog Leclerc.
Asked if he still had faith Vettel could honour pre-race agreements at future races, Leclerc said, as quoted by Motorsport.com: "Yeah, I think the trust doesn't change and I think we need to trust each other, Seb and myself.
"I think it's hugely important for the benefit of the team in some situation, to know that you can count on the other car and vice versa.
"So, yeah, I think it's very important, but yes, the trust is still here. "
Vettel believed he didn't breach any instruction Ferrari gave him during the race, but was coy on his view of the events.
"I think I stuck to the agreement," he said. "Obviously it was a big shame because I think we had a good chance today to finish first and second.
"I think on my side it's best if I don't say anything. I think Mattia [Binotto, Ferrari team principal] gave an explanation which is valid, so [let's] leave it there."
When asked if he would have considered moving aside for Leclerc had he been leading near the end of the race, Vettel said: "Well, obviously, I don't know what happened, I wasn't really aware when Charles was going to pit, because obviously you do your own race.
"I was aware of the fact I was quite a bit down the road. And obviously the last laps before the pitstop I was struggling more and more with the tyres. So I realised that obviously it would be time to pit.
"When I got out, obviously I found myself behind, then I had a problem and so on – and obviously the bigger downside was the fact that we had to retire.
"It didn't come to that stage [where I'd have to consider a late-race swap], so it's a bit pointless [to discuss now]."
---