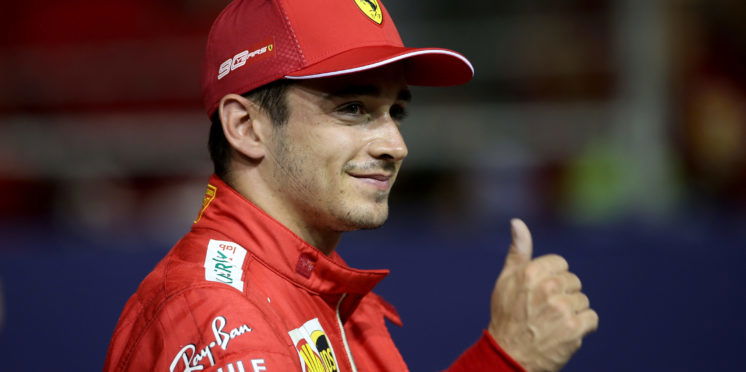 Leclerc: 'quite a surprise' for Ferrari to be on pole in Singapore
Charles Leclerc admits his pole position in qualifying for the Singapore Grand Prix came as "quite a surprise" for Ferrari after it had braced for a tough weekend.
Off the back of his victories on circuits that reward straight-line speed, Leclerc played down Ferrari's chances of repeating its success at the Marina Bay circuit due to the stark difference in track layout.
Mercedes and Red Bull were expected to be the pacesetters this weekend but, following a difficult Friday, Ferrari began to enter the fray leading the way in final practice.
The Italian team's turn around in performance transferred into qualifying as Leclerc's final flying lap saw him grab his third pole on the bounce by just under two-tenths of a second.
"It was quite a crazy lap," said Leclerc, reflecting on his pole lap, as quoted by Crash.net. "The first one I compromised it, I started the lap too close to Lewis.
"I compromised the second sector, so then there was quite a bit of pressure to perform on the last lap.
"I gave it my all, there was quite a bit of mistakes, I lost the car a few times and I see myself in the wall at least twice or three times in the lap.
"But it felt amazing and the car was great. Friday was a very difficult day for me, so to come here and do the pole position feels absolutely amazing.
"I'm very surprised because even though we knew that there were was a bit more to come we didn't expect to challenge Mercedes or Red Bull," he added.
"It's quite a surprise for the whole team but it proves how good of a they've done back at the factory and here, so it's thanks to them they're on pole."
A substantial aerodynamic package was brought by Ferrari for this weekend, with Leclerc pleased by the added performance of the upgrades, believing the team's struggles in Hungary helped them understand the complexities of the car better.
"Performance-wise it seems that it's working and I think data-wise for the engineers it is working too," he said.
"I think from Hungary to now we've understood also the car better, we know the balance we need to achieve to have the best performance and I think that also shows on track.
"So I think it is a combination of knowing where the balance needs to be and the improvements we made on the car."
---