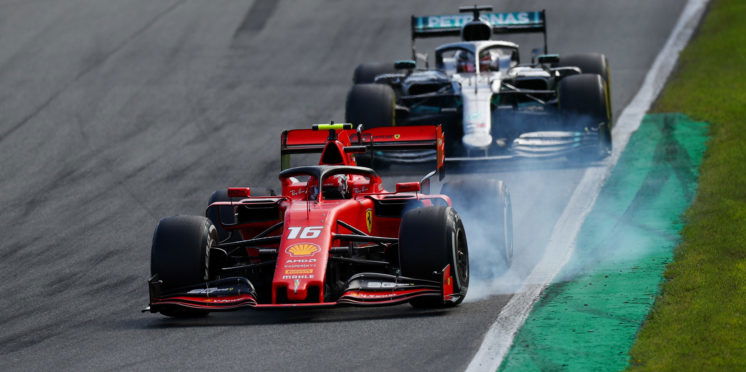 Wolff: Leclerc's driving 'maybe over the line' in Hamilton duel
Mercedes team boss Toto Wolff classed Charles Leclerc's defensive driving while resisting pressure from Lewis Hamilton for the lead of the Italian Grand Prix as "maybe over the line".
The pair endured a race-long battle that almost resulted in a collision on a two separate occasions, as Leclerc tried in vein to defended his position on hard compound tyres, compared to Hamilton's mediums.
The Ferrari driver squeezed Hamilton at the second chicane, receiving the black-and-white flag as a result, before a lock-up at Turn 1 left him vulnerable to an attack around Curva Grande where he blocked Hamilton's path.
"They [the stewards] are in a very difficult situation, to come up with the right decisions, that are not always clear cut," said Wolff post-race, as quoted by Motorsport.com.
"I know you want to have some more spicy stuff and I just said to Martin Brundle, I have enough of my own problems to solve that I don't want to have [F1 race director] Michael Masi's problems on top of that.
"The racing was very hard, maybe over the line – and Lewis I think was instrumental in not making it an incident.
"But at the end of the day, what do you do? You give a leading Ferrari in Monza a five-second penalty? Out of the question….because then we need a police escort out of here."
The FIA reinstated the black-and-white flag at Spa last weekend as a principle to warn drivers of their behaviour in wheel-to-wheel racing.
Wolff, however, believes the ruling is only going to lead to drivers pushing the limits on driving standards in racing situations, as they'll be given a warning beforehand.
"There will be more cars touching, it will be more of a common practice," he added.
"In my opinion it's going to go to the point that it will end up again in a collision, and then we're going to bail out of it again, or crawl back. This is the modus operandi. Until then, we let them race."
---