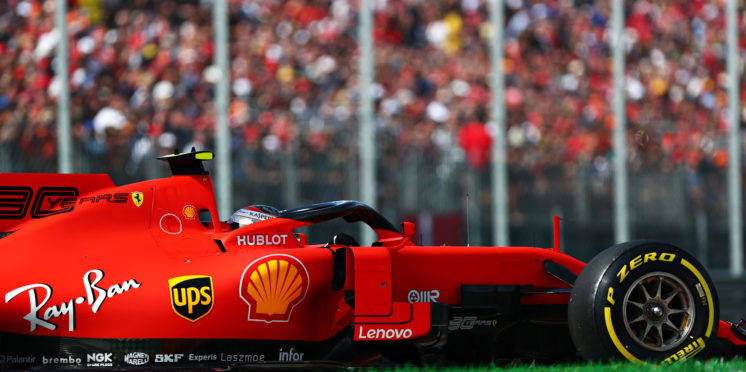 Ferrari and Leclerc Take Pole on Home Soil Amid Q3 Confusion
Charles Leclerc scored pole position for the 2019 Italian Grand Prix at Monza, with Hamilton, Bottas and Vettel behind him.
Whilst the majority of the field decided to set their flying laps on the soft tyres for Q1, Ferrari opted to go against the mould by sending its drivers out on medium tyres.
Leclerc went the quickest with a 1:20.126, whilst Vettel was two-tenths down on his team-mate in sixth place.
Mercedes finished third and fourth on soft tyres with Bottas and Hamilton respectively, and had no issues getting through to Q2.
Renault looked very competitive, with Nico Hulkenberg just only a fraction behind the fastest time set by Leclerc.
A brief red flag was brought out when Sergio Perez stopped his Racing Point on-track and saw the Mexican eliminated in Q1.
The red flag was poorly timing for Verstappen, who was about to start a flying lap only to return back into the pits.
Verstappen's Q1 session was made worse when the session was resumed as on his final lap he reported a loss of power which meant he was unable to set a time in qualifying and would finish 20th.
The Dutchman was already starting at the back of the grid due to engine penalties, but it caused concerns for Red Bull, who was already having power issues despite having a new and improved engine.
Joining Perez and Verstappen out of Q1 was Grosjean in 16th as well as Russell and Kubica in 18th and 19th respectively.
All 15 cars decided to set their fastest laps in Q2 on the soft tyres, nobody seemingly interested in running the medium tyres for a longer first stint in the race.
Mercedes showed signs they could compete with Ferrari as Hamilton set the fastest time with a 1:19.464, under a tenth clear of Leclerc.
Renault's once again looked impressive, with Ricciardo in fourth and ahead of Bottas, whilst Hulkenberg was down in eighth and within a second of the fastest lap time.
Raikkonen's first outing in Q2 saw him understeering at the first Lesmo corner and taking a trip to the gravel, ruining his lap time.
In the closing moments of Q2, there was a scrap for track position to take advantage of the slipstream effect.
McLaren decided to allow Sainz to take advantage of Norris' slipstream, resulting in the Spaniard to make it into Q3. Norris, who would join Verstappen in grid penalties, was starting at the back of the grid so his Q2 knockout didn't impact his starting grid spot.
Gasly will also start from the back of the grid, but he was too far ahead to give Kvyat the benefit of a tow.
Combined with a mistake out of the second chicane, the Russian couldn't improve his lap time and was eliminated in 13th place in Q2 alongside his team-mate.
Raikkonen managed to set a lap time good enough to get into Q3 at the expense of his team-mate, who missed out on Q3 by only a few thousandths in his home grand prix.
Stroll set a lap time good enough to make it into Q3 for the first time this season. The Canadian's last Q3 appearance came at the Italian Grand Prix in 2018 during his stint at Williams.
Magnussen would be the final driver eliminated in Q2 alongside the other four in 12th place.
Mind games were played in Q3 by Mercedes by pulling over at the end of the pitlane, similar to what it did in Azerbaijan.
The other teams mirrored the Mercedes' and ended up with all 10 drivers scrapping for track position once again.
Vettel's first outlap in Q3 saw him locking up both front tyres into the first chicane and having to take to the escape road. But by being the first car out on the track, he couldn't benefit from the slipstream.
Leclerc took provisional pole with a 1:19.307, but Hamilton was only four-thousandths behind the Ferrari in 2nd, with Vettel in 3rd.
Bottas, Ricciardo, Hulkenberg and Sainz were the other three drivers who set a lap time before a second red flag was brought out in Qualifying when Raikkonen crashed for a second time during the weekend.
The result saw significant damage to the rear of the Alfa Romeo, meaning he would finish qualifying in 10th place, as Albon and Stroll did not complete their first flying lap before the red flag was brought out, meaning the pair lost out as a result.
With just minutes to go, drivers were scrapping away for track position. Nine of the ten drivers couldn't set a lap-time as they did not make it to the line in time to start their flying lap.
This meant Leclerc would score his fourth pole position of 2019 with his first lap enough to beat Hamilton's best effort, with Bottas 0.050s behind in third.
Vettel would finish fourth, with Ricciardo, Hulkenberg, Sainz, Albon, Stroll and Raikkonen rounding out the top 10.
---