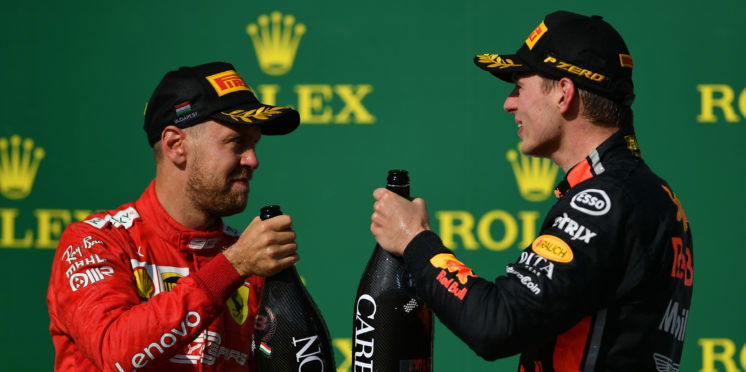 Formula One Preview: Belgian Grand Prix
Sebastian Vettel and Lewis Hamilton will be the firm favourites in contention to win the Belgian GP ahead of the qualifiers in Stavelot, after winning numerous titles in Belgium over the past decade in their lengthy careers.
Both drivers achieved a podium finish in the last Grand Prix at Hungaroring, with Lewis Hamilton in first place and Vettel taking third. The promising Max Verstappen will also look to take pole position in Belgium after such a promising season at Red Bull.
Here is everything you need to know ahead of the Belgian Grand Prix at the very start of September in Stavelot.
IMPORTANT INFORMATION:
What? Belgian Grand Prix
Where? Circuit de Spa-Francorchamps, Stavelot
When? Sunday 1st September 2019 (14:10)
PREVIOUS BELGIAN GP WINNERS:
2018 – Sebastian Vettel
2017 – Lewis Hamilton
2016 – Nico Rosberg
2015 – Lewis Hamilton
2014 – Daniel Ricciardo
LAST GP REVIEW: HUNGARY GRAND PRIX
Valtteri Bottas had a nightmare start, suffering damage to his front wing from contact with Hamilton and Leclerc. This allowed Sebastian Vettel to overtake the Finnish driver. In contrast, his Mercedes team mate and Red Bull's Max Verstappen started very well.
The latter had a two second advantage over Lewis Hamilton going in to the sixth lap, whilst Bottas made a pit stop to repair the damage to his car. Daniel Ricciardo recovered well, coming right from the back of the pack to 14th ahead of lap 20 in Belgium. Team mates Daniel Kyvat and Alexander Albon from Scuderia Toro Rosso's battle for 12th was also fascinating, with the two team mates nearly making contact with each other.
Romain Grosjean was in 10th place before his pit stop in the same lap, falling down to 16th place as a result. The battle for first between Verstappen and Hamilton was as ferocious as ever in the 25th lap, extending their lead over Charles Leclerc to over 18 seconds.
Verstappen's great stop in the 26th lap allowed him to come out in second place in front of Charles Leclerc, with Lewis Hamilton taking an 18 second lead in the meantime. The 28th lap pit stop that Leclerc made himself allowed Vettel to take third place. Hamilton finally made a pit stop in the 32nd lap. However, he wasn't able to retain first place because of his four second pit stop. Although Verstappen had a five second lead at that point over the Brit, Hamilton reduced the margin to under half a second in the 35th lap.
Hamilton made another stop in the 49th lap in a tyre change that put him over 20 seconds behind Verstappen when he came back out of the pits. Even with just ten laps to go, he was still over ten seconds behind the Red Bull driver and it looked like the Dutchman may have just edged it.
Whatever happened, it was obvious that it was only going to be a two-horse race for first position, with the gap between second and third place extending to over 55 seconds in lap 64. Two laps after this, Hamilton reduced the margin to under half a second behind Verstappen and overtook him at the start of the next lap.
Meanwhile, the battle between Vettel and Leclerc was continuing for third place and the form managed to overtake his team mate in the last couple of laps. The positions of 1st, 2nd and 3rd remained the same for the rest of the GP and Lewis Hamilton claimed yet another win in 2019.
Romain Grosjean of Haas was the only driver not the finish the Hungarian Grand Prix. The final standings of the drivers can be found below.
Final Classification:
1st – Lewis Hamilton (Mercedes)
2nd – Max Verstappen (Red Bull)
3rd – Sebastian Vettel (Ferrari)
4th – Charles Leclerc (Ferrari)
5th – Carlos Sainz (McLaren)
6th – Pierre Gasly (Red Bull)
7th – Kimi Raikkonen (Alfa Romeo)
8th – Valtteri Bottas (Mercedes)
9th – Lando Norris (McLaren)
10th – Alexander Albon (Scuderia Toro Rosso)
11th – Sergio Perez (Racing Point)
12th – Nico Hulkenberg (Renault)
13th – Kevin Magnussen (Haas)
14th – Daniel Ricciardo (Renault)
15th – Daniil Kvyat (Scuderia Toro Rosso)
16th – George Russell (Williams)
17th – Lance Stroll (Racing Point)
18th – Antonio Giovinazzi (Alfa Romeo)
19th – Robert Kubica (Williams)
DNF – Romain Grosjean (Haas)
REMAINING GRAND PRIX 2019 EVENTS:
8th September – Italian GP, Monza
22nd September – Singapore GP
29th September – Russian GP, Sochi
13th October – Japanese GP, Suzuka
27th October – Mexican GP, Mexico City
3rd November – US Grand Prix, Texas
17th November – Brazilian GP, Sao Paulo
1st December – Abu Dhabi GP
---