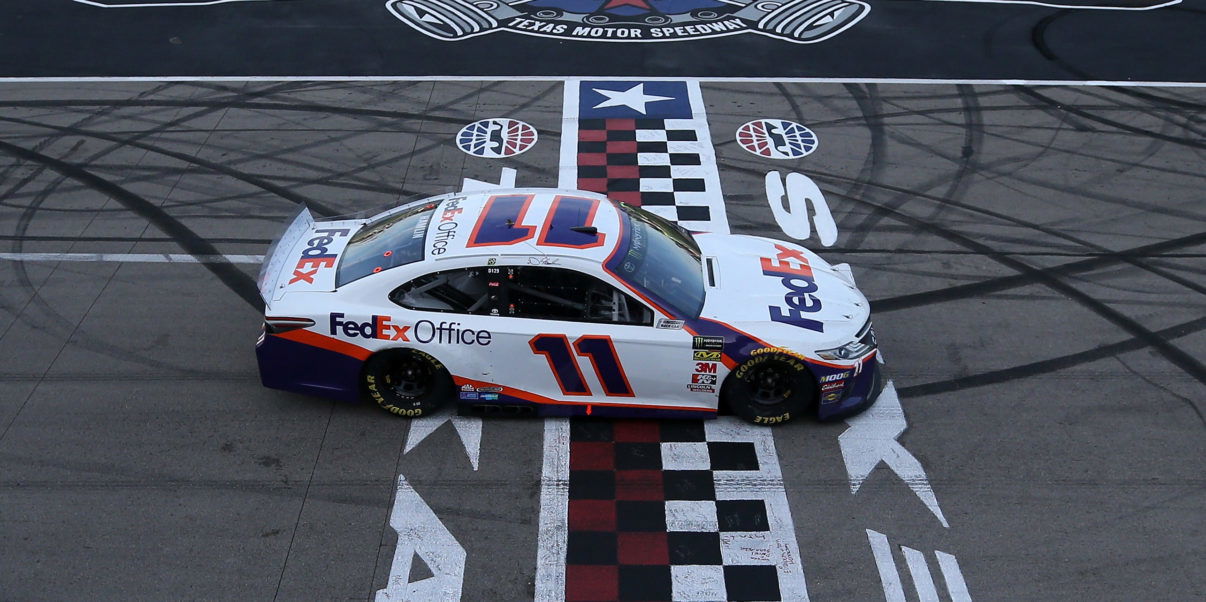 Hamlin recovers from two penalties to win in Texas
Joe Gibbs Racing's Denny Hamlin recovered from two pitlane penalties to win in Texas and take a his second victory of the 2019 NASCAR Cup Series season.
Daytona 500 winner Hamlin was handed his first drivethrough penalty for speeding in the pitlane during stage one.
He climbed back through the field to win stage two, but was then issued a second drivethrough of the day for an uncontrolled tyre violation at the start of the third and final stage.
Dropping to 18th, the JGR driver worked his way into second place behind team-mate Erik Jones prior to the final pitstop sequence of the race.
With Jones needing to fit new tyres at his final stop and Hamlin only needing to top up his fuel with just 20 laps of the race remaining, the #11 car vaulted ahead to take the chequered flag.
Despite leading the most laps during the race, Kyle Busch ended up 10th after he was eliminated from victory contention when he hit the wall with 50 laps remaining and required an early final pitstop.
Clint Bowyer finished in second, gradually climbing up the order throughout the race after starting in 29th as a result of being compromised by pitlane congestion in qualifying.
Bowyer's Stewart-Haas Racing team-mate Daniel Suarez briefly led during stage three before finishing in third. Suarez was on the same strategy as Jones and managed to jump the #20 JGR car at the final pitstop.
Jimmie Johnson led over 50 laps in the opening stage after starting in pole position. He prevailed in a battle with William Byron in the closing stages, as the two Hendrick Motorsports' drivers finished fifth and sixth – Byron denied a first Cup Series top five finish.
Despite struggling with flu and requiring IV fluids before the race, Aric Almirola finished in seventh, fending off team-mate Kevin Harvick and Chip Ganassi Racing's Kurt Busch in the closing stages.
All three Penske cars were derailed by issues during the race. Joey Logano won the opening stage, but slipped down the order for an uncontrolled tyre violation in stage two.
The bonnet of his Ford Mustang collapsed and began buffeting towards the end of the second stage and required attention. He ended the race a lap adrift in 17th.
Ryan Blaney was another driver to briefly lead the race in the final stage, after finishing stage two in second place. However, an engine failure curtailed his challenge.
Dominant Martinsville winner Brad Keselowski had to return to the garage at the start of the second stage with a driveshaft issue. He lost 55 laps while the fault was fixed.
---