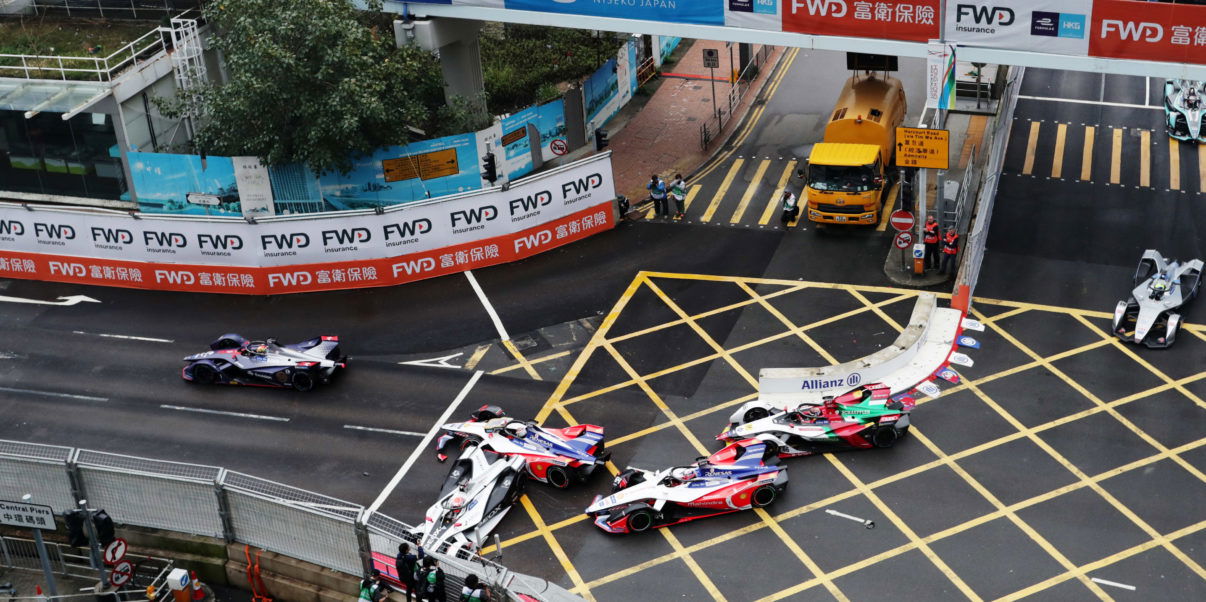 D'Ambrosio slams Dragon for allowing "dangerous" situation
Mahindra's Jerome d'Ambrosio has criticised Dragon and its driver Felipe Nasr for causing a "dangerous" situation with their damaged car leading to a crash in the Hong Kong E-Prix.
Both d'Ambrosio, who led the Formula E championship before the Hong Kong round, and his Mahindra team-mate Pascal Wehrlein retired from the race on the second lap after crashing into Nasr's Dragon car at the blind Turn 2 right-hander.
Nasr had lost his front wing on the first lap of the race and after having sent plumes of smoke into the air down the proceeding straight from the tyres rubbing against bodywork, he arrived at Turn 2 unable to make the corner.
He buried his Dragon into the wall on the exit and d'Ambrosio and Wehrlein failed to avoid his crashed car, leading to a partially blocked track and a red flag.
D'Ambrosio, who raced for Dragon during the first four seasons of FE, has slammed his former team for failing to pit Nasr and his damaged car at the end of the opening lap.
"I think it's ridiculous," he said of the situation. "If you get a guy like Nasr having something obviously really wrong with his car and causing huge amounts of smoke – we couldn't see on the straight – his car was going to brake down at some point and it happened in the middle of the corner and caused a collision.
"His team Dragon should have told him to pit. He should have pitted and he should have a three-place penalty for the next race, because he caused a collision it's dangerous.
"We're driving on tight circuits and if your car is not going to finish the race, obviously you should just pit, make it safe and then go back out. You shouldn't just wait for race control to tell you when it's so obvious.
"Very poor job and poor standards from both his team and him not to pit earlier."
Mahindra entered the weekend leading the teams' championship, but d'Ambrosio and Wehrlein started on the back row of the grid after struggling in group one during the wet qualifying session.
Hong Kong is the first time that d'Ambrosio has failed to score in season five, having secured consecutive top 10 finishes in the first four races, including victory in the second round at Marrakesh. Race winner Sam Bird has now taken the lead in the drivers' standings.
Despite losing top spot in both championships, d'Ambrosio said; "it doesn't really matter at this stage.
"What matters is trying to maximise everything. We didn't do it today and we need to try and focus on the next race and do it then."
---