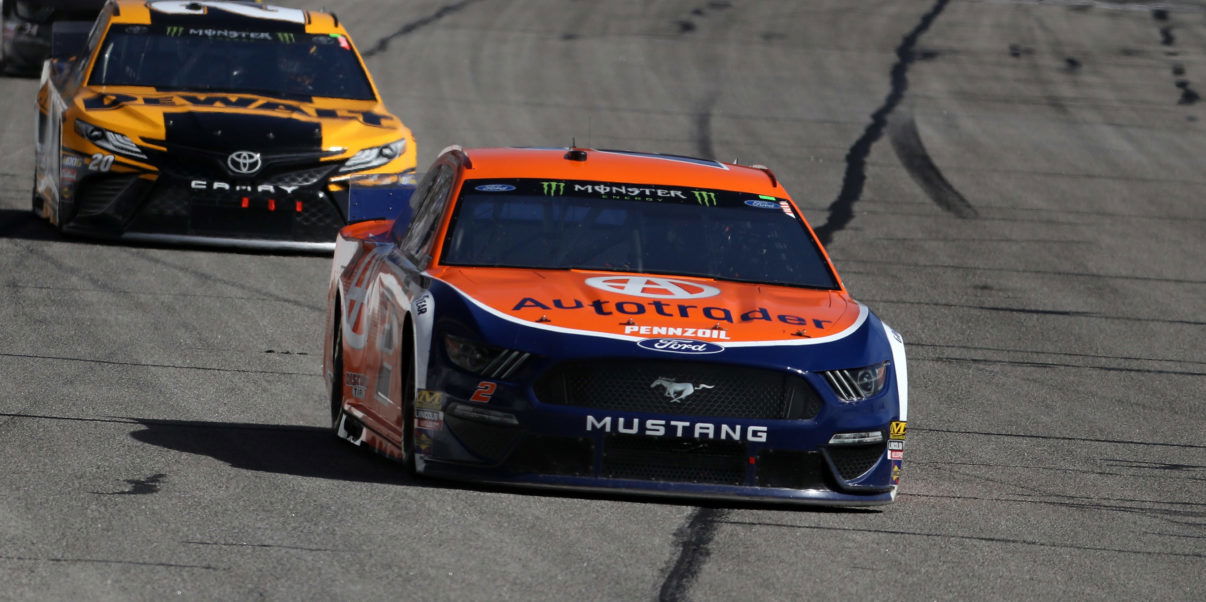 Keselowski survives late surge from Truex to win at Atlanta
Penske's Brad Keselowski earned victory in the NASCAR Cup series race at Atlanta, holding off a late charge from Joe Gibbs Racing's Martin Truex Jr.
Keselowski, who had been suffering from flu throughout the weekend, missing final practice as a result, only took the lead for the first time with 32 laps remaining of the 325 lap race.
Passing his Penske team-mate Joey Logano to take first place, Logano then slipped out of contention for the win when he had to make a late pitstop for a loose wheel.
Truex Jr, who had featured in the top 10 throughout the race and finished fifth in stage one and third in stage two, was elevated into second place after Logano's pitstop and began to reel in Keselowski's #2 Ford.
Keselowski's pace dropped in the closing stages, allowing Truex to close to within two tenths by the chequered flag.
The win was Keselowski's second win in three years at Atlanta, and his first victory of the season to book his place in the playoffs.
Kurt Busch finished third for Chip Ganassi Racing. On the final restart of the race, Busch and Logano formed the front row after being the only two cars not to pit before the caution was deployed for pitlane contact between Ryan Preece and B.J. McLeod.
Losing out in a battle for stage one victory with Busch's CGR team-mate Kyle Larson, Stewart-Haas Racing's Kevin Harvick secured stage two victory – his fourth stage win of the last six held at Atlanta.
However, Harvick's pace faded in the third and final stage, as he complained of understeer in his #4 Ford. He ended up finishing in fourth, ahead of team-mate Clint Bowyer.
Kyle Busch finished sixth after starting the race from 35th – demoted down the grid for having to use the back-up car following a practice crash.
He had climbed to third place by the end of stage two. Using an aggressive high-line throughout the race, Busch eventually hit the wall with his right-rear, causing a puncture and triggering a caution on lap 222.
Erik Jones was seventh, ahead of polesitter Aric Almirola. Chris Buescher was ninth after having climbed into the top 10 during the final stage.
Daytona 500 winner Denny Hamlin could only manage 11th, ahead of long-time race-leader Larson, who fell out of contention for victory when he was caught speeding in the pitlane during his penultimate pitstop. His 47 race winless streak continues.
Rookie Daniel Hemric was on course for a fifth place finish before a right-front puncture in the closing laps demoted him to 20th.
Penske's Ryan Blaney was another driver to suffer a late puncture, after having led part of the final stage.
---