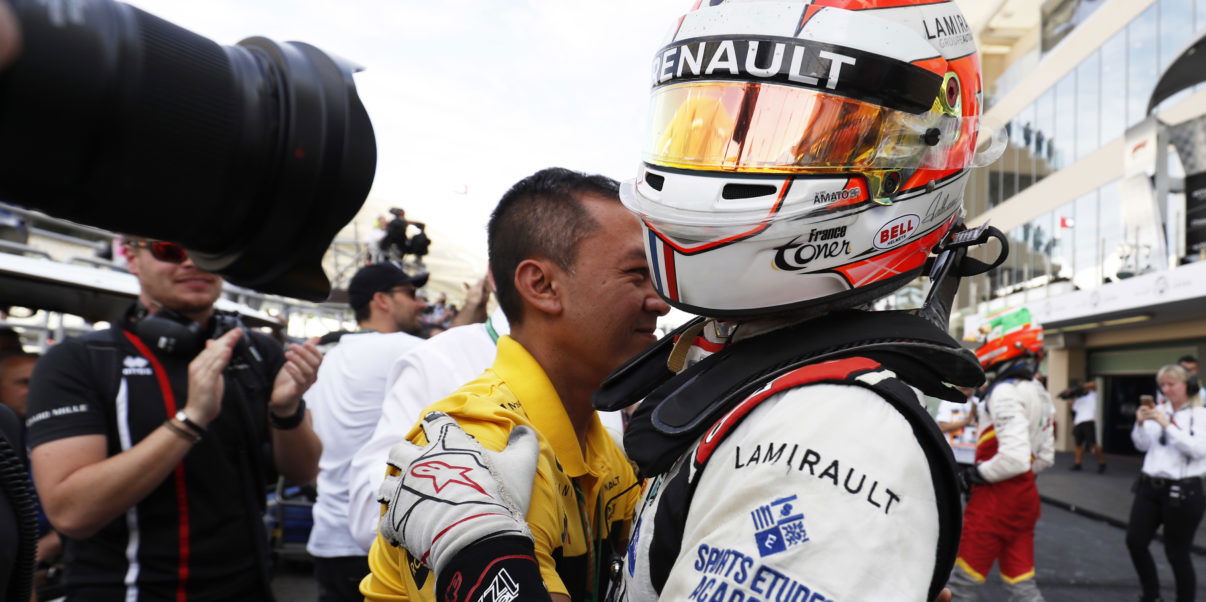 Pulcini wins Abu Dhabi GP3 feature, Hubert crowned champion
Campos's Leonardo Pulcini has claimed victory in the final GP3 feature race at Abu Dhabi, as Anthoine Hubert sealed the drivers' championship with third place following a time penalty for Nikita Mazepin.
The Force India Formula 1 tester started the race with one potential strategy to delay celebrations being winning from pole with a fastest lap with Hubert third.
Mazepin was hassled by front-row starter Pulcini on the first lap, with the Italian passing the Russian around the right-hand side at the left Turn 11 corner, while Hubert conservatively made sure he remained in his grid position of third.
Mazepin returned to the lead around the left-hand side at the same area on Lap 4 of 18, before running wide at the right-handed Turn 17 two laps later, allowing Pulcini back ahead with the Frenchman just behind his rival.
Another attack one lap later left Mazepin running off the track at Turn 12, with his car flying over the kerb and jumping totally into the air briefly, a move he would be penalised for after being deemed to have gained an advantage.
A 10-second penalty was given, diluting the battle for the remaining laps as Pulcini ended up winning by 1.4 seconds over Mazepin.
Hubert, who had previously declined the use of DRS to fight Mazepin, allowed David Beckmann to easily pass at the end of the second straight at Turn 11 late on with third place guaranteed.
Beckmann ended 8.6s behind the winner, with Hubert a further 1.7s adrift as Mazepin dropped to fifth in the classification.
Mazepin did claim an extra two points for the fastest lap, but these positions meant that Hubert was 31 points ahead with just 17 remaining from the final sprint race and its fastest lap.
The Frenchman was also helped by Beckmann, Callum Ilott and Jake Hughes fighting over position for much of the race, with Ilott claiming fourth.
Giuliano Alesi made a late pass on Hughes for sixth, with the Brit narrowly denying Juan Manuel Correa at the end.
Correa is the final sprint race polesitter in the category's history with eighth, while Simo Laaksonen and Tatiana Calderon completed the top 10.
---