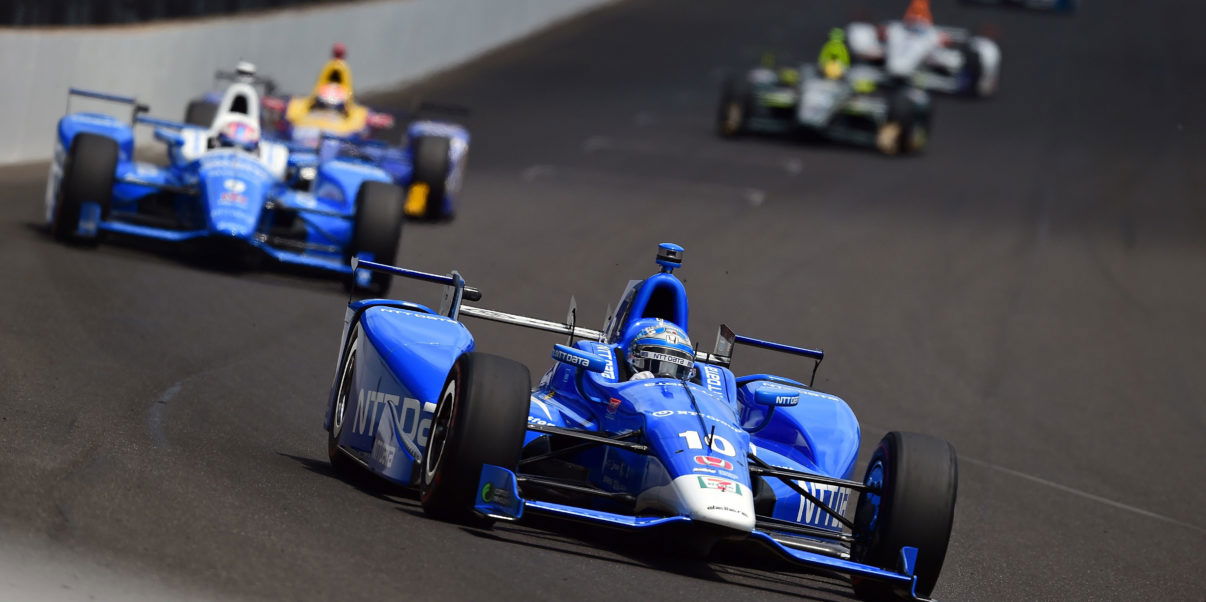 2018 IndyCar Preview: 5 liveries to watch for
We're just a few short weeks from the start of the 2018 Verizon IndyCar Series season. Most of winter testing is over with, and only a couple more test dates before the season-opener in St. Petersburg on March 9. The tests have given the entire field a chance to get an idea of what to expect of the newly kitted universal aero kit (UAK-18). The car has gotten rave reviews for its aesthetics and performance, but no car is complete without an eye-catching livery. Here are our top-5 2018 IndyCar liveries:
#5 Takuma Sato/Rahal Letterman Lannigan Racing – Panasonic, Mi-Jack Honda
The simplicity and clean lines on the front end of Sato's Honda looks fantastic. It has a bit of a flannel appearance but that blue chrome is awesome. Especially under the bright lights of night racing. With subtle accents of light blue chrome, made brighter by the white sidepods, RLL and Sato hit all the right marks with this design.
Twitter: #IndyCar: Overcoming traffic an area of concern for drivers https://t.co/k88lhsChh4 https://t.co/ik16DpfvNr (@marshallpruett)
#4 Ed Jones/Chip Ganassi Racing – NTT Data
More blue chrome is an idea I can really get behind. Albeit with one primary color, powder blue if you will, the top half is chromed and divided by a platinum silver line that runs the curvature of the side pods. It's a simple but yet complex design because you have to really look to appreciate its beauty. Well done by the designers at CGR.
Twitter: Great two days testing @ISMRaceway started off a bit tough but worked hard at it and ended up with a very strong ca… https://t.co/nIOssG2fjF (@Edjonesracing)
#3 Graham Rahal/Rahal Letterman Lannigan Racing – United Rentals
Have you ever seen blue chrome? It seems to be the common theme this year on the grid. Graham's United Rentals entry is sporting a red, white and blue livery that would make our forefathers proud. Even going as far as to have red and white stripes on the front wing. The bright red Honda "H" beams on the white background of the nose on the UAK-18. Graham and RLL make no bones about its pride in American heritage and history. The team is a huge contributor to veterans charities and events. This year's car looks poised to carry the Stars and Stripes straight to the top step of the podium.
Twitter: RT @speedcafe: [email protected] fastest on Day 1 of Phoenix @IndyCar test #IndyCar
https://t.co/S7b0UkHrMU https://t.co/EPtF9Hzjyi (@GrahamRahal)
#2 Sebastian Bourdais/Dale Coyne Racing – Seal Master
The "Killer Bee" approach to the Seal Master car is the attention-grabbing livery racing cars are known for. I believe this to be a truly classic design that we'll always look back on for years to come. The Highlighter Yellow will look like a bolt of lightning with slow shutter speed of a camera. A great feature is, on the nose you can see an eye and toothy smile. Reminds me of old World War II P-40 Warhawk airplane. The Killer Bee should be exciting to watch in 2018.
Twitter: And 'Welcome' to @SealMasterNet as the co-primary sponsor of the #18 car of @BourdaisOnTrack. What do you all think… https://t.co/mBeOkiIq54 (@DaleCoyneRacing)
#1 Spencer Pigot/Ed Carpenter Racing – Fuzzy Vodka
Bringing home the "Best in Show" award is the Fuzzy's Vodka "Green Arrow". There was a time in American racing culture that all the great cars, especially in drag racing, were named. The Ed Carpenter entry brings back that tradition with it's super simple, solid Granny Smith apple metallic green, hand sprayed paint job. There's nothing fancy about it, just gleaming green with a simple white underside and a gold metallic line to divide the two. The "Green Arrow" blasting down the front stretch of Indianapolis side by side with the "Killer Bee" of Bourdais, is the types of things that made us fall in love with cars in the first place. ECR and Fuzzy's is my choice for best livery, 2018.
Twitter: Under the lights
#PrixView https://t.co/iIe1fxoqmS (@ECRIndy)
---