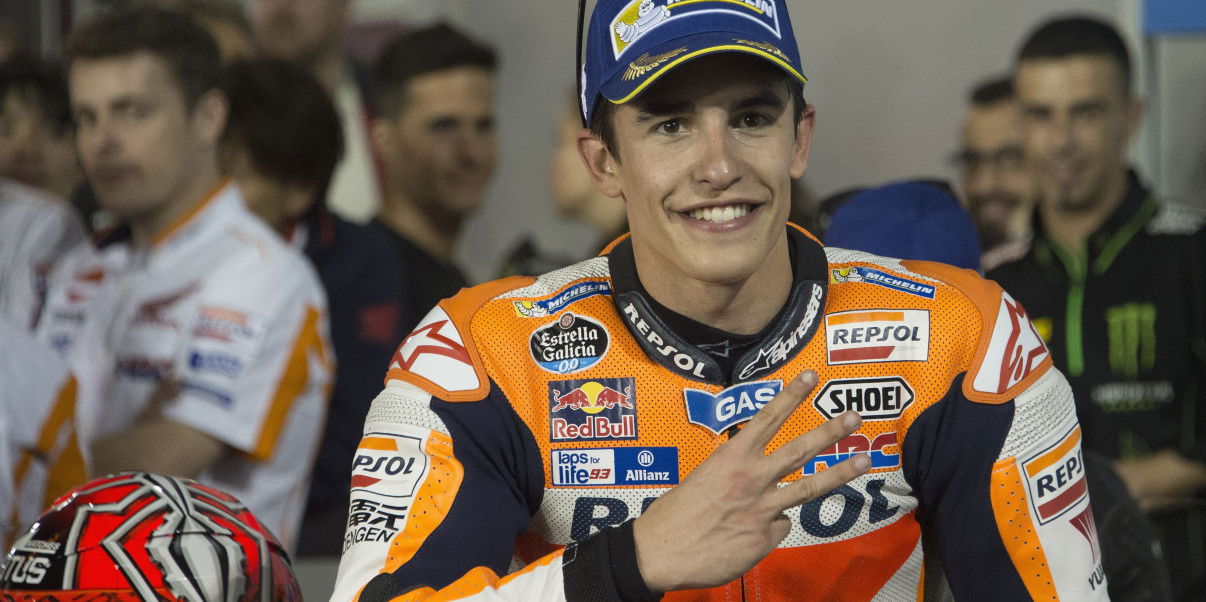 Marquez happy with performance at less favourable track
Despite struggling during official winter testing in Qatar, Repsol Honda Team rider Marc Marquez managed to find an extra second that he lacked off the pace and finished third in the first race of the season at the Losail International Circuit in Qatar.
The Spanish rider seemed the most active on the track as he battled to win with his highest placing throughout the race being second. He entered the first corner behind the Ducatis and Movistar Yamahas and it was not long before he overtook now-rival Valentino Rossi.
He had the others in his sights, the Ducatis out-accelerated Marquez on the start-finish straight which meant it was more challenging for the Honda rider. No matter how much time he gained through the lap, it was all undone by the time they reached turn one.
The battle between the Honda and Ducati rider continued right up until the last lap; Rossi had looked to challenge at one point but only seemed to gain where Marquez lost time.
Marquez got in front of Dovizioso towards the end of the last lap but went wide on turn 16 allowing Dovizioso to get away down the straight. Marquez finished third ahead of Rossi.
"I'm happy with this third place because I know that we gave our all and just two weeks ago we were one second off the pace compared to the other guys on the podium. I want to thank Honda and my team for all the hard work they are doing. The race was faster than we expected and we had a great weekend because we got 100% out of performance at a circuit that we find hard.
"I spent much of the race behind Dovizioso because I couldn't pass him and it was difficult to make up the ground lost with his better acceleration on the straight. Whenever I got close I'd lose him again! Although I knew it would be difficult, I made another attempt with four laps remaining but he overtook me on the last lap. I tried again in the last corner but it wasn't possible. I hope that the circuits coming up on the calendar favour us a little more."
---