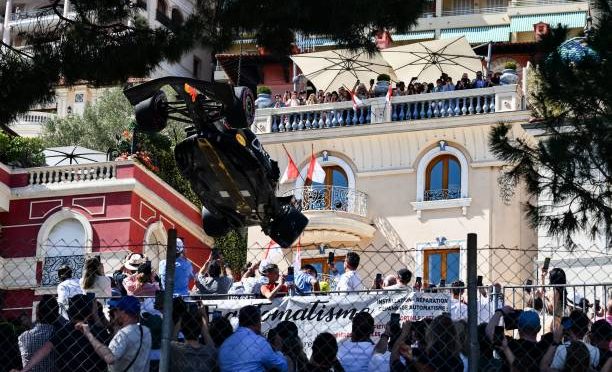 Horner unfazed by exposure of Red Bull's RB19 floor in Monaco
Red Bull team principal Christian Horner insists he is not concerned rival Formula 1 teams had a rare chance to inspect its cars floor during the Monaco Grand Prix weekend.
Sergio Perez's crash in qualifying left his car stranded in the middle of track at Sainte Devote, leaving the marshals no choice but to lift it via a crane.
This provided an unlikely glimpse of the RB19's floor design as Perez's car was lifted away, which has been credited as a key part of the team's performance advantage over the rest of the field this season.
Following Red Bull's sixth straight victory since the start of 2023 in the Principality, Horner gave a humorous response when asked if he was worried about the cars secrets being revealed.
"It's very rude to look up people's skirts," Horner joked, as quoted by RaceFans.
Red Bull was not then only team to have its cars underside exposed in Monaco as Mercedes' W14 was also on show after Lewis Hamilton crashed during final practice at Mirabeau.
"It's been a bit of a show and tell for all the teams this weekend," Horner said. "Everybody's been up in the air at some point. So it's the same for everyone."
While Red Bull's floor gained much attention, Horner expects other teams to have already had an incline as to what its floor looks like.
"Pictures of floors get taken in and around the paddock," he said. "They arrive in vans, they work with the cars, the shutters are up. Each team will be employing spy photographers to get pictures of the cars when they're in parts and pieces. So that's common practice.
"I wouldn't have thought it's the first picture of the floor. It's probably the first time it's been suspended from a crane. But all teams are always striving for that intelligence."
Aston Martin performance director Tom McCullogh expressed his relief that the Silverstone-based outfit's car did not undergo a similar exposure, admitting the floor is something a team never wants to "share".
"I'm sure the aerodynamicists will be having a good look at all the cars that have been lifted up," he said. "Thankfully ours haven't been lifted up yet. Let's try to keep it that way.
"The aerodynamicists never want you to share that. You learn a lot from just even how the plank's wearing, you learn a lot from what's touching [the ground].
"But there's a lot of very excited aerodynamics up and down the pit lane looking at all those I dare say."
---