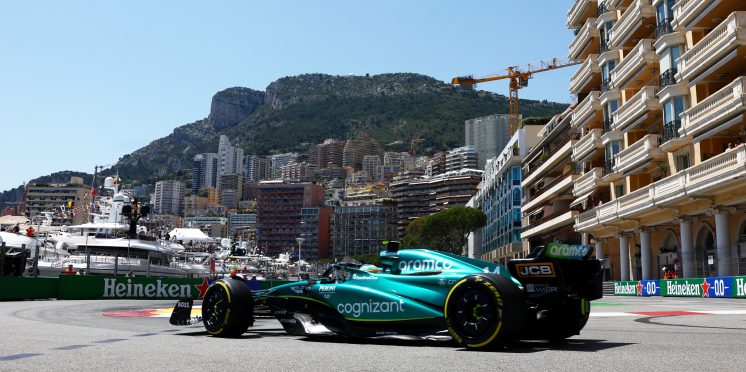 Alonso: Aston Martin won't have to wait for Honda to win F1 title
Fernando Alonso insists Aston Martin can win a Formula 1 world championship prior to new engine partner Honda's arrival in 2026.
It was announced on Wednesday that Honda would be returning to F1 as an engine manufacturer when the new power unit regulations come into force in 2026, joining forces with Aston Martin.
Honda's interest in coming back to grand prix racing, just two years after its departure from F1, was accelerated by the series' sustainability push and rapid rise in popularity.
The deal with Aston Martin marks Honda's first time working with the Silverstone-based team since its Jordan days when, under the Mugen-Honda branding, it scored three wins and finished third in the constructors' championship in 1999.
Aston Martin has made an impressive start to 2023, lying second in the standings, but the team felt bringing Honda on-board was crucial to it achieving success in the future.
But Alonso does not think Aston will need to wait for the Japanese manufacturer to join for it to win a world title over the next two seasons.
"Especially in 2026 when the new revelations will come, it is always better if you can develop your power unit together with the chassis and have everything integrated well in advance," Alonso said, as quoted by Motorsport.com.
"Being a works team there are only benefits, but that doesn't mean that until 2026 Aston Martin will not have a chance to win the championship."
Alonso sees Honda's arrival as further confirmation of team owner Lawrence Stroll's ambition to turn Aston Martin into a championship-winning outfit.
Aston is due to move into a new state-of-the-art factory in Silverstone by 2024 and is also building its own wind tunnel.
"It's very good news for the team," said Alonso. "Very excited. I think it shows the commitment of Aston Martin to really win races, win championships in the future being independent, manufacturing their own gearboxes and everything on the car.
"It's the only way probably, to really be 100% sure that you are in control of everything in your package, in your car. And it's a great sign for everybody in Aston Martin. You know that the desire and the potential to win is there."
Alonso remains coy over whether he will still be racing by the time Honda joins in 2026, when the Spaniard will be 44 years old.
"I don't know what I will do in 2026," he said. "I would lie if I told you that I know right now.
"It's way too far ahead to really have an idea, so I have to concentrate and focus on this year."
---