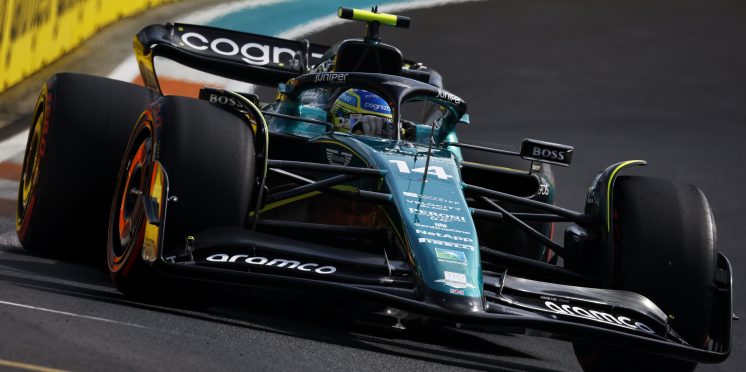 Aston Martin strike Honda F1 engine deal from 2026
Honda will return to Formula 1 as a fully-fledged engine manufacturer from 2026 after the announcement it will join forces with Aston Martin in a works partnership.
The Japanese manufacturer left F1 at the end of 2021 following its first title success in 30 years with Red Bull to focus on boosting electric car sales in its automotive division.
But, despite its departure, Honda has remained closely-linked to Red Bull's F1 project, agreeing to assist the Milton Keynes-based outfit on its power unit until the end of 2025.
With Red Bull, however, deciding to down the route of building its own engines, Honda was left searching for a new team to partner for the new power unit regulations arriving in 2026.
Honda signalled its interest in returning to F1 as an engine supplier last year, with the 2026 regulations relying on a significant increase in electrical power and 100% sustainable fuels.
After initial talks with McLaren and Williams failed to progress, Honda held discussions with Aston Martin, with the Silverstone-based team keen on a works engine partnership.
Ahead of this weekend's Monaco Grand Prix, Aston Martin confirmed it had secured a deal for Honda to supply engines from the 2026 season.
"I would like to welcome Honda and Honda Racing Corporation (HRC) to the Aston Martin Aramco Cognizant Formula One® Team," said Aston Martin execute chairman Lawrence Stroll. "We share a mutual drive, determination, and relentless ambition to succeed on track.
"Honda is a global titan and its success in motorsport is longstanding and incredibly impressive. I would like to thank Mr Mibe and Mr Watanabe, and the whole team at HRC as we embark on this exciting future together from 2026."
Aston Martin group CEO Martin Whitmarsh said: "Our future works partnership with Honda is one of the last parts of the jigsaw puzzle slotting into place for Aston Martin's ambitious plans in Formula One."
Honda is clear its decision to commit to F1 just two years after it walked away was the down to grand prix racing ramping up its target to become more sustainable.
"One of the key reasons for our decision to take up the new challenge in F1 is that the world's pinnacle form of racing is striving to become a sustainable racing series, which is in line with the direction Honda is aiming toward carbon neutrality, and it will become a platform which will facilitate the development of our electrification technologies," said Honda global CEO Toshihiro Mibe.
"Honda is a company that has a history of growing by taking on challenges and winning world-class races. With the new 2026 regulations, the key for winning will be a compact, lightweight, and high-power electric motor with a high-performance battery capable of handling high and swift power output, as well as the energy management technology.
"We believe that the technologies and know-how gained from this new challenge can potentially be applied directly to our future mass production electric vehicles, such as an electric flagship sports model, and electrification technologies in various areas, including eVTOL which is currently under research and development.
"Honda and our new partner, the Aston Martin F1 Team, share the same sincere attitude and determination to win, so starting with the 2026 season, we will work together and strive for the Championship title as Aston Martin Aramco Honda.
"Honda has the utmost respect for the FIA, which made a bold decision to introduce these new and challenging regulations to ensure the sustainability of both racing activities and the global environment, and for the Formula One Group, which has been enhancing the brand value of F1 and ensuring F1's evolvement as the most prestigious automobile racing in the world."
Off the back of winning back-to-back world championships with Red Bull, Honda is already aiming to help guide Aston Martin to title glory.
President of Honda Racing Corporation, Koji Watanabe said: "In the midst of major changes in our business and the motorsports environment leading toward the transition to a carbon neutral society, we have re-established HRC as an optimal platform to sustain and further evolve motorsport activities as a Honda strength.
"We will establish sustainable operational structures for our racing activities and continue to deliver more dreams and excitement for motorsports fans all around the world."
---