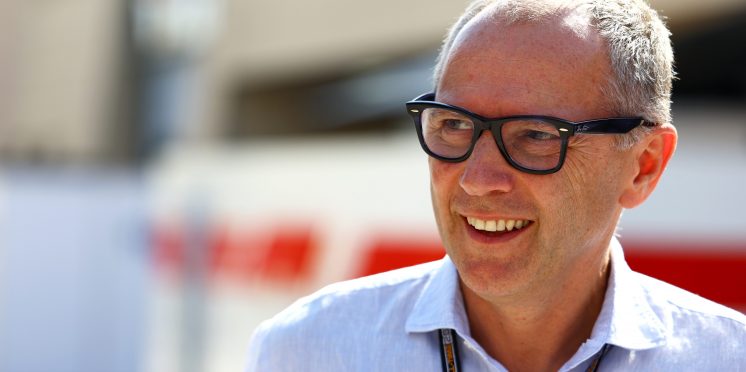 Domenicali warns critics over 'selfish' views of F1's current state
Formula 1 should not be "selfish" in its efforts to improve the show by tweaking certain aspects of a grand prix weekend, says CEO Stefano Domenicali.
Liberty Media has helped transcend F1 to wider audiences since acquiring ownership in 2017, but it has come under fire from drivers over recent additions to the weekend schedule.
At the previous race in Miami, the pre-race driver presentation was met with disapproval, while sprint races have also not proved a popular inclusion at several events.
The backlash has even led world champion Max Verstappen to recently suggest he would consider his future in F1 if it continued to pursue more sprint races amid the expansion of the calendar.
Speaking to the Daily Mail, Domenicali, who was a key figure in the push to introduce sprint races, felt it was wrong to criticise aspects that have played a major role in increasing F1's popularity, insisting it cannot become "complacent" towards change.
"I don't want a society in which people cannot say what they want. But drivers sometimes need to remember that they are part of a broader picture. We don't need to be selfish," Domenicali said.
"They are part of this sport and this business, and it grows because we are thinking bigger. Sometimes being out of our comfort zone is not easy, but we cannot be lazy or complacent – just as we can review some of the specifics of the sprint weekend format at the end of the season once we have tried it out on the intended six occasions. We won't have sprints every weekend, either.
"But we have a new audience and need to provide value for money every session, not let everyone drive around in circles for the sole benefit of engineers and drivers."
Verstappen's comments around his long-term future in grand prix racing is not the first time the Red Bull driver has issued a quit threat in recent months.
But despite Verstappen threatening to walk away from F1, Domenicali dismissed talk on the matter after revealing he sat down with the Dutchman before Miami.
"I discussed the issues with Max [before the last race in Miami]," added Domenicali. "He said he loved the sport and what he was doing. He is world champion and is fighting for a third title. He was born in a car. I would say he is likely to stay longer than me. It's not a problem."
---