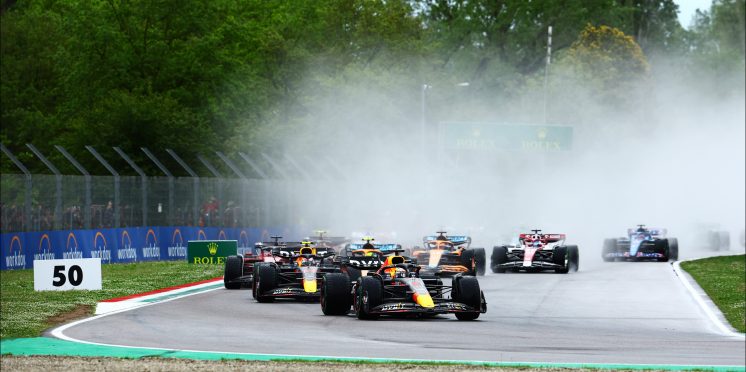 Cancelled Imola GP could lead to one-year contract extension
Promoters of the Emilia Romagna Grand Prix believe the circuit is entitled to hold its cancelled Formula 1 race at a future stage but that it is unlikely to be this year.
Imola was scheduled to host the sixth round of the 2023 F1 season this weekend, but the event has been called off due to extreme weather in the region that has caused flooding.
F1 personnel were advised to evacuate the circuit on Tuesday amid the conditions before a decision was taken on Wednesday to cancel the race.
While there has been no announcement from F1 as to whether Imola could be re-scheduled later in the season, the already congested calendar means this is doubtful.
The president of the Automobile Club d'Italia, Angelo Sticchi Damiani, expressed his sadness at the situation and said it was "reasonable" to expect Imola would be granted a one-year contract extension to run the race in 2026.
"The cancellation was inevitable in the face of such a dramatic situation," he said, as quoted by RaceFans.
"Given the complexity of the calendar, it is reasonable to imagine that the 2023 edition will be run in 2026. But at the moment it is certainly not a priority."
Imola returned to the F1 calendar in 2020 after a 14-year absence and agreed a new deal last year through to 2025.
Under F1's sporting regulations, it states that "a competition which is cancelled with less than three months' written notice to the FIA will not be considered for inclusion in the following year's championship unless the FIA judges the cancellation to have been due to force majeure".
In a statement, the ACI noted this meets the criteria required to run a cancelled race at a future date.
"The emergency caused by the bad weather which once again hit the Emilia-Romagna Region, require the organisers […] to cancel the event, due to force majeure, a decision that was taken in mutual agreement with the authorities and F1".
---