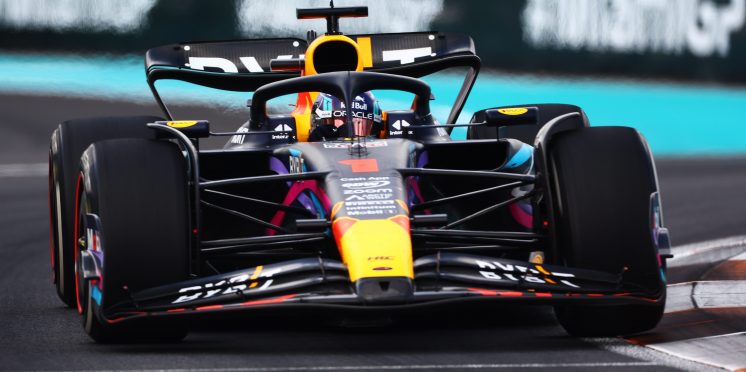 Verstappen discussed hard tyre F1 strategy with engineer before Miami GP
Max Verstappen has revealed how he and his engineer came up with the plan to start Formula 1's Miami Grand Prix on hard tyres before taking the idea to Red Bull's strategists.
Verstappen recovered from ninth on the grid to win in Miami after electing to start on the hard compound tyres as apposed to the frontrunners who all chose the mediums.
It proved an inspired choice as Verstappen brilliantly managed his tyres until he pitted on Lap 46 before hunting down and passing Red Bull team-mate Sergio Perez for the lead just two laps later.
The strategy played a key role in Verstappen's third win of the season, which the world champion said was devised after talking with his engineer Gianpiero Lambiase.
"It was something I wondered about already [on Saturday], together with my engineer," Verstappen explained, as quoted by Motorsport.com. "We were quite strongly opinionated on that already.
"Then, of course, you have to discuss it with the team, with the strategists, and they were like: 'OK. In terms of race time, it was very close between doing a medium/hard or hard/medium, so it didn't really matter.
"Of course, when you start on the hard, the risk is a bit higher because we only had one, so if you had a lap one puncture or whatever, then of course your race is a bit tougher. But I was happy to take that gamble and do it the other way around.
"I think even if it was the other way around, of course you always have to look after your tyres, also on the medium – but I just felt like maybe it gave me a better opportunity to get through the field initially.
"By lap 14, I think, I was already on a podium position, so from there onwards it's mostly about driving in clean air and you have to look after your tyres anyway."
Unlike Verstappen committing early to his race strategy, Perez said the hard tyre was not something he considered having felt it was too much of a "gamble" starting at the front.
"When you are starting on pole, starting on the hard is much more like a gamble that can go right or wrong with safety cars," Perez said. "I think at the time, none of us were expecting the medium to be [not performing well]… because pretty much the whole grid went for the medium start.
"I think none of us realised how weak of a tyre it was. I think once we did a few laps on it, we realised that it was quite a poor tyre."
Asked if he could have won had he elected to take the alternative strategy, Perez said: "I think it's hard to answer this one because you don't know what the tyres would have done.
"Certainly my mileage would have looked a little bit better simply by spending less time on the medium compound, which was very weak."
---