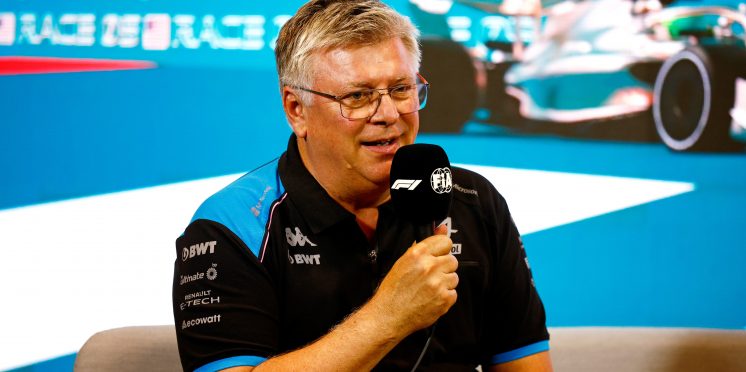 Szafnauer denies Alpine CEO criticism piles pressure on F1 team
Otmar Szafnauer says Alpine CEO Laurent Rossi's criticism that the Formula 1 team's performances in 2023 have been 'unacceptable' do not heap more pressure on it to improve.
Alpine was subject to a public bashing by Rossi at last weekend's Miami Grand Prix after its difficult start to the season.
The Enstone-based team had aspirations of closing the gap to the top-three teams after finishing P4 in last year's constructors' championship but has slipped to sixth behind Aston Martin and McLaren after the opening five races.
Speaking to Canal+ over the Miami GP weekend, Rossi hit out at Alpine's form so far this year, calling it 'amateurish' at times.
"I'm noting not only an obvious lack of performance and rigour in the delivery, but also potentially a state of mind that is not up to this team's past standards," Rossi said.
"I did not like the first grand prix, because there was a lot of – I'm sorry for saying this – amateurishness, which led to a result that wasn't right. It was mediocre, bad.
"And the last race in Baku was tremendously similar to the one in Bahrain. That is not acceptable."
Despite Rossi's comments, Alpine team principal Szafnauer insists the criticism does not change the team's strive to chase better results.
"Reading something like that on paper puts no more pressure [on us]," he said, as quoted by Motorsport.com.
"Everyone wants to do well here. We're very well experienced, with technicians and engineers at the highest level, and we put pressure on ourselves. So, we just have to fix it."
Szafnauer stressed that Alpine already acknowledged it had not started the season in line with expectations prior to Rossi's remarks.
"I saw that you wrote something because I saw the headline, but I haven't had time to read it," Szafnauer said.
"But we underperformed in Baku. The drivers ran into each other in Australia, and I think at the first race, we had a myriad of penalties, starting with Esteban being out of place.
"It hasn't been a smooth start to the season and maybe that's why he made the comments. But I have to read them."
Szafnauer believes Alpine's priority ahead of the Imola-Monaco-Spain triple header was to learn from its mistakes to ensure it would not repeat them over the rest of the year.
"All we can do when we have issues like Baku is find and understand the root cause of why it happened, and make sure we either put the process or the people in place so that it doesn't happen again," he said.
"We had an engine fire on one side, and we've got to make sure that doesn't happen. And then we had some finger trouble on the other side. With finger trouble, once you understand how it happens, there's ways to mitigate that. That's what we'll do. We've done it already. It didn't happen here."
---