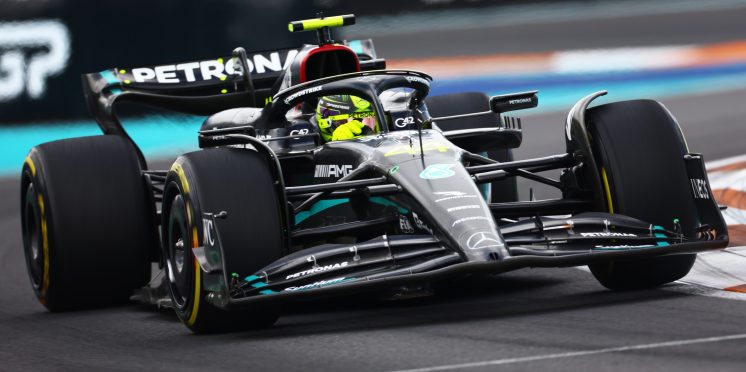 Mercedes expect Imola F1 upgrade to expose 'poisonous' W14 traits
Toto Wolff says Mercedes' Imola upgrade package will be crucial to its understanding of why its Formula 1 car is so "poisonous" to drive.
Mercedes secured a double points finish in Sunday's Miami Grand Prix, but this came after a challenging weekend where it struggled for pace in practice and qualifying.
While George Russell started from sixth place on the grid, team-mate Lewis Hamilton suffered his worst-ever qualifying on US soil after being knocked out in Q2.
The German manufacturer now has its hopes pinned on its first major update of the season for the next race at the Emilia Romagna Grand Prix.
But apart from targeting an upswing in form, Mercedes F1 chief Wolff believes the new parts should give the team a better understanding of the W14's faults that could prove beneficial in the long term.
"We need to manage our own expectations, because we're bringing an update package that's going to consist of new suspension parts, and bodywork and some other things," Wolff said, as quoted by Motorsport.com.
"But I have never in my 15 years in F1 seen a silver bullet being introduced, where suddenly you unlock half a second of performance. So, I very much doubt that this is going to happen here.
"But what I'm looking forward to is that we take certain variables off the table, where we believe we could have introduced something that we don't understand in the car.
"[I am hoping] we can go more to a stable platform, and then we should see where the baseline is and what we can do from there."
Asked what Mercedes wanted the updates to rectify on its car, Wolff said: "I think we are chasing downforce and we're trying to do the best possible job in terms of the mechanical platform.
"What we're doing is we're introducing a new bodywork, and we're introducing a new floor and we're doing a new front suspension and that's pretty large. That's a pretty large operation. Large surgery. It's going to be a lot of learning in the virtual world, where it is good lap time."
Teams will soon be looking towards the early design phase of their 2024 challengers, and Wolff sees Imola as critical to the team's hopes of eradicating the unwanted aspects of the W14.
"That's why the upgrade that we're bringing is going to help us to set the direction, and to understand the various areas that we believe could play a role in why the car is so poisonous to drive," he said.
---