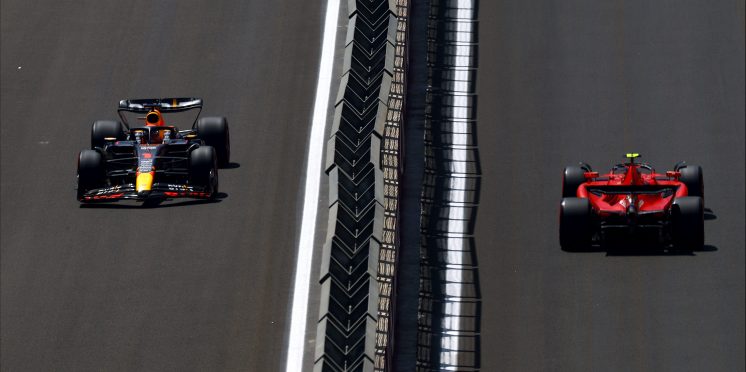 Horner denies reports of 'hostage exchange' with Ferrari over F1 staff
Christian Horner insists Red Bull is not involved in a potential "hostage exchange" with Ferrari over its Formula 1 technical staff to speed up Lauren Mekies' arrival at AlphaTauri.
Ahead of last weekend's Azerbaijan Grand Prix, news broke that Ferrari sporting director Mekies had agreed to take over as team principal of AlphaTauri from 2024.
But Ferrari has stressed that negotiations over Mekies' release are still to be finalised as he has a long-term contract with the team. The Italian outfit is understood to be open to reducing Mekies' period of gardening leave but only if the right terms can be agreed.
A proposal for this to happen is that Red Bull also allows its personnel to do the same amid reports that Ferrari is poaching some of Red Bull's technical staff.
Ferrari is looking to bolster its own technical ranks following a difficult start to 2023, but when asked to comment on the matter, Red Bull boss Horner dismissed talk of releasing key personnel to free up Mekies to head its sister outfit.
"Again, as usual, there's plenty of speculation," said Horner, as quoted by The Race.
"Will there be a hostage exchange for Laurent Mekies? Well, we don't have any hostages.
"So, in terms of personnel moving to Ferrari, certainly at a senior or medium level there's nothing planned."
Mekies has remained part of the Ferrari pitwall since his move to AlphaTauri was announced, but it is unclear as to how long he will stay in his current role.
Other attempts from Ferrari to recruit senior members from rival teams have been revealed in recent days, including now-Aston Martin technical director Dan Fallows.
Current Red Bull technical director Pierre Wache and head of aero Enrico Balbo have been named as other targets, but Horner said both had assured him the speculation was false.
"Individuals that have been mentioned in connection with Ferrari came to see me last week and mentioned their disbelief in some of these rumours," said Horner.
"But it's Formula 1. That will inevitably happen. But there's no plans for any senior members of our team to be joining Maranello."
---