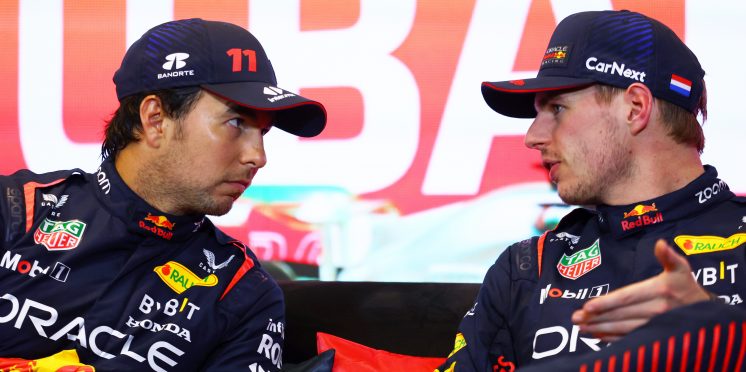 Bottas can 'relate' to Perez's F1 title bid against Verstappen
Valtteri Bottas says he can "relate" to Sergio Perez's current position of trying to fight Red Bull team-mate Max Verstappen for the Formula 1 world championship.
Perez sits just six points behind Verstappen in the drivers' standings after beating him in a straight fight to claim victory in Baku last weekend.
The Mexican's second win of the season has led to suggestions he could mount a title bid, with Perez himself believing he is in contention for a maiden crown.
Bottas emphasises with Perez's situation as during his five-year spell at Mercedes alongside Lewis Hamilton, he attempted to mount a sustained challenge for the drivers' championship.
But the Finn was never able to beat Hamilton over a season, twice finishing runner-up to the seven-time world champion in 2019 and 2020.
Observing Perez's chances of beating Verstappen in a head-to-head duel for the title, Bottas felt it would not be "easy" to pull off.
"I can kind of relate to him that he's trying to find something new every year in trying to beat his teammate," said Bottas, as quoted by RacingNews365.com.
"I think he's had a pretty decent season so far, and time will show for sure, but it's not going to be easy [for him to beat Verstappen].
"[It was] very difficult [to accept that Lewis was faster] and it was 2021 when I could admit that Lewis was faster.
"It took five years for me to accept, but it is not easy. As a driver, you want to be the best.
"I felt like until a certain point in the season [I could always fight Lewis for the title] and it's just about how different teams work, what they decide, when they decide what is good for them.
"But yes they can support both drivers the same and I definitely felt like I had that opportunity every year and then at some point, there was a decision obviously over who is going to [win]."
If Perez is victorious at this weekend's Miami Grand Prix, he would take the lead in the world championship for the first time in his F1 career.
---