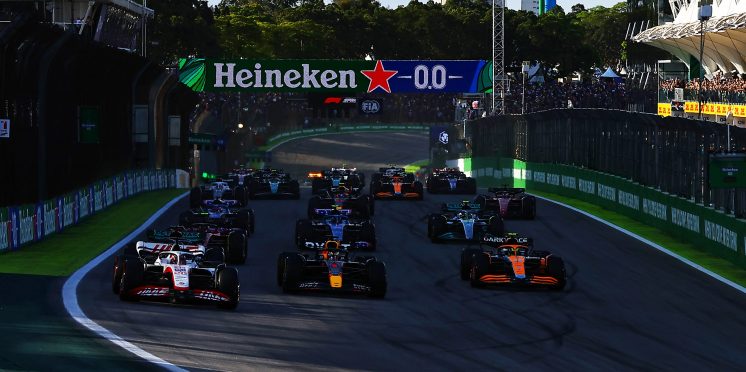 F1 planning to tweak sprint format by Baku with second qualifying session
Formula 1 is looking at introducing a second qualifying session on sprint weekends to separate the event from Sunday's grand prix.
Sprint races have become an integral part of a race weekend since F1 trialed the format in 2021, running at three rounds the past two seasons before being increased to six events for 2023.
During a sprint weekend, drivers have one practice session on Friday before heading into qualifying on the afternoon that sets the grid for the sprint race.
Second practice on Saturday morning is then followed by the sprint, with the result determining the grid for the main grand prix.
But there are now plans to make the sprint a standalone event from the Azerbaijan Grand Prix, which is scheduled to host the first sprint race of the season.
The idea is for a second qualifying session to replace FP2 where drivers will instead qualify for the sprint, meaning the results would then not impact the starting grid for the main event.
F1 CEO Stefano Domenicali presented the plan at the latest Commission meeting, which is understood to have received widespread support from teams.
Further discussions have been held over the Australian Grand Prix weekend, with the final details yet to be decided.
There are two plans that F1 is considering, one that would see qualifying for the main race take place on Friday and sprint qualifying run on Saturday, and the other to swap both sessions on the weekend schedule.
But while teams are behind the proposed changes, F1 faces a race against time to finalise the updated regulations for Baku, which takes place at the end of April.
Rules surrounding parc ferme and tyre allocations will have to be considered as drivers are already given 12 sets for a sprint weekend, meaning running the usual format of three-part qualifying over two separate sessions would expose issues.
An alternative option is one-lap qualifying, which was used between 2003 and 2005 in varying guises, as it would considerably reduce tyre usage.
Any update to the sporting regulations would have to be drafted by the FIA and then run by the teams, but the four-week break between Melbourne and Baku could delay the process.
If F1 is unable to gain approval from the World Motor Sport Council in time for Baku, the new format could be introduced for the next sprint race in Austria.
The plan for a tweaked sprint format follows Domenicali's comments about cutting down the amount of practice over a grand prix weekend in a bid to improve the spectacle for fans.
---