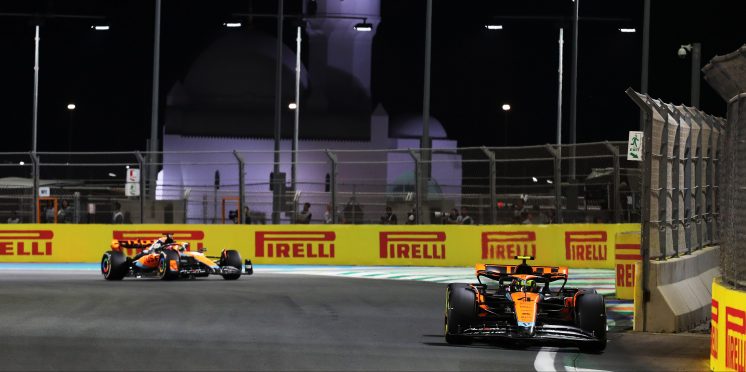 McLaren outlines F1 upgrade plan that includes 'kind of B-spec' car
McLaren plans to introduce a "kind of B-spec" upgrade to its 2023 Formula 1 car before the summer break as it attempts to recover from its disappointing start to the season.
After the first two races, McLaren sits bottom of the constructors' championship with no points having suffered reliability problems and been involved in on-track incidents.
The MCL60 has taken a backwards step in performance due to McLaren going down the wrong path in floor development, with the team quickly releasing it would start the year playing catch up.
McLaren has already outlined its intention to bring its first major upgrade package to the fourth race in Azerbaijan, that includes a new floor design.
But speaking on Thursday at the Australian Grand Prix, McLaren team principal Andrea Stella revealed Baku would be the first of three major updates, with the second – arriving before the summer break – likened to having a B-spec car.
"In terms of development [the Baku package] is just the first step," Stella said, as quoted by Motorsport..com.
"We would expect definitely another major upgrade, which will interest more areas of the car and be much more apparent. That is what somebody may call kind of a B-spec car.
"And then we expect to have a further round of upgrades in the second part of the season after the shutdown.
"So we have three main steps: Baku, later on – I don't want to commit to any date but before shutdown – and then after shutdown.
"We hope that each of them will be able to provide a few tenths of a second so that we put ourselves in a more realistic position to meet our ambition to become a top four car towards the end of the season."
McLaren's list of planned upgrades through the season comes in the wake of the restructuring of its technical leadership team after parting company with technical director James Key.
Part of the changes will see the role of technical director split between three personnel, including David Sanchez, who will re-join the team next year after leaving Ferrari, aero chief Peter Prodromou and Neil Houldey.
McLaren's Baku update was signed off prior to its technical reshuffle, but Stella believes the changes will benefit the team's form in the long term.
"The [new leadership] model affects this delivery of performance because it will accelerate the development rate," he explained.
"We will see the impact not in Baku, obviously, because what comes in Baku was released in design like two months ago. But definitely it will impact the next round of upgrades."
---