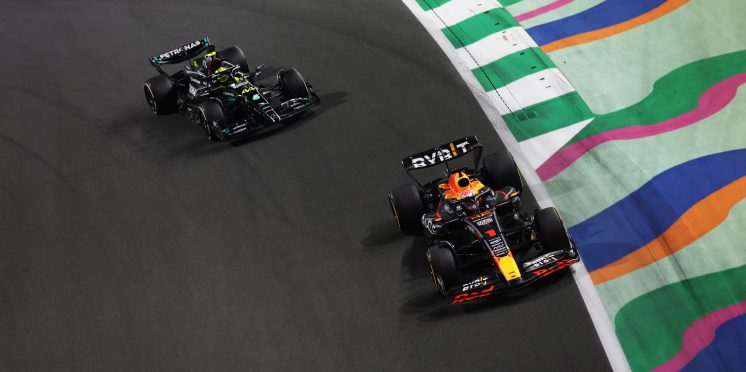 Mercedes rules out catching Red Bull in 2023
Toto Wolff says it is unrealistic for Mercedes to be on a par with Red Bull this season, believing it could take between "six and 12 months" to close the gap.
Red Bull has started this year in dominant form, claiming a one-two finish in each of the first two races in Bahrain and Saudi Arabia.
It appears to be well ahead of its competitors, leaving rival teams fearing it won't be able to cut Red Bull's advantage.
Mercedes is already planning to develop a revised concept for its 2023 Formula 1 car following a disappointing start to the season, having been unable to to pose a threat to Red Bull at the opening two events.
While Mercedes boss Wolff is blunt about Mercedes' chances of hunting down Red Bull, he feels the team's strong end to a difficult 2022 campaign can act as a motivating factor to "give its all".
Asked if the current gap to Red Bull could be slashed by the end of this year, Wolff said, as quoted by Motorsport.com: "We're just two races in this year, but is it realistic when we look at the gaps? No, it's not.
"But, we just want to give it all we have and then see what the outcome of that is. We've been able to catch up a lot last year with a car that was bouncing way too much, and that in a way was overshadowing everything.
"Finally we won a race and got closer to them, and I think that needs to be the aspiration."
Mercedes has revealed its plans to move away from its 'zero sidepod' concept after realising it had reached a "dead-end".
The German manufacturer is set to introduce its first major upgrade package at the Emilia Romagna Grand Prix, with further developments in the pipeline.
But Wolff has accepted it could take up to a year for Mercedes to be in a position where it has a car capable of mounting a challenge to Red Bull.
"I think the length [of time] is probably between six and 12 months, because that's the time that it really took for us [last year] to figure out what was actually happening with the car," Wolff said.
"That means we just need to have double the development speed, so a stronger development slope. The logic and rational speaks that for Red Bull, their gains are going to be incrementally smaller if the concept is mature.
"I think aero wise, and with wind tunnel time, that can help a bit but not hugely. It's just, we've just got to get our act together and, if we fundamentally understand where we need to put the car, then the steps are going to be large. But we need to be perfect."
---