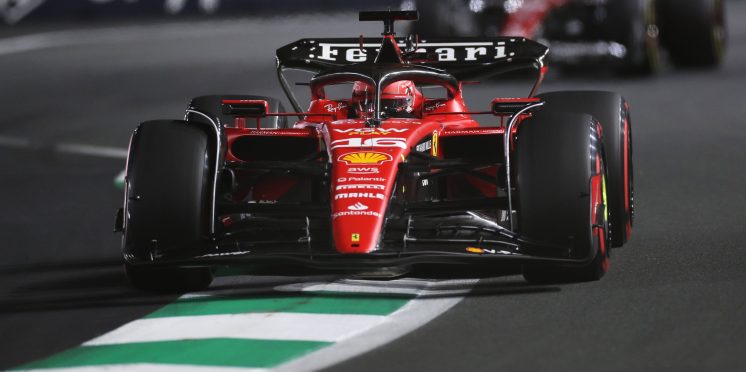 Vasseur pleads Ferrari to not 'bullshit ourselves' over 2023 F1 form
Ferrari should not "bullshit itself" over its disappointing start to the Formula 1 season and must understand where it is going wrong, says team boss Fred Vasseur.
Ferrari's early-season struggles continued in Saudi Arabia as it lacked pace compared to the front-running teams, with its drivers Carlos Sainz and Charles Leclerc finishing sixth and seventh respectively.
The Italian outfit had hoped the high-speed Jeddah circuit would be a better track for the SF-23 than Bahrain and give it a greater chance of fighting Red Bull.
But despite Leclerc's lap in qualifying being quick enough for the front row, Ferrari's pace fell away in Sunday's race.
It piles more pressure on the team after a lacklustre opening two rounds in 2023, with the result coming 12 months after it had fought for victory in Jeddah.
Vasseur was clear Ferrari needed to gain an understanding of its current woes rather than pretend the situation was not as bad as it seemed.
Asked what the first thing he will ask of his engineers amid its poor run of form, Vasseur said, as quoted by Motorsport.com: "To not bullshit ourselves.
"The most important thing in this kind of situation is to know where we are going well and what we are doing wrong. But we cannot bullshit ourselves.
"We have to change. We have to understand where we are wrong, and we have to push. It's not [good enough] to speak, we will not be faster like this.
"For me the picture is quite clear. The potential of the car is good, but it's not enough compared to Red Bull, because we are not able to extract the maximum from the car every time."
Ferrari's tyre management has been a major weakness so far this year and Vasseur believes this was the area that held it back in Saudi Arabia.
"The first stint went pretty well and Charles had a good comeback, but he was with the soft [tyre] and nobody knows about the different compound," he said.
"Carlos was in a decent pace on the first stint with the medium, compared to the others, but we lost completely the ground with the hard [tyre].
"It's where we have to understand that the main issue is. If we have some improvement to do, it's clearly on the management of the different compounds."
---