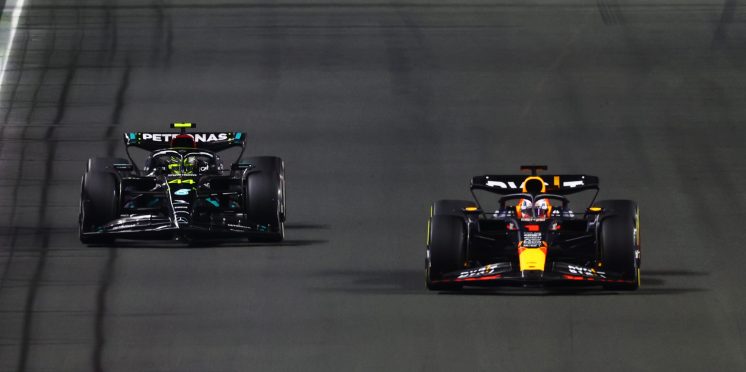 Hamilton on Red Bull RB19: 'I've never seen a car so fast'
Lewis Hamilton says Red Bull's 2023 Formula 1 car is the most dominant he has seen during his grand prix career.
Red Bull secured back-to-back one-two finishes in Sunday's Saudi Arabia Grand Prix, with Sergio Perez leading home team-mate Max Verstappen.
Perez pulled out a comfortable lead following the safety car restart to claim his fifth career victory, while Verstappen recovered from 15th on the grid to P2 to highlight the advantage Red Bull currently has over its competitors.
Hamilton got a brief look at the RB19's superiority when Verstappen breezed past him during his charge through the field, leaving the seven-time world champion stunned at the clear edge Red Bull has over its rivals this year.
It led Hamilton to assert Red Bull's advantage was even greater than what his Mercedes team had enjoyed during its own period of dominance in his V6 hybrid era.
"I've definitely never seen a car so fast," Hamilton said after finish fifth in Jeddah, as quoted by Motorsport.com. "I think when we were fast, we weren't that fast. I think it's the fastest car I've seen, especially compared to the rest."
Red Bull's 2023 challenger has proved to be a solid all-round package, proving to be as fast in the corners as it is on the straights.
Verstappen demonstrated the straightline speed of the RB19 in Saudi Arabia during his recovery drive, where the cars top speed edge allowed him to cut his way through the pack and even pressure Perez near the end of the race.
Hamilton admitted he didn't even bother trying to defend his position against Verstappen when it became clear just how quick he was on the straights.
"I don't know how or why, but he came past me with some serious speed," said Hamilton. "I didn't even bother to block because it was just a massive speed difference."
Red Bull's performance advantage has many fearing it could go unchallenged through the season, with Hamilton's Mercedes team-mate George Russell expecting the Milton Keynes-based outfit to win every race in 2023.
Asked if he shared concerns that Red Bull's dominance could become boring for fans, Hamilton said: "Of course, I think everyone wants to see everyone close, but it is the way it is. It's not my fault."
---